Latest News on Craig Perry
Craig Perry News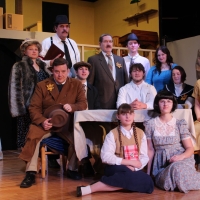 Review: THE DIARY OF ANNE FRANK at Twin Lakes Playhouse
by Theresa Bertram - Jan 24, 2023
What did our critic think of THE DIARY OF ANNE FRANK at TWIN LAKES PLAYHOUSE?

BREAKING IN: Unrated Directors Cut Arrives on Blu-Ray & DVD July 24 from Universal Pictures Home Entertainment
by Macon Prickett - Jun 8, 2018
Locked out of the house by a group of ruthless intruders, one mother must summon every bit of her strength and smarts to save her children who are trapped inside in the edge-of-your-seat action thriller, BREAKING IN, arriving as an Unrated Director's Cut on Digital and the all-new digital movie app MOVIES ANYWHERE on July 24, 2018 and on Blu-ray, DVD and On Demand on August 7, from Universal Pictures Home Entertainment. Producers Will Packer (No Good Deed, Obsessed) and Gabrielle Union (Almost Christmas, Being Mary Jane) reunite for this original action thriller that follows a mother who encounters every parent's worst nightmare. Bring home the film's Unrated Director's Cut on Blu-ray, DVD and Digital and discover gripping never-before-seen content, including an alternate opening, deleted scenes and exclusive featurettes.
THE ADDAMS FAMILY Opens at Twin Lakes Playhouse Tonight
by A.A. Cristi - Nov 21, 2017
A new family has moved into Mountain Home. They are creepy, kooky, mysterious and spooky, The Addams Family, in a musical comedy, The Addams Family Musical, by Marshall Brickman and Rick Elice, opens at 7 tonight at the newly renovated Twin Lakes Playhouse.
8th Annual Hot Air Music Festival Takes Off This Weekend
by BWW News Desk - Mar 1, 2017
The 8th annual Hot Air Music Festival takes place Sunday, March 5 at the San Francisco Conservatory of Music (SFCM) in a day-long marathon consisting of four sessions. Featuring performances in all three of SFCM's performance halls, the festival will present contemporary works performed and composed by SFCM students, alumni, and faculty members.