Review: SLEEPING BEAUTY at UA-Pulaski Tech: The Center For Humanities And Arts
Ballet Arkansas brings the Tchaikovsky ballet to life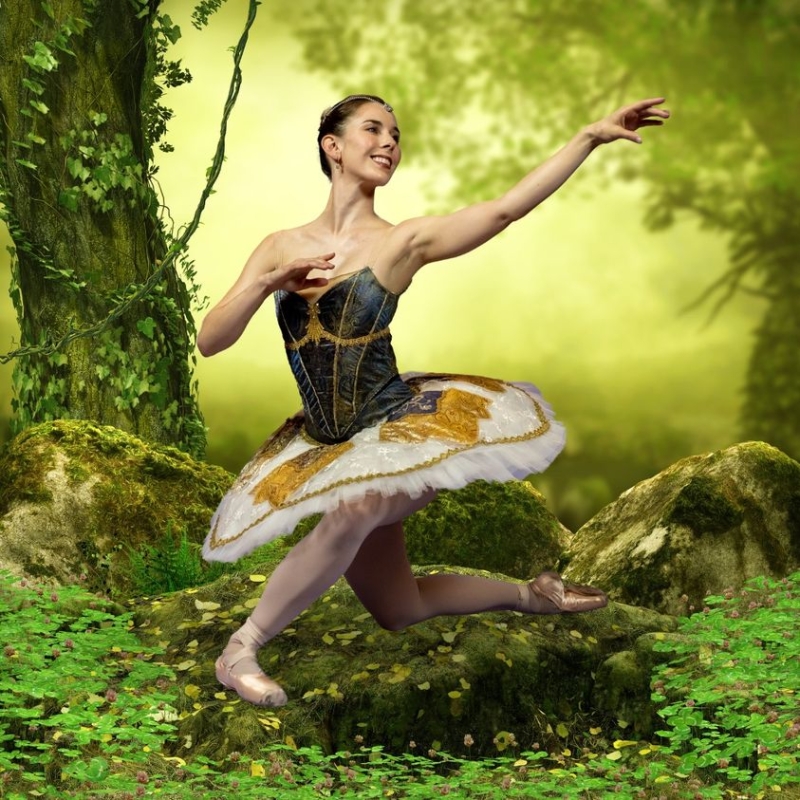 Ballet Arkansas brought to life one of my favorite fairy tales of all times-SLEEPING BEAUTY at UA-PTC CHARTS Thursday, Feb. 16, through Sunday, Feb. 19. Fairies and princes and other royalty graced the stage to the score by Pyotr Illyich Tchaikovsky with fantastical choreography by Fothergill after Marius Petipa.
The SLEEPING BEAUTY BALLET is similar to the Disney version, but with a lot more dancing. To open, baby Princess Aurora is at her christening, and everyone in the kingdom, except the vicious fairy Carabosse (Kerridwyn Schanck), is invited, which angers the dark fairy. As the kingdom is celebrating with the King (Edgar Hall) and Queen (Rachelle Maass), the messenger (Robert Herring) alerts the Master of Ceremonies (Matthew Larson-Arziari)-the one who forgot to invite Carabosse-that she is coming. Fairy Carabosse places a curse on the princess, saying that on her 16th birthday, the princess will prick her finger and die. After she vanishes, the Lilac Fairy (Celeste Lopez-Keranen) changes the curse from death to a deep sleep, which can be broken with true loves kiss. Sixteen years goes by fast, and though there are a handful of princes (Andrew Parson, Aldrin Vendt, Keith Newman, David Cummings) vying for Princess Aurora's (Meredith Loy) affections, she doesn't seem too interested. Then, somehow with all of those guards and suitors, the evil fairy is still able to infiltrate the party, hand over a spindle, where Princess Aurora pricks herself, tries to fight off the curse, but eventually succumbs to the coma. The other fairies put the kingdom into a sleep as well until they are able to find Aurora's true love. Somehow, Prince Desire (Andrew Przybylowicz) was never touched by all of those sleeping spells. Where was he during all of this time?
Who's to say. The Lilac Fairy finds him and shows him visions of the sleeping princess, where he decides right then that he will vow his life and love to her. The fairy takes the prince to Aurora, where he kisses her, and the spell is broken. The kingdom is restored, and there is a big wedding party celebration.
The storytelling in this ballet was fun to watch. Not only were the dancers graceful, but the characterizations told the tale without needing to be explained. The King and Queen were regal, and their costumes were amazing. Princess Aurora and her friends took turns dancing, and I may have laughed a little too much at the princes and their reactions when Aurora danced versus her friends. When Aurora came out to dance, they all had lovelorn looks and signed beautiful over and over.
When the other girls danced, they shook their heads and signed ugly. They cracked me up. Then, when the messenger comes in, you know the master of ceremonies is in trouble for not inviting Carabosse, and I loved her entrance! Carabosse arrives in a chariot looking car with an entourage that wreaks havoc on the party. Schanck is expressive and looked like she was having a great time being the bad guy.
SLEEPING BEAUTY validated just how athletic ballet can be. I know they train a lot, but the muscles on the ballerinas and male dancers, and the precision in executing their moves were really noticeable. Przybylowicz proved to be a worthy prince by his innocent facial expressions and his impressively high jumps. Loy did a series of pointe work with support from her male suitors, staying on her toes for a very long time. I also enjoyed watching the different fairies, their colorful costumes and their dances, especially the funny Canary Fairy (Sage Feldges) dance. And, a few of the ballerinas did some backward glides that were super cool.
I love how Ballet Arkansas includes the dancing community in their productions. Giving the young dancers a place to shine in a grander production is every little ballerina's dream, and I know they had a blast getting to join the professionals. Also, coming up for the younger set, Ballet Arkansas will offer a free Spring Break class for ages 9-18. Check out https://www.balletarkansas.org for more information.
Cast for the Saturday Matinee: Aurora & Prince Desire-Meredith Loy & Andrew Przybylowicz; King & Queen-Edgar Hall & Rachelle Maass; Messenger-Robert Herring; Master of Ceremonies-Matthew Larson-Arziari; Lilac Fairy & Lilac Cavalier-Celeste Lopez-Keranen & David Cummings; Candide Fairy-Deanna Stanton; Fairy of Generosity-Layla Terrell; Canary Fairy-Sage Feldges; Violente Fairy-Lauren Yordanich; Carabosse-Kerridwyn Schanck; Princes-Andrew Parson, Aldrin Vendt, Keith Newman, David Cummings; Maids of Honor-Leah Norwine, Lauren Yordanich, Deanna Stanton, Brittany Harano; Diamond, Silver & Gold-Kerridwyn Schanck, Layla Terrell, and Andrew Parson; Bluebird & Princess Florine-Matthew Larson-Arziari & Brittany Harano.