Interview: Aaron Choi of DISNEY'S ALADDIN THE MUSICAL at Robinson Center
Whether or not you are a Disney fan, this show is going to be amazing! Don't miss it!
There are not enough words to express how excited I am about Celebrity Attractions bringing DISNEY'S ALADDIN THE MUSICAL to Robinson Center, 426 West Markham St., in Little Rock, Wednesday, Feb. 1, through Sunday, Feb. 5.
I have loved ALADDIN since the Disney animation film came out in the movie theaters in 1992. I also enjoyed the live action version with Will Smith, but never have I had the opportunity to see it on stage. So, from now until show time, everyone will hear me belt out A Whole New World, because I am so ready for this!
So, imagine how crazy my inner fangirl reacted when Deana at Celebrity Attractions told me I could do an interview with Aaron Choi, who will be playing Iago, Jafar's sidekick. I was beside myself. This is so great! Can my job get any cooler? Before I get into the interview, I want to encourage you to get your tickets now while they are still available. To purchase the tickets online, go to celebrityattractions.com.
BWW: Aaron! It's a pleasure to get to speak with you. We are thrilled that DISNEY'S ALADDIN is coming to Little Rock. For those that are unfamiliar with Iago, please let us know about your character.
Aaron Choi: Iago is Jafar's evil sidekick. In the animated film he's a parrot that was voiced by the iconic Gilbert Godfrey. In our musical, he's a human person. He still has the same energy, still has the same characteristics-- not really parrot-y, but I try to bring the same energy that Gilbert Godfrey brought to that character. It's not quite manic, but definitely a little more sinister. Iago is the one that Jafar bounces ideas off of, and he's there just to please Jafar- to serve him as his sidekick.
BWW: That sounds like a fun character to play. Are you loving the people you're working with?
Choi: Absolutely! We have such a wonderful company- not just the actors, but our technicians as well. Everyone has been absolutely phenomenal to work with, and since we all travel with each other, we see each other all the time. It's just been so much fun to be around people that are all here with a common goal. So, yeah, the cast has been wonderful, the company has been fantastic. It's been a lot of fun meeting new people and getting to know my cast mates.
BWW: How long have you been with the company?
Choi: I have been with the tour since we started rehearsal back in August.
BWW: How's everything going?
Choi: It's been great! This is my first tour, and I am having an absolute blast. We've been touring since October. We started rehearsals in August, did our first city, which was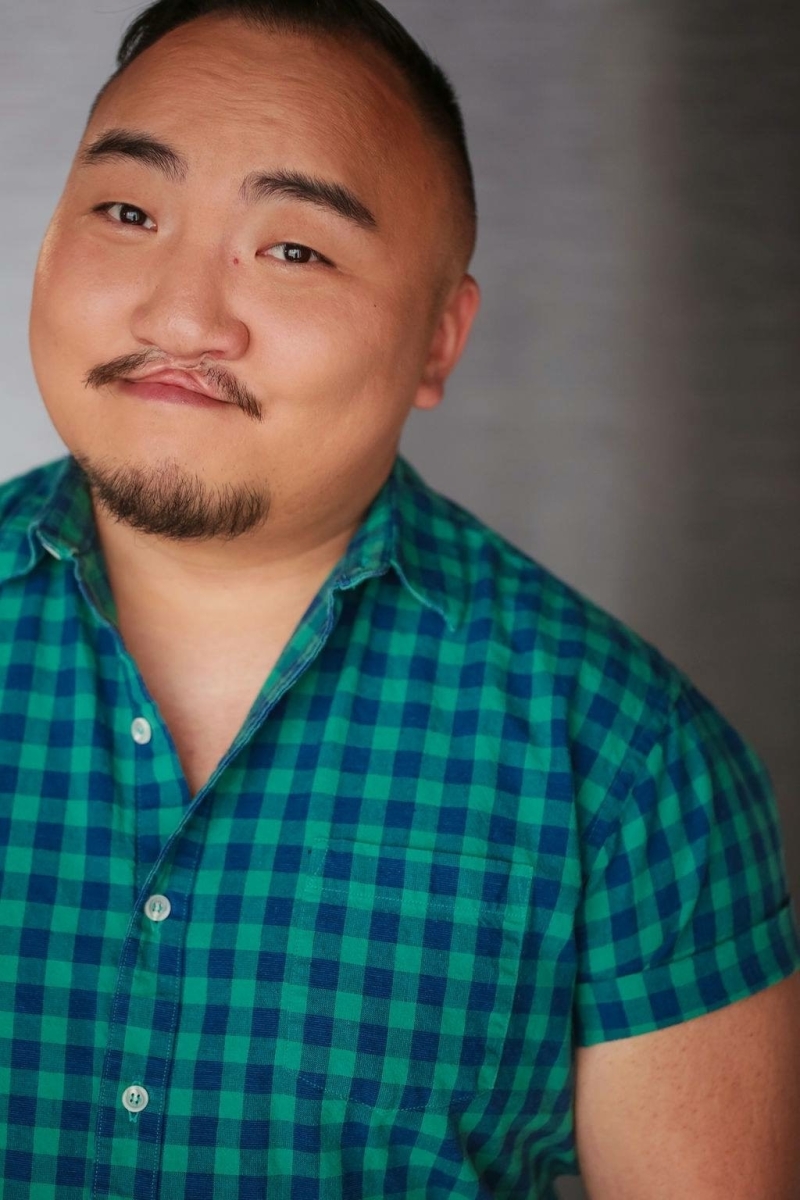 Schenectady, in October, and yeah, things have just been great. The audiences have been awesome, and it's been a lot of fun just going to different cities. I love traveling in general, so getting to travel around the US has been just some of the best times for me.
BWW: Well, we are so excited that you're coming to Little Rock. What have you done besides Aladdin?
Choi: Besides Aladdin, I've done a lot of regional theater. I'm originally from Ohio, but I've lived in Chicago for about the last ten years. I've done WIZARD OF OZ at the Muny in Saint Louis; I've done A CHRISTMAS STORY THE MUSICAL; One of my favorite roles that I've ever played is Sancho in the musical MAN OF LA MANCHA. I've done a number of productions, but those have been some of my favorites.
BWW: Was theater your major?
Choi: Theater was my major. I graduated from Capital University Conservatory of Music in Columbus, OH, in 2008, with a Bachelors of Arts Theater emphasizing in acting and directing, but I also graduated with a Bachelor of Arts Music emphasizing in vocal performance- mostly in opera and musical theatre.
BWW: That's fantastic. I love learning about the journey that brings people to our lovely city. How did the audition process go for this touring company?
Choi: The audition process was pretty standard, well standard in the world of COVID. I've actually auditioned for this role five or six times, and not just for the tour but for ALADDIN in general. I had auditioned for the Broadway production, then the Broadway replacements, and then the first tour. So, I've gone in for this role a few times, and this time the process was similar to what it was before but also different because of COVID. My agent reached out to me and asked me to put myself on video for casting. I did that, and I got a call about a few months later for a zoom audition callback. Then after the zoom callback, like an hour later, I got a call from my agent saying that I had a final callback. So, I flew out to New York to have a final callback, and about two days after that final callback, I got the call that I got the role.
BWW: Oh my goodness! That is so exciting!
Choi: Yeah, it was a very funny kind of way that I got that call. I was on the subway. I was in New York visiting friends after my callback, and I accidentally had gotten off on the wrong stop. Normally I know my way around New York pretty well, but I was in an area that I wasn't used to. So, I was checking my phone to figure out where I was, and I was like 'oh, I have like three missed calls from my agent.' So I called back, and I got the news on a random subway platform somewhere in New York City.
BWW: That is random. What a great story. So what is the difference between doing a tour and doing a regional show somewhere like the Muny?
Choi: The biggest difference that I've experienced is the traveling. When you do a regional contract at a place like the Muny, you're just in one spot. So, I would go to Saint Louis, they would put me up, and I'd be there for rehearsals and then however long the show would run. With the tour, you're doing that but in a new city every week or two weeks. If there are rehearsals in each city, it's mostly for understudies or if we have someone new coming into the company. For the most part, the way that our schedule kind of works is that we will be in a city for a week. Sunday/Sunday night is our last performance, and then Monday is our travel day to our next city. Then normally on Tuesday evening, we have a show. It's just kind of readjusting yourself to 'OK I'm in a new city. It's the same show, but I'm in a new city.' So that's the biggest difference- the traveling. I love traveling, so it's not really anything that I get too thrown off by doing. I definitely have already woken up many times and not realize where I'm at. I'm like 'what city am I in?'
BWW: Right! Do you have time to explore the cities a little bit?
Choi: Yeah, we normally have our daytimes available during the week unless we're called in for rehearsal. I love going exploring when I can and experience new cities. I always try to find unique little shops and things that are specific for those cities, especially food. I love food, so I try to find local restaurants. One thing that I'm doing specifically for this tour is, well, it's not been easy, but I've been finding a Christmas ornament with the name of the city on it and sending it to my mom, so she has one from every city that I've gone to. She has a permanent tiny Christmas tree that she keeps up for these ornaments.
BWW: That's so nice of you. I bet she loves that. Has she gotten to come out and see any of your shows?
Choi: She hasn't. My family hasn't gotten to see the show yet. ALADDIN is going to be in Cleveland, and I'm from Northern Ohio, so they're waiting to see me once we get to Cleveland, which is in .. Wow...in a few more weeks. I cannot believe that it's almost February.
BWW: I'm sure time flies on the tour. Have you ever been to Little Rock?
Choi: I've never been to Little Rock. I'm very excited to get to visit. Actually, I've never been to almost all of the places that we're going on this tour. There is a handful of cities that I have been to, but for the most part, every place is a brand new place for me, and it's so exciting to get to go to the new places.
BWW: Good. We are excited for you guys to come see us. I'm excited about the show. I haven't seen ALADDIN on stage yet, and I'm not sure if my son has seen it at all, so this is going to be fun.
Choi: ALADDIN is one of my favorites. I saw it on Broadway years ago when it first opened, and, obviously, I grew up with the animated feature, so yeah, I love it.
Whether or not you are a Disney fan, this show is going to be amazing! Don't miss it!
Date: February 1-5, 2023
Price:$29-$99
Location: Robinson Performance Hall
Address: 426 West Markham, Little Rock, AR 72201
Phone: (501) 244-8800
Celebrityattractions.com
https://www.ticketmaster.com/disneys-aladdin-touring-tickets/artist/2206356?venueId=221397&_ga=2.69690384.128405802.1674698195-456757335.1669697429