BWW Review: DISNEY'S THE LITTLE MERMAID at North Little Rock High School Performing Arts Center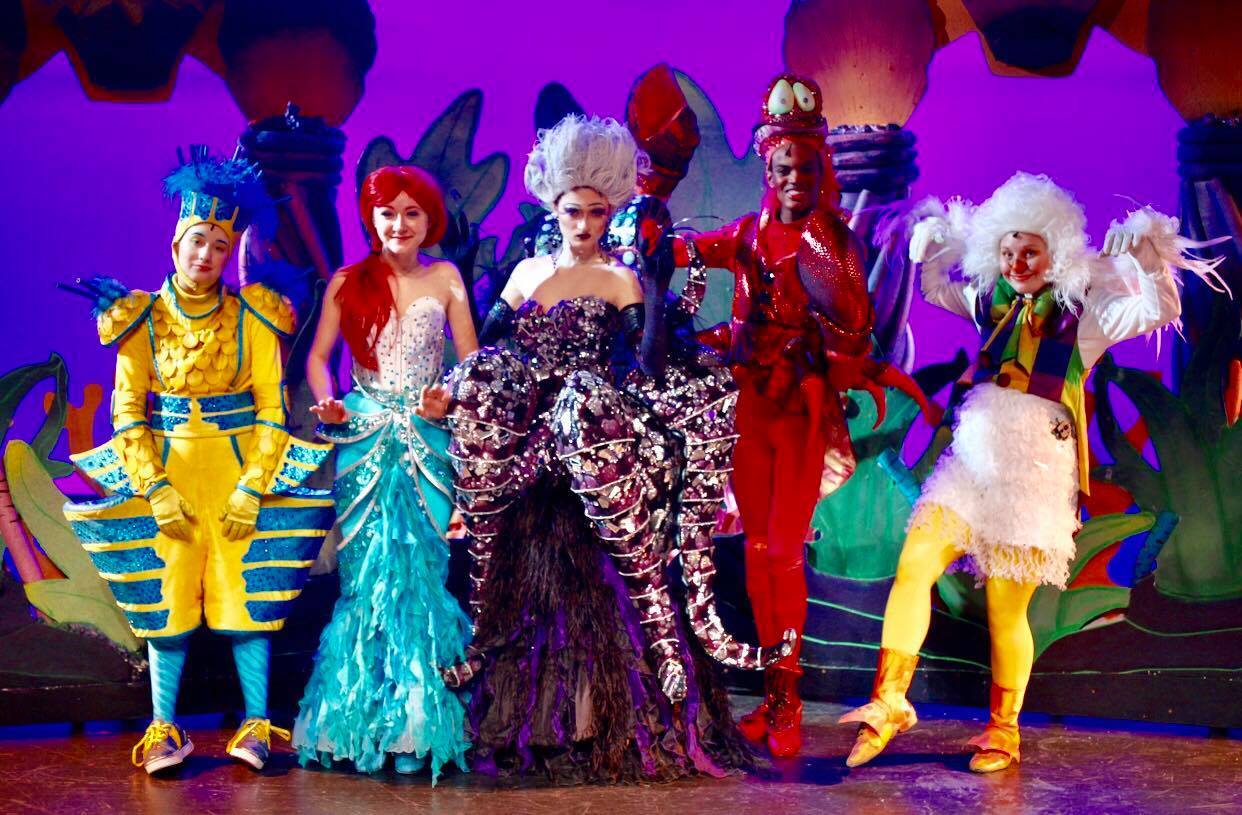 North Little Rock High School's Theatre Arts Department did not disappoint with their production of Disney's The Little Mermaid. The actors did a wonderful job, but the costumes, the lighting, the live music, the flying stunt work--it was evident that this was a real team-work production. And as the announcer before the show stated: it was all ran by high school students; there were no professionals handling the flying. So, with one more show to go Sunday, March 4, at 3 p.m., this is something you don't want the little ones to miss!
For those not familiar with the the show (and you must have been hiding under a shell if you haven't) the original 1989 Disney movie was based off the Hans Christian Andersen's fairy tale of the same name. It's a common tale of a typical teenage girl ready to explore a world beyond her boundaries and a father who isn't ready to give up his little girl. This take of the theme involves Ariel, the little mermaid, who likes to hang out above the ocean, and falls in love with a prince that she rescued when he fell overboard. In true musical fashion, she sings to him, he falls in love with her voice, and then she swims away before he can find out that he was just rescued by a mermaid.
Ariel has a lot of obstacles "under the sea." She just feels like she doesn't belong; her sisters are jealous of her; she has a serious addiction to collecting human things; and her father, King Triton, blames the death of his wife on humans. So, she enlist her Aunt Ursula to turn her human. As a side note, I have only seen the movie prior to this performance and have not read the Hans Christian Andersen's story, so I enjoyed the backstory to why Ursula was the bad guy. It made more sense why Ursula hated the King and wanted his soul. If you aren't aware of this plot detail, I'm omitting it out of this review--you need to see the musical.
Anyway, On to Act II- Ariel's friends help her learn to walk and meet up with the prince. The prince has a deadline on falling in love and wedding, which just so happens to be the same deadline for Ariel to get the prince to kiss her before her voice and soul is lost forever to Aunt Ursula. They do manage to have a few romantic encounters, but when things look like promising, they are always interrupted. Ariel fails to meet her three-day deadline, gets whisked away back under the sea, and almost gets her soul taken away for good when King Triton offers his soul for Ariel, which is what Ursula wanted all along. Triton gives up his scepter, Ariel grabs Ursula's necklace and breaks it, ending the reign of terror of Ursula, and everyone lives happily ever after.
For this production, Ariel is played by NLRHS senior Abby Woodard. As a music person who plays a lot of music "by ear", I can swear to you that Abby sounds super close to the Ariel in the movie. I was impressed. Her acting was Disney-esque, and her stage presence was commanding. She was a perfect Ariel. Prince Eric, played by Timothy Carr, was another impressive singer. The star, of course, was Ariel, but Timothy held his own in the scenes, making the teenage girls in the audience swoon.
There was quite a big cast, but the review wouldn't be complete without mentioning Ariel's friends Flounder (Grace Pitts), Sebastian (Lucas Bachus), and Scuttle (Sydney Scott). Each actor had their own character songs and brightened up the mood when things seemed lost for Ariel.
I also wanted to mention that I loved the live music. Even though there were only three musicians, they moved the show along through the entire performance. This show proves that you don't have to pay a lot of musicians in order to have a professional sounding pit crew. I mean--if it's in the budget, you should splurge for the full orchestra, but if not, a handful of musicians work just as well.
Under the guidance of NLRHS instructors Mike Noland and Christen Burke Pitts, the whole crew put on a memorable production that would have made Walt Disney proud.

Related Articles View More Arkansas

Stories

Shows