Student Blog: Being an Assistant Stage Manager
Stage managers really make shows happen, and I was honored to take part in a production as a valued asset.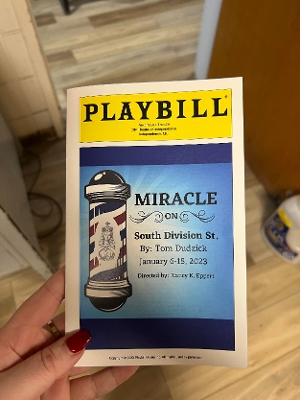 I had the opportunity to be an assistant stage manager for a community theater's production of Miracle on South Division Street. Stage management was something that had interested me for a while as a job in the world of theater. Stage managers really make shows happen, and I was honored to take part in a production as a valued asset.
When I started my freshman year of college last semester I was in THEA120. My professor told the class that a community theater was looking for people that were interested in stage managing or lighting and sound. I'm not the one to usually put myself out there and apply for things like that, but I figured I had to start building a resume at some point. After class I approached my professor and told her I was interested in assisting a production in stage management. She gave me the contact information of the director and I emailed her that evening. I was probably more scared then I needed to be for this, but like I said, I had never put myself out there like that. The director emailed me back and said she wasn't feeling well, so she added another person to the email for me to talk to. Ironically, the other person was her husband who just so happened to be the head stage manager. He and I talked briefly and he said if I wanted to that he'd call me the next day and discuss the position of assistant stage manager further. I was so excited, but so nervous at the same time. He and I talked and he said "Well if you want it, it's yours. You'll learn a lot and we'll have a lot of fun." He was right about both of those things.
My first task I had done was assisting with auditions. I had to help with making sure actors got signed in and had a script in hand. After those things had been completed I got notes from the director as to who was coming in to audition, and who was being called back to read again. Auditions were in October, and after those were completed I just sat tight while the actors focused on dialogue with the director.
My help was needed in December when actors began going off-script. During rehearsal I would give lines as needed and write down where mistakes had been made. I had a printed copy of the script I kept in a binder to make note taking easier. After practices were completed I would give notes after the director, and email the cast concerning their progress in line memorization, missing lines, or sections that needed to be cleaner. Along with giving lines and note taking it was also my job to give technical cues and pass along any information to actors from the director. During the run of the show my duties were similar in some ways, but more complex in others. Along with giving technical cues I also had to sweep and tidy the stage, close the theater, lock everything up, and make sure everything was in its place for the next performance.
My head stage manager John, bless his heart, was very patient with me. The fear of messing something up or giving the wrong time updates terrified me. Everyone in the company had either worked together at some point or had known one another for a number of years, and in the beginning I felt very much like an outcast. I was worried I wouldn't be respected in my position since I was 19, and in many ways inexperienced. It became a joke between me and my head stage manager that I would give "orders" and add please and thank you at the end of everything. Some nights John had me give cues in prepartation for the night he'd be gone. He would ask me what was next and I'd usually answer in a questioning or unsure way. That would usually be followed by him saying "You're the stage manager, go tell them."
Having this opportunity was one of the coolest and most rewarding things I've been able to do. It taught me I need to put myself out there more because taking risks can be extremely rewarding. At the end of this production I felt like I was a part of a little family. I enjoyed chatting with the crew backstage, any conversation I had with our wonderful director, making jokes with the actors, and of course making it a nightly routine to complain to John about how much I hated my earpiece. It was such a meaningful experience, and I'd do it all over again.

Thank you to the Eppert's for taking a chance on me, and much love to my CTI and Miracle on South Divison Street family.