Review: THE NUTCRACKER at KC Ballet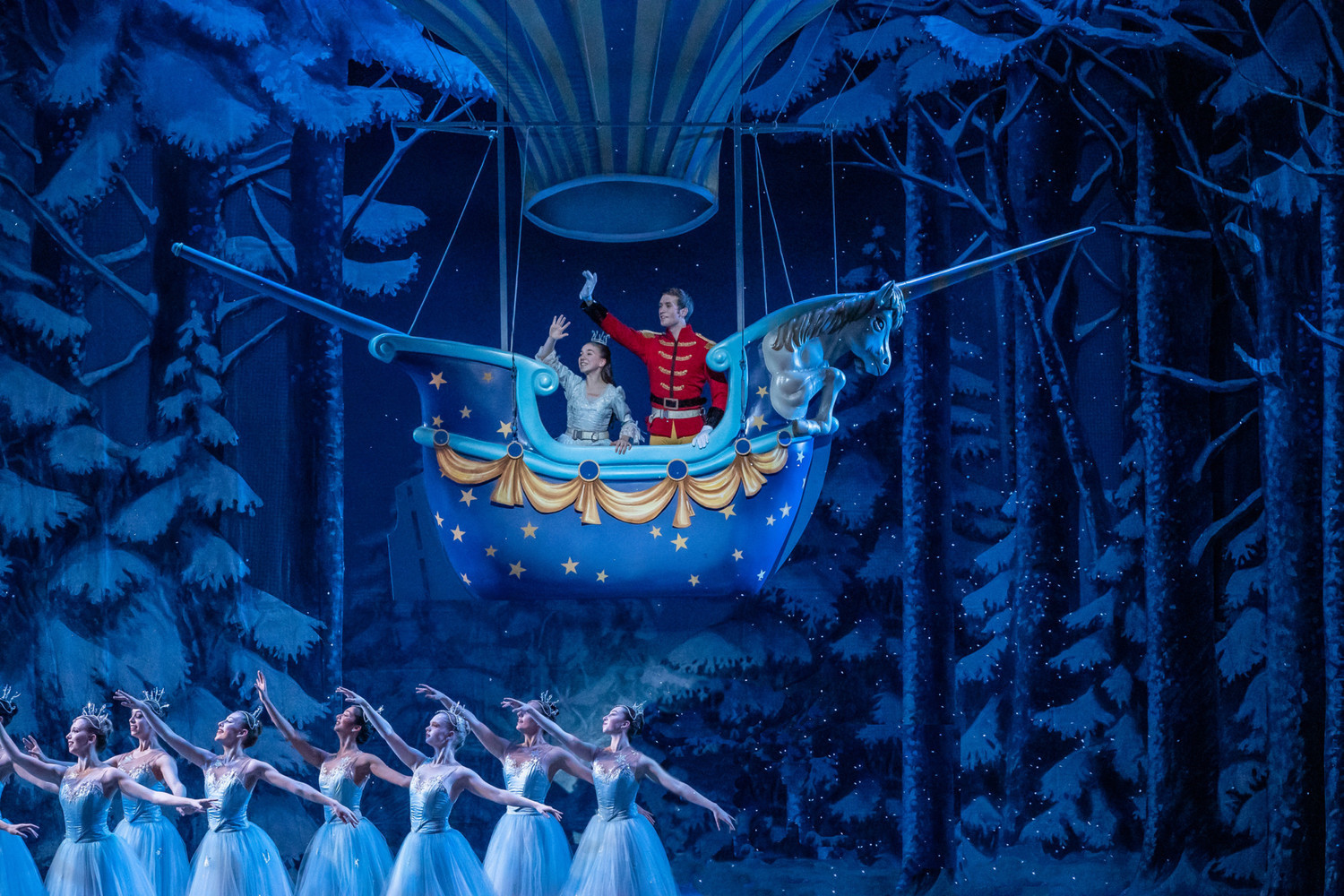 It is now three years since Devon Carney introduced his revised version of The Nutcracker at the Kauffman Center for the Arts. At the time there was some controversy over the move, in which Bolender's seminal production was retired after a thirty-three year run. In the intervening time, however, the new version of this old tale has ably proven itself, even receiving plaudits for its run in Washington D.C.'s Kennedy center in 2017. The Carney Nutcracker is fast becoming a tradition in its own right. And, like the best traditions, it is adapting to stay relevant.
The story, of course, is the same as always: Young Clara (as there are multiple parties taking the roles in rotation, names will not be given) and her family have a Christmas dinner, where Dr. Drosselmeier entertains with magical dolls, including the eponymous nutcracker. That night, Clara dreams of the nutcracker and an army of toy soldiers driving back a horde of mice. Clara helps at a crucial moment, defeating the mouse king and turning the nutcracker into a handsome prince. They are then whisked away to the land of snow, where the king and queen and their snowflakes dance for them. Then it's off to the land of sweets, wherein various treats and flowers perform for the two. Finally, they board their flying carriage for the trip back home.
One thing that always strikes this reviewer is the sheer size and complexity of the performance. For a story so simple on paper, it is easily the most elaborate thing the local company does every year. It's the "pull-out-the-stops" show, and like the Rep's annual "Christmas Carol", they are not shy about enlisting new technologies and stage techniques to enhance the overall experience. I have already mentioned the fact that there are multiple casts, due not only to the heavy performance schedule but the sheer demand of the thing itself. When you've got seven companies, three Claras, two children's' corps, live orchestral accompaniment, wire work, all kinds of elaborate stagecraft...the sheer number of variables can be mind boggling. To do it over and over again (and twice on weekends) is a headache yours truly wouldn't take on for anything. Sooner climb Mt. Everest than put on the Nutcracker.
And yet, it works. The performance last night was, for the most part, clockwork. There were a few minor glitches - a few slips here, a waltzing flower taking a spill there - but nothing more than minor hiccups, brief moments in a well-oiled machine that kept chugging regardless. I would also like to make mention of Trad A Burns's lighting design: lighting is usually something you don't notice until it goes wrong. But Mr. Burns had done an able job, dealing with several tricky setups and bringing his own enhancements to the evening.
Something new being introduced this year is a "sensory-friendly" performance. Put simply, this is a modified version of the show for young persons with sensory sensitivities, such as those on the autism spectrum or with other special needs. They're easing back on the sound effects (particularly the more potentially startling ones) and keeping the theater partially lit throughout. Also on hand will be staff trained to assist should it be required. This reviewer has always believed strongly in making the fine arts as accessible as possible to as many people as possible, so this move is an encouraging one, and we hope to see it become a regular practice both here and throughout the general season.
Overall, it must be said that Carney's Nutcracker is definitely settling in and maturing as a tradition of its own. He and the rest of his company at the KCB have shown, once again, that any material, no matter how old and tradition-bound, may still be made new by innovative thinking. This Nutcracker will in all likelihood be with us for a very long time: always changing, always growing, but still very much at heart the same.
The Nutcracker runs through December 23 at the Kauffman Center.