BWW Review: LAST DAYS OF SUMMER at Kansas City Repertory Theatre
The Spencer Theater, KC Repertory Theatre audience roared its approval at the world-premiere, musical production of Steve Kluger's 1998 novel "Last Days Of Summer." In collaboration with Composer Jason Howland and Director Jeff Calhoun, Kluger's new version makes its first full scale step toward a hoped for long run on the Great White Way.
This brand new musical version of Kluger's novel is handsomely mounted, excellently designed, lavishly scored, well directed, and professionally peopled with excellent New York and Kansas City actors.
The plot is essentially a twin coming-of-age tale spread across a multi-continental palette. There are echoes of the horror that was Nazi Germany, America's pastoral pastime, the always tenuous American immigrant experience, the shock of the Japanese attack on Pearl Harbor, the Asian racial roundups of the early 1940s, and the deadly invasion and bloody victory at Guadalcanal. If all this seems a big bite for two and a half hours, well, it is.
The year is early 1941. The place is New York City. The comers-of-age are Joey Margolis, a Jewish kid living in a mixed, mostly Italian, neighborhood of Brooklyn and New York Giants all-star third baseman Charley Banks (Corey Cott) headquartered at the Polo Grounds in upper Manhattan.
Twelve-year-old Joey Margolis (Robbie Berson) reluctantly prepares for his Bar Mitzvah where he will become a man on his thirteenth birthday. We are left with the impression that the members of the Margolis family are refugees. Joey lives with his Mother Ida (Lauren Braton) and her sister Carrie (Katie Karel) in a third floor walkup apartment. The father has left the home and remarried. He is out of Joey's life. This is important because Joey cannot be Bar Mitzvah without a male sponsor. No other male member of the Margolis family has managed to escape Nazi Europe.
Not only does Joey need a sponsor at the synagogue, but Joey and his Japanese American best friend Craig Nakamura (Jim Kaplan) also need a protector against neighborhood bully Gordon Bierman (Ben Priestland). Joey chooses a father substitute in the person of professional athlete Banks. Joey believes he can attract Charley Banks' attention by writing an endless stream of letters in which he claims to be afflicted with dozens of diseases. Joey begs big-leaguer Banks to dedicate a home run to him a la the famous Babe Ruth called shot a few years earlier.
Charley Banks is himself beat-up by childhood trauma. He has everything. He is an all-star player. He has gorgeous girlfriend and big band singer Hazel MacKay (Emily Padgett). Still, it is not enough. Charley's barely concealed rage surfaces repeatedly with frequent fistfights on the playing field.
Hazel threatens to leave Charley if he doesn't clean up his act. She encourages him to make contact with the small boy who has buried him under all those letters.
Reluctantly, Charley agrees. He happens on Joey being bullied by a bigger kid. Charley becomes his protector and despite himself is drawn to the boy. Charley visits the Margolis family for dinner and gets maneuvered into standing up with Joey at his Bar Mitzvah. Charley takes Joey on the road with him as the Giant's Bat Boy and he becomes the team mascot. The all-non-Jewish baseball team becomes Joey's Bar Mitzvah tutors.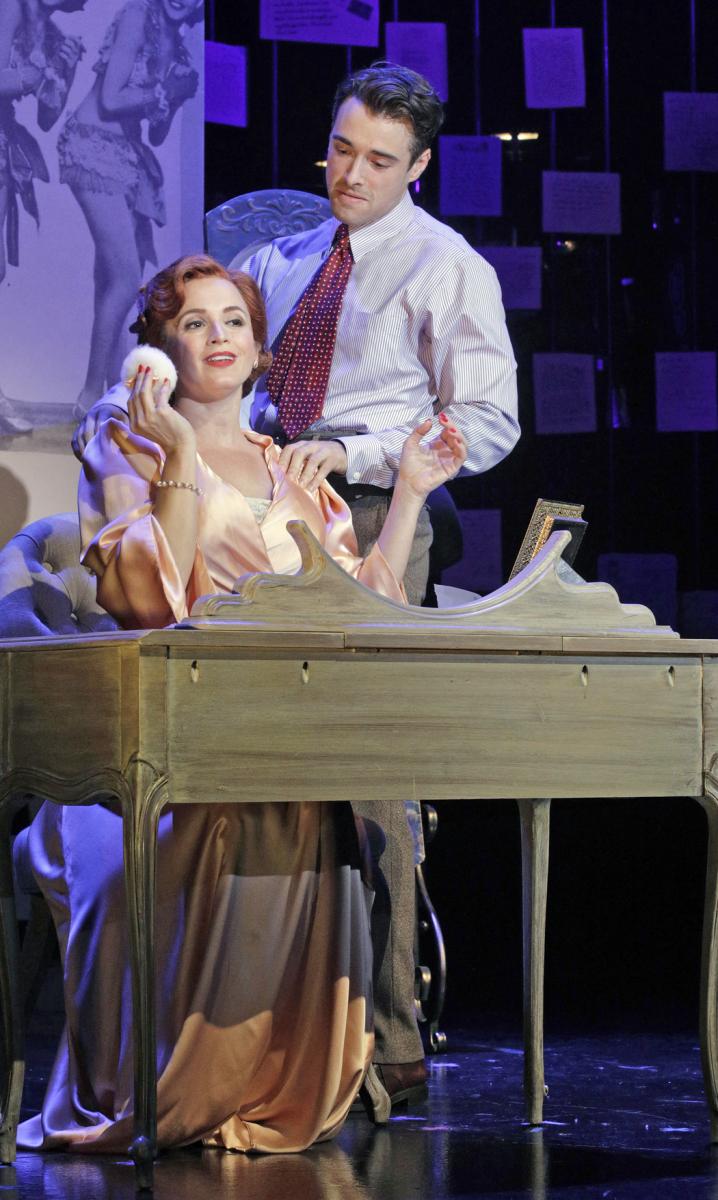 Joey and Charley become even closer as they slowly learn each other's secrets and we get to know and like them better. They return just in time for the Bar Mitzvah ceremony only to face an additional trauma. Joey's best friend Craig is the son of a Japanese-American storekeeper. The Nakamura shop is repeatedly smashed up by racial intolerance. In the distance, one hears echoes of 1938 Germany when the stores of Jewish storekeepers were smashed by the Nazis on "Kristallnaht." Craig's family believes they will be safer among the larger Asian community on the Pacific coast.
December 7, 1941. The Japanese attack Pearl Harbor. Charley and his teammate Stuke (Chris Dwan) enlist in the Marines.
Before shipping out to Basic Training, Charley and Hazel are married. Realizing he may not come back, Charley leaves a letter for his young friend Joey with Hazel to be delivered if he dies. Craig Nakamura's family is interned in the Arizona desert along with all other west coast Asian-Americans.
Joey Margolis is outraged for his friend. He realizes the internment camp is only several hundred miles from Camp Pendleton where Charley is finishing Basic Combat Training. Joey hops a bus and convinces his friend Charley to accompany him to the desert in an effort to spring Craig. They do find Craig. Unbeknownst to Joey, Charley arranges for Craig to return to New York in the care of the Margolis family.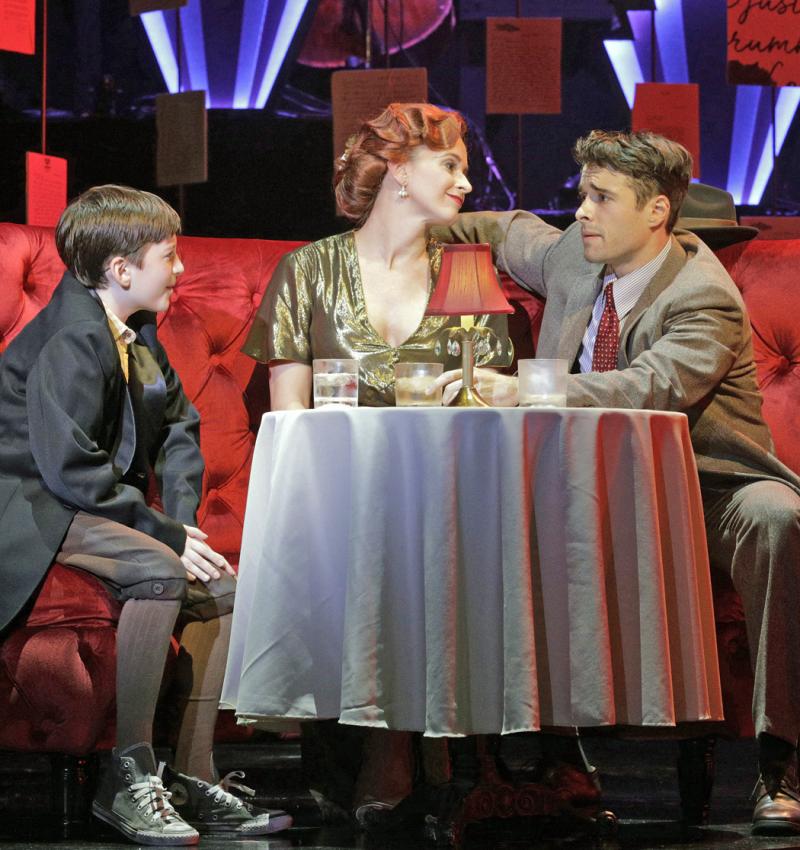 Of course, Charley dies heroically in the war. Hazel delivers Charley's final message to Joey. The spirit of Charley re-appears to Joey and assures him he will always be with him. Craig arrives from his exile.
It is hard to fault a show that is so heartfelt, well-acted, and delightfully scored. Corey Cott, Chris Dwan, Robbie Berson, and Jim Kaplan are all excellent. Jim Kaplan and Robbie Berson are sensitive beyond their years. I could not help flashing on Dwan as Charley the dance instructor from "Funny Girl." Corey Cott is the classic leading man especially perhaps as Joe Hardy in "Damn Yankees." If there ever was a Broadway Baby, she is certainly Emily Padgett. Emily's voice is crystal-clear and powerful with the ability to squeeze the most from every note.
This is an excellent first outing for the "Last Days Of Summer." It deserves to move down the road to New York and London openings, but like all shows (at this point in development) it needs to be pruned and sharpened.
KC audiences should be sure to attend and be mightily entertained. They should look forward to the probable road show version coming back to Kansas City a few years into the future.
"Last Days Of Summer" continues at the Spencer Theatre through September 30.
Photos courtesy of Kansas City Repertory Theatre and Cory Weaver.