BWW Review: CATS at Musical Theater Heritage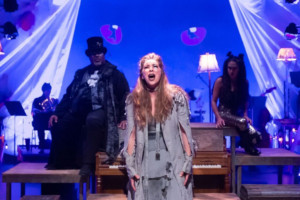 Musical Theater Heritage presents a re-imagination of Andrew Lloyd Weber's 1982 "Cats." This show is a two magical hours to be savored by its audiences. Director Tim Scott has built a team of designers, actors, dancers, and musicians tough to match on any stage. "Cats" is ensemble producing. The actors are outstanding, focused, committed, and well-rehearsed.
"Cats" is loosely based on the poetry of a St. Louis man, T.S. Eliot, who settled in the United Kingdom and enjoyed a wondrous career. Over a long life, Eliot worked as a teacher, banker, publisher, and storyteller. Eliot wrote "Old Possum's Book of Practical Cats" in 1939. Old Possum was Eliot's nickname among his close friends.
Tim Scott has stripped down the original extravaganza to its base parts and reassembled them on the tiny MTH Theater stage in a manner that makes the show powerful, supremely entertaining, and intimate for the 250 audience members.
The set (by Rafael Toribio) is a series of platforms and scaffolds, draped with muslin and backed up by the signature "Cats" eyes on the upstage wall. The set's multiple levels allows for the "Cats" to be displayed in never repetitive stage pictures.
The orchestra is spread across the entire width of the stage on a series of small platforms upstage. Musical Director Jeremy Watson shows his back to the audience playing a spinet piano partially hidden under center stage's highest platform.
In an inspired directorial decision, Director Scott has lightly costumed the orchestra members to become part of the cast. Many of the actors are also musicians. When a string or a flute is needed for a particular orchestration, one of the "Cats" appears with the required instrument and expertly joins the orchestra still in character. At one point, a Cat sits down next to Watson and takes over keyboard duties while he stands, transforms into another Cat, and delivers an hysterical turn as a temporarily overweight cast member complete with fat suit, dance routine, bowler hat, and hand mike.
"Cat" costumes (by Georgianna Londre Buchanan) do not go as far as the originals, but go just far enough and with just enough makeup to suggest the intention. Impressive choreography by Kenny Personett is exhaustive, gymnastic, and extremely well performed.
There is not a less than excellent actor in the entire cast. "Cats" has no real lead actor. The signature song is "Memory" sung mainly by Grisabella (Elizabeth Reece) assisted by Jemima (Morgan Lynn Sterrett). Old Dueteronomy (Ron Lackey) is the leader of the Jellicle Cats and the possessor of a huge overpowering baritone. The rock and roll cat Rum Tum Tugger (Anthony Gasbarre) is an excellent Elvis of the junkyard. I got an especial kick out of Skimbleshanks (Joey Boos) the railway cat and out of Gus (Bob Kohler) the theatre cat. Munkustrap (Taylor Avazpour) is an outstanding kind of master of ceremonies.
I want to be sure to recognize this entire cast. It is a dream cast any director would be glad to have. Remaining are Macavity (Darrington Clark), Demeter (Kayli Jamison), Jellylorum (Elise Poehling), Mr. Mistoffelees (Austin Ragusin), Bombalurina (Emily Shackelford), and Jennyanydots (Morgan Walker).
T.S. Eliot passed away in 1965 after a life filled with honors and a memorial dedicated to him in Poet's Corner inside Westminster Cathedral in London. A young Andrew Lloyd Weber was fascinated enough with Eliot's poems to set them to music and secure the permission of Eliot's widow for the production of this play.
The original 1981 London and the 1982 Broadway incarnations had complex technical values, radical sets, and costumes that made the actors unrecognizable as anything but the cats they portrayed. The plot is deliberately thin. An annual gathering of the Jellicle clan decides which of the clan must be reborn after a trip to the "heavenside."
You will enjoy this reimagining. It is among the "best of show" and unlike anything you will have ever seen. "Cats" continues at MTH Theater in Crown Center through June 24. Tickets are available at www.musicaltheaterheritage.com.
Photos courtesy of Musical Theater Heritage, Tim Scott, and J. Robert Schraeder.