BWW Review: CABARET at White Theatre
The place is 1930s Berlin during the fading years of the Weimar Republic before Adolf Hitler became Chancellor of Germany. The play is "Cabaret," the 1966 multiple Tony Award winning musical iteration of Christopher Isherwood's semi-autobiographical novel about the rise of the Nazis and libertine Europe performed at the Jewish Community Center's White Theatre.
Composer John Kander and lyricist Fred Ebb, along with playwright Joe Masterhoff together adapted "Cabaret" from the above-mentioned novel and an earlier straight play called "I Am A Camera" by John Van Druten. Kander, Ebb, and Masteroff are all of Jewish ancestry. John Kander is a Kansas City native and still active at 91 years-old. Fred Ebb hailed from Manhattan and Masteroff came from Philadelphia. Isherwood and Van Druten were both Brits who emigrated to America and became U.S. Citizens.
"Cabaret" takes place inside the seedy Kit Kat Club, at the Berlin Train Station, and inside Frau Schneider's boarding house. The audience is literally "Willkommen(ed)" to the performance by the memorable Kit Kat Club "Emcee," a storyteller much like "El Gallo" from the "The Fantasticks" or "The Leading Player" from "Pippin."
For this very good community theater production, early comers are conducted to club tables in what would ordinarily be the left and right corners of the orchestra pit... An excellent eight-piece band is visible upstage right directed by Marsha Canaday.
Director Tim Bair captures the original production ethos and the later wildly successful reboot while honoring both in this darkish tale told brightly. The White Theatre is well suited to Justin Dudzik's creepy lighting and Tim Rothwell's excellent set. A huge, multi-purpose, platform and stair unit backs the central club set. A rolling, twin barn-door construct upstage center opens for entrances, exists and seamless scene changes.
The show opens as Emcee (Arthur Clifford) welcomes his audience and introduces his retinue of players and the inimitable star of the show... Miss Sally Bowles (Jennifer Renfrow). They are sexy, androgynous, and tons of fun. Anything goes.
Cliff Bradshaw (John Edmonds), a young, starving, American novelist (the doppelganger for actual author Christopher Isherwood) desperately seeks a muse and a subject for his dreamed-of, upcoming, breakout novel. Meanwhile, Cliff will support himself by tutoring English.
We meet Cliff at customs check in the Berlin Hauptbanhoff. His passport is stamped. His bags are checked. A pleasant, local gentleman behind Cliff in the line strikes up a conversation.
Ernst Ludwick (Ron Meyer) is a fellow traveler, a minor smuggler, and the friendly fellow you might meet in any town who can hand you the keys to the city. Ernst uses minor misdirection to help himself push a briefcase containing contraband through the checkpoint.
Cliff is new to Berlin and Ernst cannot be more helpful. Ernst recommends Frau Schneider's (Pam Sollars) inexpensive boarding house and introduces Cliff to the riotous, notorious underbelly of Berlin at the Kit Kat. The boarding house is perfect and Cliff already knows one of the male dancers at the Club following a brief tryst in London. He is also attracted to the aggressive, sexy English chanteuse, Sally Bowles.
Our remaining leading players are Frau Schneider's other borders; her paramour, a successful Jewish fruit merchant named Herr Schultz (Ray Zarr) and Faulein Kost (Lindsay Day), a hooker with a weakness for sailors.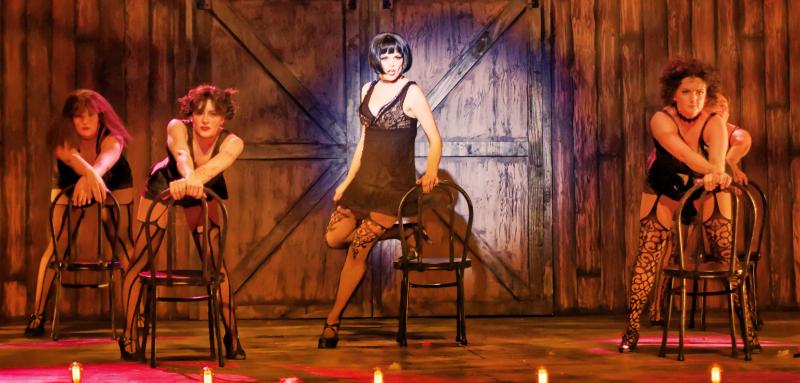 Sally loses her job at the Kit Kat and maneuvers her way into becoming Cliff roommate and lover. They become pregnant. Ernst helps the couple by providing paid errands for Cliff inside his little smuggling operation. Cliff doesn't want to know the political details. He just needs the money.
Herr Schultz proposes to Frau Schneider. She accepts and stages an engagement party. Ernst removes his topcoat to reveal a Swastika armband. He warns Frau Schneider not to marry a Jew. She is terrified.
Cliff realizes he has been acting as a Nazi courier. He refuses further employment. Cliff will sell his typewriter, pack up pregnant Sally, and flee home across the Atlantic to the safety of Pennsylvania.
Frau Schneider sadly understands. She cannot afford to advance her relationship with Herr Schultz. He is unafraid. His people have seen this before. Jews have endured incarnations of the Nazis for millennia. He believes they will pass in time. He is wrong.
Sally is rehired at "The Kit Kat Club." Pennsylvania and domestic bliss holds no allure for her. She is having too much fun. Sally pays an abortionist to end her pregnancy with her prized fur coat. Sally cannot foresee see the horrific future to come.
Seldom is a community theater cast as well balanced as this one. Everyone is good. Jennifer Renfrow as Sally and Arthur Clifford as the Emcee are standouts. The normal comic relief team of Schneider and Shultz (Pam Sollars and Ray Zarr) play against type to form the warm heart of this particularly ugly matter. The small "Cabaret" ensemble makes best use of quality choreography Kacy Christensen and excellent costuming by Julia Ras.
The memorable, entertaining, Kander and Ebb score includes the title track, "Don't Tell Momma," "Mein Herr," "Money," "Maybe This Time," and the famous opener "Willkommen." Audiences are encouraged to peel back the musical fun and ponder what lies underneath the surface.
"Cabaret" continues at The White Theatre through February 17. Tickets are available online at https://thejkc.org/ or by telephone at (913) 327.8000. A current story and a video featuring John Kander sharing his thoughts on another concurrent production of "Cabaret" can be found on www.BroadwayWorld.com.
Photos courtesy of the White Theatre and Rich Fabac Photography.
Related Articles View More Kansas City

Stories

Shows