FINDING A VOICE Festival Returns Next Month
The festival runs Wednesday 8th – Sunday 12th March, 2023.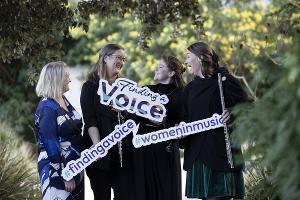 Audiences are eagerly anticipating the sixth edition of Finding a Voice, the innovative festival which will take place in Clonmel from March 8th to 12th. Featuring unforgettable music by remarkable women, Finding a Voice celebrates women in music throughout the ages and around the world.
One of the many festival highlights will be the first visit to Ireland of celebrated Spanish pianist Antonio Oyarzabal who has championed the works of women composers through his acclaimed album, La Muse Oubliée and his work as an ambassador for Donne-UK. Antonio says "I am extremely excited to come to Ireland to perform at Finding a Voice, because theirs is a labour of love and trust. I am so looking forward to being able to share my discoveries and work in this field with the lovely audience in Clonmel next month."
There will be a distinctly Latin American feel to the visit of 2023 Artist in Residence, guitarist Eleanor Kelly, who will perform music from Spain and South America over the course of the festival. A passionate advocate of women in music, Eleanor says "it's an honour and a pleasure to be Artist-in-Residence at Finding a Voice 2023. Being given the opportunity to perform these guitar works, which are so special to me, at a festival that champions the often overlooked and undervalued artistic output of women composers is a huge privilege."
As always, Finding a Voice continues to support the music of living Irish composers with the world premières of commissioned works by Gráinne Mulvey, Siobhán Cleary and Áine Mallon, as well as the winning piece in the Emerging Composer Competition, in association with the Contemporary Music Centre, Ireland.
Artistic Director Róisín Maher says "I'm really thrilled to be celebrating six years of Finding a Voice and continue to be proud of the fact that we've programmed so many incredible concerts featuring women composers in that time. The musical landscape has certainly changed since our first series of concerts in 2018 and, although there is more awareness now of women composers as well as opportunities to hear music by women, it's still important to keep showcasing the range and depth of creativity that's out there."
Finding a Voice is the only festival of its kind in Ireland and the British Isles and offers audiences a unique opportunity to hear unforgettable music by remarkable women in beautiful and historic locations in the scenic town of Clonmel.
Finding a Voice runs from Wednesday 8th to Sunday 12th March. Festival passes are already on sale on Eventbrite - see findingavoice.ie for further details.