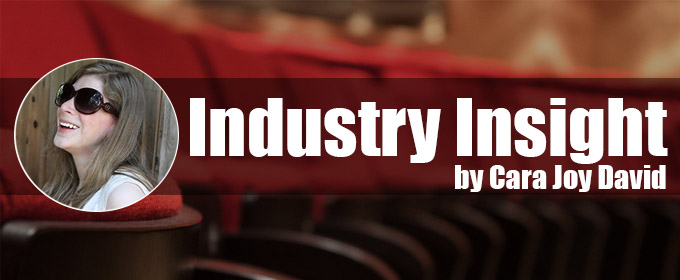 Industry Insight - by Cara Joy David
Industry Editor Exclusive: Breaking Down Ambassador Theatre Group's Broadway Invasion; An International Affair
For a community dependent on tourists, Broadway does not like outsiders. So it is no surprise that, in 2013, when Ambassador Theatre Group (ATG), a large theater owner and producing conglomerate in the UK, paid approximately $60 million for a long-term lease on one of Broadway's largest, but most troubled, venues, the industry took notice. Of course, insiders knew ATG prior. Not only because the organization owns a massive amount of theaters overseas, and its co-founders and then co-heads Howard Panter and wife Rosemary Squire wielded a considerable amount of power worldwide, but because ATG had co-produced shows on Broadway before.
"Howard Panter, he loved the theater but also always thought he knew everything," said one independent producer who did not wish to be named. "He thought he had uncovered the secret to producing, very much like a much more amiable Garth Drabinsky: outsiders who have had hits in their home country and don't understand Broadway or think they can change it. There are a lot of things we all wish we could change about Broadway--I would sit in the room and want to wish them luck, but it wasn't worth the breath."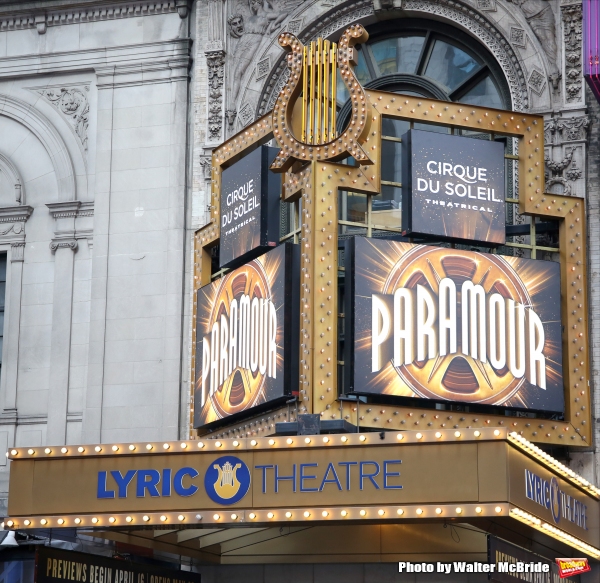 ATG has come a long way in North America in a short time. No longer simply a co-producer of shows in other people's New York venues, it now holds a lease on two Broadway theaters: the 1900-seat Lyric (renamed by ATG after it took over) and the 970-seat Hudson Theatre. ATG and the Hudson's owner, Millennium & Copthorne Hotels plc, jointly restored the Hudson, which hadn't been used as a theater in years. Some say ATG overpaid, for both the lease and renovation, but others say it was worth it.
"It's one of the most gorgeous restorations ever," one insider gushed. "Money works."
While conversations with industry folks about Broadway's established major theater owners--The Shubert Organization, Jujamcyn Theaters and Nederlander Organization--often includes talk of tradition, most discussions about ATG center on expansion or ticketing. Basically, money.
THEATER TAKEOVER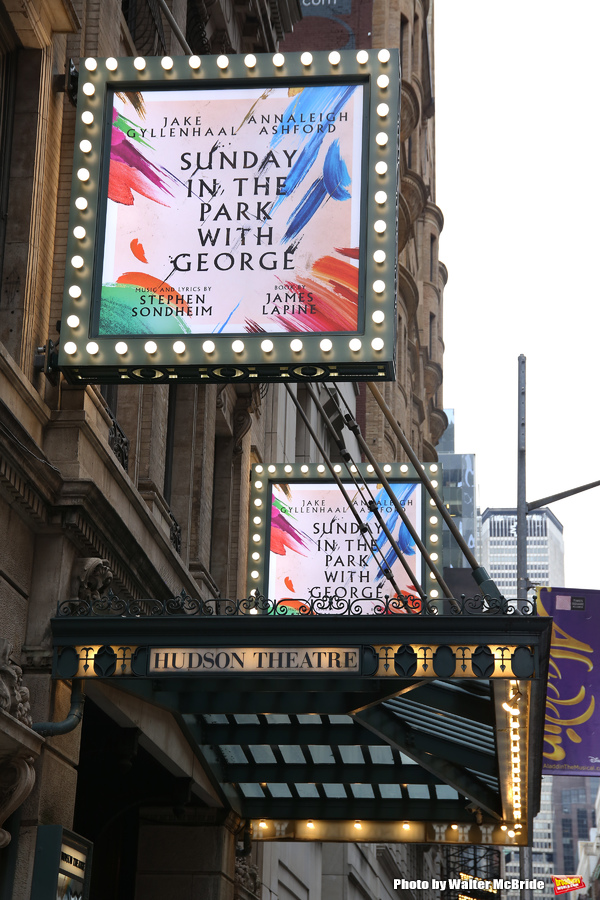 In this century, ATG has gone on a theater buying spree, backed by private equity money. In 2009, it became Britain's largest theater operator when it purchased 16 venues from Live Nation for almost $120 million, thanks to capital infusion by Exponent Private Equity. Four years later, the same year it took over the Lyric, ATG was bought by another private equity firm, Providence Equity. ATG is one of dozens of companies in the Providence Equity portfolio, which also includes familiar television titles the Yankees Entertainment and Sports (YES) Network and Hulu.
It has also gone through a lot of leadership changes. Panter and Squire stepped down as joint chief executives in May 2016, replaced by business executive Mark Cornell. Supporting Cornell is Executive Vice President Adam Kenwright, who has a theater producing background and came to ATG from Adam Kenwright Associates (AKA), a theater marketing firm, which just happens to be another Providence Equity company. For North America, in November 2016, business executive Stephen Lewin was tapped as CEO and Tony winning producer Kristin Caskey was appointed EVP. Cornell and Lewin came to ATG with no theater experience but both have experience in the champagne business. (Apparently someone thinks alcohol companies and theater companies share commonalities. Note that the Broadway League's own head, Charlotte St. Martin, came to the position over a decade ago with only hotel experience.) It appears that both ATG worldwide and the American branch have a money man at the top and an EVP with theater credentials. Late in 2016 ATG also appointed a new chairman, Tony Ball, a former Sky TV executive and Providence senior adviser. No one is sure yet where this new leadership will take the company, but there are some universal beliefs about its direction.
Private equity firms are extremely interested in the bottom line, which makes their investors happy and their portfolio companies more valuable for possible flipping. Real estate holdings help the bottom line--and ATG has gone on a North American buying spree and now has nine theaters here. Its latest acquisition, Boston's Colonial Theatre, for which it obtained a 40-year lease, will re-open in 2018 after millions in renovations. There are rumors the company wants still more theaters, with the Times Square Theater being among the properties mentioned as a possible target for ATG since even before it renovated the Hudson. (The Times Square Theater has not been a theatrical venue since the 1930s--currently all its entrances are 42nd street, making it difficult for load in, but every few years plans surface to restore it.) Another insider said that ATG is also considering acquiring large Chicago and Los Angeles venues. Someone else said he wouldn't be surprised if ATG's end game involved one of Broadway's larger landlords. Worldwide the company already has over 45 theaters. It has the financing to pay top dollar for more. Broadway, where there has been a theater shortage for years running, is an obvious target. (Pray a recession never hits again for this and other, more basic, reasons.)
Theaters are especially valuable if there are long-running shows associated with the theater. So while Cirque du Soleil had a deal to stay at the Lyric, where it premiered its first Broadway musical PARAMOUR in 2016, it was worth it for ATG to pay the troupe a reported sum of $20 million to walk away, so ATG could put HARRY POTTER AND THE CURSED CHILD at the theater. Not only will HARRY POTTER run forever, it is also co-produced by Sonia Friedman Productions, which is owned by ATG. Even though the company did some work at the Lyric when it took over a mere four years ago, ATG is currently spending millions to ready the theater for HARRY POTTER, including removing 400 seats and moving the theater's entryway from 42nd to the less congested 43rd Street. Those who have seen the plans praise them.
The Hudson is a risky acquisition in this sense--as it is a mid-size play house, having a long-runner is less likely. This is where ATG's focus on customer service comes into play. This focus is obvious in the theater's renovations and top-notch amenities. The hope is that the venue will be a premier spot for prestigious, starry plays and well-reviewed London imports.
A producer of SUNDAY IN THE PARK WITH GEORGE, which opened the theater earlier this year, praised producing with ATG at the Hudson, saying it was a "real dream experience," partially due to this emphasis on audience experience. Real drinking glasses and a special lounge, with its own restrooms, are part of this experience.
That lounge--called the Ambassador Lounge--is similar to the lounge ATG installed at the Lyric and many of its West End houses. However it is not universally popular. At the Lyric, which is a venue associated with Ticketmaster, it involved a separate ticket purchase. In other words, those wanting to go see ON THE TOWN and get the lounge experience had to pay two separate fees, it wasn't that a premium ON THE TOWN ticket, no matter how expensive, got you into the lounge. This rankled some in the industry as it was seen as a failure of collaboration between theater owner and producer. Other individual producers who looked at the venue also told me they worried about ATG's flexibility and support. Of course that will not matter now, as the venue will be spoken for for a long time to come.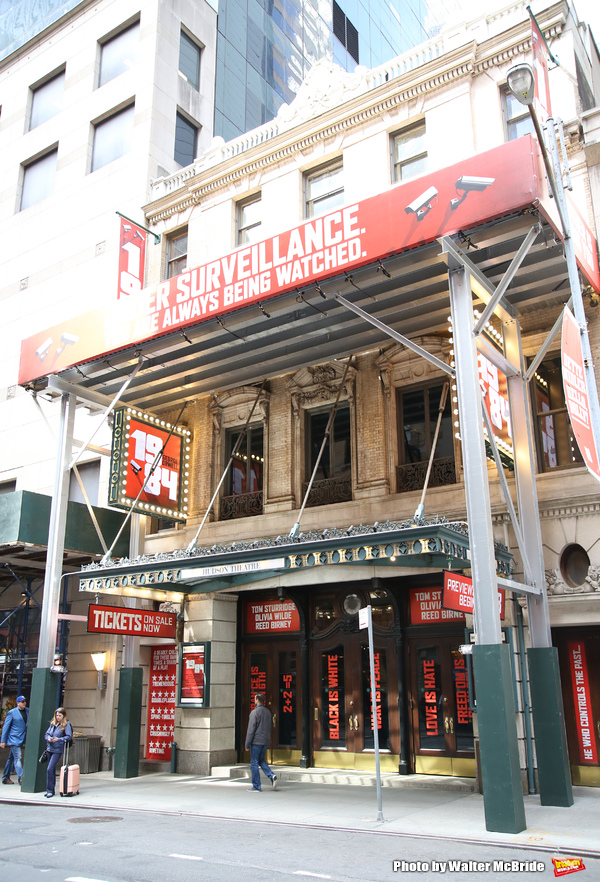 Broadway insiders also like and respect Caskey who they hope will be a positive force. Caskey is focusing on production development, so it is likely not only will ATG buy more theaters, but it will have more of its own shows to put in those theaters. That is in line with what it has done for years in the UK and so far at the Hudson.
The shows at the Hudson, SUNDAY IN THE PARK WITH GEORGE and the current 1984, have been co-produced by ATG. The next show, THE PARISIAN WOMAN, starting performances in November, is the first one not to be.
A NEW TICKETING WORLD
All of Broadway's other theaters are on Telecharge, operated by Broadway's biggest landlord, The Shubert Organization, and designed especially for the theater, or Ticketmaster, America's best-known ticketing site. (Each have their negatives, but that is for another column.) The Lyric uses Ticketmaster, perhaps because of some deal established before ATG acquired the lease. The shows at the Hudson have been a hybrid of ATG's own ticketing system and Telecharge, raising eyebrows among the community and ticket buyers. ATG makes a substantial amount of money in fees using its own system, so obviously it would prefer to exclusively employ that. According to one producer, it has not thus far because it wanted to prevent confusion among Broadway ticket buyers used to going to only either Telecharge or Ticketmaster. The plan has not proved to be a perfect one.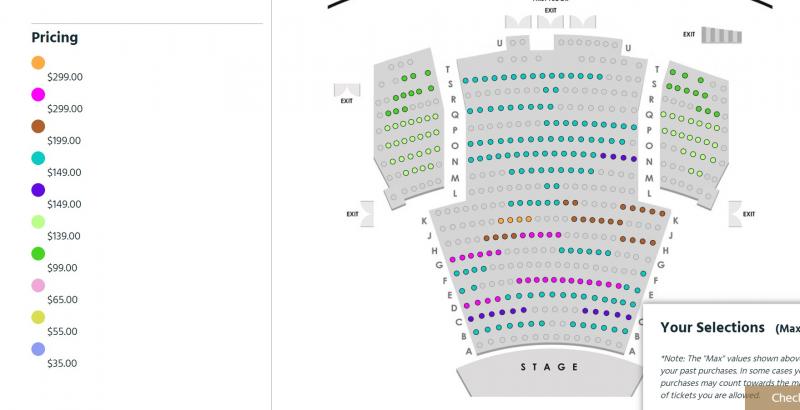 ATG and Telecharge have different tickets available for the same performance. (See photos for an example of one performance of 1984.) Except someone buying online or calling either service would think the tickets seen on that particular site were the only tickets available for a given performance. For 1984 this has not been as big a problem, but for SUNDAY IN THE PARK WITH GEORGE it caused some confusion. Someone would call Telecharge and be told a given performance was sold out, except there were tickets available on ATG. ATG was the official ticketing service linked to from the show's website, except a caller to Telecharge would be told Telecharge was operating as the box office would. 1984 has had similar issues, but as the show is not as popular, so generally tickets are available on each site.
The sites have the same service fees: $11 per ticket and $3 per order; there is no cost difference. Only purchases through ATG ticketing give the option of special ATG perks, like a glass of wine upon arrival or access to the Ambassador Lounge. (See photo for add-on options to 1984.) The Hudson is not yet linked to ATG's special app that allows pre-show snack ordering--the Lyric and its London theaters are--so this ticket add-on option is the only way to pre-order at the Hudson for now. And it's only available via ATG ticketing. Of course, other theaters have no pre-show ordering, so this is likely not make or break for prospective purchasers.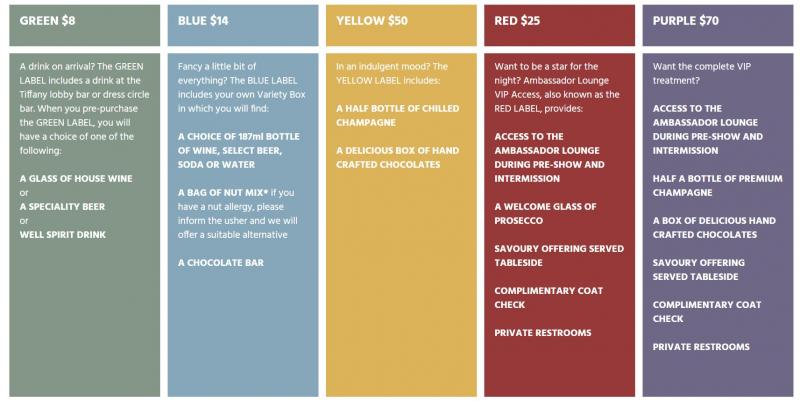 Starting with THE PARISIAN WOMAN, the experimental Telecharge/ATG mix appears to be no more. When the Uma Thurman vehicle goes on sale to the general public on August 14, tickets for the show will only be available through ATG ticketing. The show will appear on Telecharge, as Ticketmaster shows do, but clicking the "find tickets" link on Telecharge will simply redirect the buyer to ATG, as it redirects a WICKED buyer to Ticketmaster.
Many are excited about ATG ticketing, which offers a clear user interface that displays ticket prices and availability. ATG offers their ticketing service to third parties--anyone's money is good with them--and some speculate that other theaters might switch over. Right now though it remains to be seen whether anyone will opt in. Though there are complaints about Telecharge, it is hard to go against The Shuberts.
Despite three weeks of trying, ATG refused to be interviewed for this piece. That is unfortunate because there is no better source of information about the company's plans than the company itself.

Related Articles
Industry Classifieds
Cara Joy David is a New York-based entertainment journalist who has been covering the theater industry for over a decade. Her features have appeared in (read more...)