Review: SVATUHARI'S Musical VIOLET is an Overpowering Explosion of Colors
The 3.5-hour original musical is an ambitious undertaking, but could use some editing.
SVATUHARI, the theater community that started as a high-school theater community previously known as SEP Theater and The Someday Project, returns to the stage with VIOLET: WARNA YANG BERBEDA ("Violet: A Different Color"). This original musical boasts a cast of digital influencers, a 3.5-hour runtime, and a huge ensemble clad in dazzling costumes.
VIOLET: WARNA YANG BERBEDA is directed by Rinaldy Zulkarnain, produced by Joseph Moris (producer) and Gitta Indreswari (line producer), and co-music-directed by both Moris and Imanuel Abraham.
The script is based on a 2013 musical written and performed by SEP Theater titled VIOLET THE MUSICAL: TALES OF VIONA. Though many names and details of the world-building have changed, the two musicals share many commonalities. The credited writers are Mariska, Steven, and Fatiasha.
This iteration of VIOLET is set in Tanawarna, a country made out of four main tribes bearing different colors. They are: Wangsa Merah (red), brave warriors and protectors of the land adept in martial arts; Wangsa Biru (blue), artists, creatives, and cultural ambassadors; Wangsa Kuning (yellow), traders and merchants known for their business acuity; and Wangsa Jambu (pink), educators, administrators, and governors of the nation.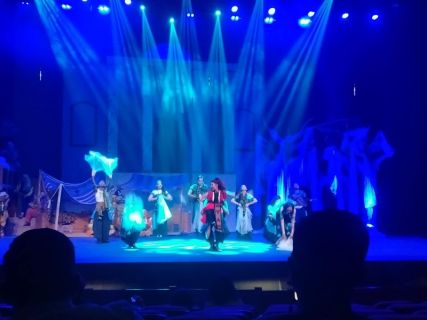 Among the warriors of Wangsa Merah is Miranda (Zsazsa Utari), a young woman who uses a unique fighting style. Her swift and dance-like slashes contrast the typical ferocious and powerful strikes of the red warriors. This brings her considerable animosity from others, including her rival, Makatza (Sabrina Athika), who recently defeated Miranda in a bid to be the nation's head of law enforcement.
The nagging feeling inside of Miranda that she does not belong with Wangsa Merah eventually pushes her to demand her adoptive uncle, Mateo (Ihwan Zaid), to bring her to see her parents. After going through the Yellow Market and Blue Forest (including a skirmish with Wangsa Hijau (green), a pariah tribe whose members turn to crime), Miranda and Mateo arrive at the graves of Miranda's parents.
Much to Miranda's surprise, her parents actually hailed from different tribes: her mother, Julia (Clarest Taufan) came from Wangsa Jambu, while her father, Billy (Rinaldy Zulkarnain) was from Wangsa Biru. As cross-tribe romance is a crime punishable by death, the revelation shocks Miranda to her core.
Mateo admits that he agreed to take care of Miranda, and chose to hide her identity as well as her true name: Violet. As Violet is still trying to come to grips with her identity, a group of Merah warriors barge in and arrest Violet for the crime of being the child of a cross-tribe couple.
In the royal court, the spiritual leader of the nation, the ruthless Jenova (Tasya Acha) seeks to condemn Violet as according to the holy book purported to be the god Puti Agung's divine words. Overseeing the procedures is the newly-appointed queen Joanna (Leyla Aderina), whose strong sense of duty overcomes her personal morals.
As it seems Violet is about to receive capital punishment, the royal advisor Jill (Ravil Prasetya) reveals himself as not a member of Wangsa Jambu, but Wangsa Hijau instead. This fact renounces the belief that only Wangsa Jambu are wise and spiritual enough to communicate with Puti Agung, shaking the nation's beliefs to their core.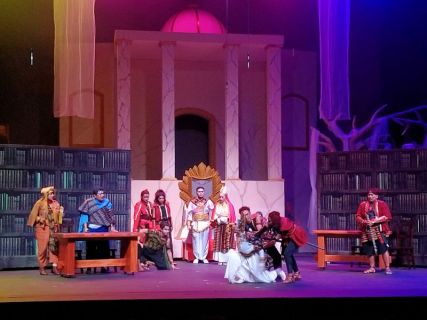 Upon the revelation, Joanna decrees that Violet is innocent and Jenova is stripped of her position and power, on the suspicion that she has twisted Puti Agung's words for her own agenda.
Not long after, as Violet and her friends and family gather in celebration of her verdict, it's revealed that Joanna has abdicated. The new king is Barra (Alvin Lapian), the charismatic heir to Wangsa Biru tribe. As he ascends to the royal throne, he lets out an evil laugh, seemingly hinting at a nefarious ambition.
As one might surmise from the story, VIOLET is packed with both dramatis personae and worldbuilding. In truth, there are many more characters and subplots that I had to leave in the interest of (relative) brevity; some of the yet unmentioned major characters include Janus (Rendhy Fabian), Joanna's father, who also resigned the throne; Kamala (Dhea Seto), Mateo's ex-lover; and Hel Bandito (Safa Prasodjo), a bandit leader from the green tribe.
Additionally, there's a romantic subplot between Violet/Miranda and Barra (that, in my opinion, feels too sudden and unearned); scenes where the cast interacts with the audience; representatives from the other tribes arguing during Violet's indictment; and many, many more.
As a result, it often feels that VIOLET lacks focus; it wants to do so many things, to introduce the audience to this rich and charming world that they've built, that it sacrifices clarity and pacing. This decision makes the show feel even longer than its runtime.
Taking a close look, the script also has tonal issues. The dialogues can get overly poetic and literary at times, even though the same characters would speak more casually before. There are contemporary references and jokes (though some were dated) that come off as jarring and detract from the immersion. There's also slight confusion on who the musical's target audience is; it's a mature story, with some sexual jokes, but there's no age limitations mentioned on the main posters and social media posts.
In looking to explain the whole construct of VIOLET's world, there's also a huge amount of exposition. The amount of names, places, and past events can get overwhelming fast. Supporting characters get gratuitous amounts of backstory that are unnecessary to the main plot. There are also cases where a character's reply to another character's line doesn't flow well at all.
That is not to say that the story doesn't have a good message. Its message of tolerance is always relevant, and the world of Tanawarna is practically made for it. Yet one can't help but wonder if the actions of the characters could've had more agency in ushering in a change to the people's beliefs; Violet being a cross-tribe offspring is not something she did out of her own volition; even her having both blue-and-pink blood in her doesn't really play a hand in the story's resolution.
Rather, it was Jill revealing his identity that single-handedly brought down the old status quo. If so, shouldn't it be his story instead? And the script also unfortunately doesn't further explore how the main characters could change the tribes' deep-rooted preconceptions of segregation. Although, to be fair, I might have forgotten the minute details amidst the many different plot threads.
It is strikingly obvious that VIOLET's script still requires a huge amount of work. A thorough editing to trim down the fat would've made it a more focused, effective, and easily digestible tale.The cast of characters can probably be culled to around half. VIOLET's script wants to do everything, with the consequence that it did none of it fully satisfactorily.
However, when it works, the worldbuilding is indeed enchanting and intricate. The people of Tanawarna have their own greeting, customs, and even naming system. This rich, living culture is brought to life beautifully through the production design (with Jordany as costume designer and both Itsari and Zhalfa as co-costume designers; Verren as makeup artist and Callista, Azizah, and Frida as co-makeup artists; Akmal as production developer; Tantra as scenographer; and Sukma as lighting designer).
SVATUHARI's costumes, in particular, are an absolute delight. They are mesmerizing and endlessly creative in the way that each cast member, including the ensemble, has a different and personal outfit while maintaining certain elements as according to their tribe. Additionally, the costumes incorporate the traditional tenun ikat Sabu-Raijua fabric from the province East Nusa Tenggara in various ways; sometimes they are used as shawls, other times as sarong or sash. The costume design is an absolute work of genius and will be fondly remembered as an all-time classic.
The make-up work is also lavishly detailed, with unique face markings, appropriately-colored hairdos (or hijab), and even tribal arm 'tattoos'. While the details might be lost on stage depending on the audience seating, they can be seen more clearly on SVATUHARI's lovingly curated social media posts.

Tanawarna is also brought to life through the use of majestic set pieces. Particularly, the front facade of the royal palace, which looms high on stage as a place for the ruling class to address the populace. Other sets are also considerably detailed.
It should be noted, however, that the set changes are almost always done with the lights on, meaning the audience can see the stagehands pulling and pushing set pieces around while the characters are also talking someplace on the set. Apparently, this direction seeks to create a seamless experience akin to watching 'single take' scenes in a movie. Unfortunately, it doesn't really work, as the act of changing the set can be quite distracting both visually and aurally.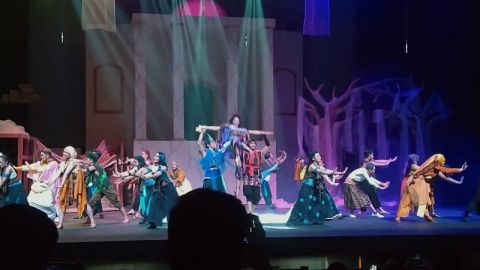 Furthermore, the black shirt-and-jeans worn by the stagehands made them stand out greatly to the cast's colorful outfits. Perhaps it would have helped some if the stagehands were dressed as if they were the denizens of Tanawarna. Though it's even more likely that a more conventional approach to set change would've served the show better.
But the ones inhabiting these places are, of course, the actors. The performances in VIOLET are, in general, great. It comes as a pleasant surprise, considering that many of the performers have never acted on stage before.
The stand-out actor of the night was Zsa Zsa Utari as Miranda/Violet, who was endlessly enjoyable to watch in every scene she was in. The way she moved was full of character and her lines were both enunciated clearly and delivered with the appropriate emotions. As a result, Miranda/Violet was a very likable protagonist who was easy to rally behind.
Another highlight was Barra, as played by Alvin Lapian. Sly, smart, and charismatic, Barra was an intriguing character. You couldn't help but admire him while suspecting him. And Alvin played the role spectacularly, it's hard to imagine anyone else playing Barra to such perfection.
Ravil Prasetya, as Jill, also deserves a mention. After the unveiling of his true identity, Ravil's Jill is a sprightly and mischievous character. He jumps around. He puts his feet on the table. He, I believe, improvises little quirky scenes that bring additional levity to the show.
And, there's also Tasya Acha as the main antagonistic figure, Jenova. She's everything you want from a villain: cunning, imposing, and just an absolute force to be reckoned. Even the way she walks and waves her staff tells a lot about how powerful this older woman is.
Overall, the cast members gave their utmost performance. Everybody was committed and went all-out. It's doubly impressive considering there were only a few clip-on microphones used, with most scenes requiring the actors to project their voice loudly throughout the theater (with the help of condenser mics).
Still, it's worth mentioning that the emotional level of some scenes are weirdly calibrated. There are scenes where the characters got really intense, really quickly, and without an appropriate trigger, that it was jarring. These moments of intensity made for a disjointed watching experience.
Additionally, the way some characters speak their lines, especially if they're doing a character voice, sounds really harsh. This not only makes the lines hard to catch, making the story even more difficult to grasp, but also makes one worry about the actors' vocal health.
As for the music, there's surprisingly less songs than one might expect from a musical. The songs that are there are, at the very least, perfunctory. But the songs shine when it involves the whole ensemble, making good use of VIOLET's vibrant worldbuilding. The choreography (by Elly Bittner) is full of character and made good use of the available space.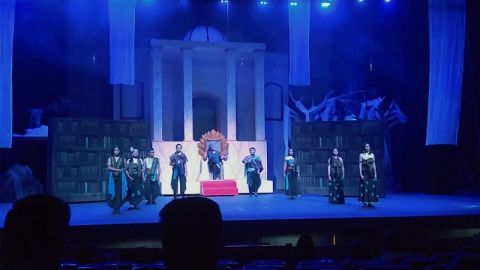 One particular note is that the second Act opens not with a lighthearted group number as is typical of a Broadway musical, but with an intense duet between Janus and Joanna. It's a convention that the Act 2 opener should be something that eases in the audience for more of the story, as the audience has just come back from the intermission; being welcomed back by a confrontation between father and daughter could quickly sap out the audience's energy.
Vocally, it's unfortunate that the actors' singing was not as strong as their acting. There were no particular highlights in terms of singing prowess, though everyone could carry a tune, more or less. The live music accompaniment was similarly fine, with very slight but understandable imperfections.
In conclusion, VIOLET was such a hugely ambitious undertaking for SVATUHARI. As a theater community, it does feel like SVATUHARI bit off more than they could chew. In building an epic set in a fantasy world, many of the finer moments of scriptwriting were unfortunately lost.
Still, it is applaudable that SVATUHARI even ventured to produce a show of this scale. And it is undeniable that the production had many great things going for it; first, the beautifully rich and well-realized worldbuilding; secondly, the dedication of the actors and the crew members; third, the solid acting performances; fourth, its ability to reach out to actors and influencers new to the stage; and finally, the well-executed marketing and social media efforts.
After their first show as SVATUHARI, I am looking forward to their next productions. With the imaginative world of Tanawarna, there's always the potential to explore other stories in the same universe. Whichever way they go next, VIOLET has proven that they are brave go-getters who dare to dream big.