RISD and DirectCreate Join Forces For Cultural Collaboration in India
This unique course will take students on a journey through Delhi, Agra and Fatehpur Sikri to the  city of Jaipur.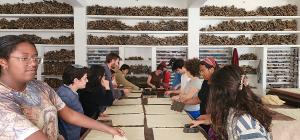 DirectCreate, a leading creative design organization, has announced its collaboration with Rhode Island School of Design Global program (RISD GLOBAL) for an unforgettable WinterSession travel course to India. The course, titled "INDIA_SENSED: Craft and Collaboration in the Digital Age," will be led by RISD Faculty Catherine Andreozzi and Joy Ko, and DirectCreate team members Sheela Lunkad, Rajeev Lunkad and Sonal Chitranshi
This unique course will take students on a journey through Delhi, Agra and Fatehpur Sikri to the city of Jaipur, known for its long tradition and rich diversity of artisan culture. Students will have first-hand exposure to the artisan's environment and observe the production of work hewn by place-based considerations such as regional climate, culture, and infrastructure. Guided by project-based prompts and engaging workshop-based activities, this course invites a conversation about the nature of collaborative practices integrating craft while exploring new potential approaches to advanced technology.
The course has students from Apparel Design, Textiles, Architecture, Industrial Design, Illustration, Film and Photography collectively exploring subjects of Art, Design, Craft, Sustainability, and Conservation. The session is designed to foster cross-cultural innovation and open new opportunities for both the makers and the designers.
Throughout the course, students will have the opportunity to learn from esteemed master craftsmen such as Padamshree R K Derawala, a master craftsman of Dabu printing based in Baghru; Dr. Badshah Mian, a multiple award-winning master artisan of Lehariya resist dyeing; Neelum Narang, a renowned jewelry designer known for her fusion of contemporary and traditional jewelry; and Jayshree Kumavat, an expert in the art of embroidery.
"The India_sensed DC and RISD Global Winter Session is a perfect example of the potential for cross-cultural collaboration and the positive impact it can have on both the traditional and contemporary art and design industries. The session is a fabulous opportunity for the RISD students to gain a deeper understanding of traditional Indian craft techniques and for the master craftsmen and artisans of Jaipur to gain exposure to contemporary design perspectives." Sheela Lunkad, Founder DirectCreate.
"India_Sensed allows an embodied experience for RISD students as they traverse the Golden Triangle, observing regional Indian crafts and traditions passed on from generation to generation. Collaboration, navigation, and communication take on a new meaning for both the students and Artisains as unfamiliar territory unfolds. Drawing and digital technological tools aid dialogue as new work takes shape between them." Catherine Andreozzi, Professor Apparel Design RISD
"This class is a result of collaboration itself and is a unique opportunity for our students, surrounded as they are by digital technologies, to gain a deeper understanding of handmade traditional Indian craft techniques practiced at the highest level. The unique experience has allowed them to explore collaboration in a multifaceted sense, has already fostered friendships and will no doubt have a longstanding impact on their creative lives," said Joy Ko, RISD Textile Faculty.
"DirectCreate has evolved into a platform that aims to make Handicrafts loved and aspirational again, bringing them back into popular culture. This collaboration with RISD GLOBAL provides an opportunity to expose students to the intersection of craft, technology, and culture, and to learn from some of the best in the field," said Rajeev Lunkad, Creative Director of DirectCreate.
RISD GLOBAL's mission is to foster cross-cultural exchange and experiences that inspire creative agency, and this course aligns perfectly with that mission. DirectCreate is an ideal partner for this endeavor, as their mission is to connect Indian artisans with the global market through digital technology.
This global travel course is an expansive and immersive opportunity for students to gain an understanding of the intersection of art, craft, technology, and culture, and learn from some of the the best in the field. For more information about the course, please visit the DirectCreate website.