Mahindra Sanatkada Lucknow Festival Returns Next Month
The festival runs 3rd-7th February 2023.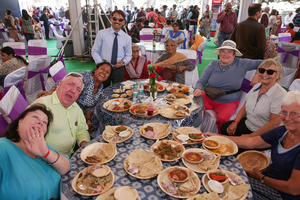 What makes MSLF special and unique is the fact that it is weaved around a particular theme about one aspect of Lucknow and the erstwhile region of Awadh every year. This year's theme is Raqs-o-Mausiqi which means 'dance and music'. Hence, the 14th edition of the five-day festival is set to feature talks, performances, films, walks and tours, workshops and an immersive exhibition all curated about and around the dance and music culture of Lucknow. While the festival is set to be a treat for arts and culture enthusiasts, the shopaholics and the foodies are also going to have a time of their lives with the Weaves and Crafts Bazaar and the famous Sunday Home-Cooked Food Festival respectively.
The Crafts and Weaves Bazaar is a sumptuous platter of an array of weaves such as khadi, silk, bhujodi, mashroo, organic & south cottons, pashmina, maheshwari, chanderi, jamdani, banarasi, ikat and others and also offers a wide range of jewelry including gold plated, semi-precious stone, hand-carved silver & tribal jewelry.
One of the most awaited events is the Sunday Home-cooked Food Festival where carefully chosen home cooks outdo themselves year after year by introducing foodies to complex , closely guarded family recipes that have been passed on over generations. It's a perfect setting to know about Lucknow through its food where many traditional dishes like Lal Mirch ka Keema, Chicken Qorma, Achaari Fish, Kebabs are served along with seasonal delicacies like Kali Gajar ka Halwa.
Given the theme this year, the festival has collaborated with the prestigious music and school Bhatkhande Sanskriti Vishwavidyalaya that has given the country some of the most acclaimed artists like Talat Mahmood, Kanika Kapoor, Anup Jalota to name a few. The festival will host some performances at the Kala Mandapam Auditorium of Bhatkhande, the most awaited one of which is the vocal recital by T.M. Krishna, famous Indian Carnatic vocalist, writer, activist, author and Ramon Magsaysay awardee.
The Kala Mandapam Auditorium will also host a play by Purva Naresh called 'Bandish', which is a satire on the lack of artistic freedom; a tabla solo performance by Taal Rishi Pt. Anindo Chatterjee, recipient of the prestigious President's award and Sangeet Natak Academy Award; a vocal recital by Ustaad Gulshan Bharti; and a performance by Arshiya Sethi, Shama Bhate and Shilpa Shinde titled 'Naman' which will be a homage to Lucknow's legendary 'Non-Gharanedaar' Kathak Guru Pt. Mohanrao Kallianpurkar.
The festival is set to treat Kathak aficionados with a breath-taking Kathak performance at the crack of dawn on the third day of the festival, by Shinjini Kulkarni who hails from the ninth generation of the Kalka Bindadin Lineage and is the granddaughter of the Kathak Maestro Pt. Birju Maharaj.
Qawwali by Arshad Hussain Chisti, band performances by The Aahvaan Project and Shadaj, Taal Vadya Kachhari which literally translates to 'rhythmic instrumental musical session' are some of the other performances to look out for.
The festival will also hosts eminent personalities like noted director Muzaffar Ali, actor Atul Tiwari, music and dance critic Manjari Sinha, documentary filmmaker Saba Dewan, poet Yatindra Mishra, independent film-maker Yousuf Saeed and others, all of whom will deliver a talk and indulge in conversations around different aspects of the theme Raqs-o-Mausiqi.
Filmistaan, the film section of the festival will showcase films 'Hai Akhtari', 'Akhtari' on Begum Akhtar other movies such as 'Zikr us Parivash ka' , 'The Other Song', 'Birju Maharaj - A Luminous Jewel'.
For those wanting to explore Lucknow, the festival has planned several Walks and Car Tours, each on different aspect of Lucknow like 'Nashte ki Talab' , 'Shaam ki Raunaqein', both of which are food walks and other walks dealing with architectural and cultural aspects of the city.
This year we're really proud of the way we have curated the festival. We are presenting both local artists and performers from across the country, multiple exhibits, and walks & tours.The combination of Lucknow heritage woven carefully with the threads of the theme: Raqs and Mausiqui, is something we're excited to showcase during the festival . Says Madhavi Kukreja, the Founder of the Festival.
We are delighted that the Mahindra Group's bouquet of festivals is ever expanding. The Mahindra Sanatkada Lucknow Festival with its stems rooting from the culture and heritage of Lucknow is a treat to watch and attend. We encourage everyone to enjoy its experiential beauty. Says Jay Shah, Vice President, Head - Cultural Outreach, Mahindra Group.
A must visit for culture enthusiasts, MSLF is a one stop place to know about Lucknow closely.