Review: THE BEAR and THE PROPOSAL Delight Audiences at CTC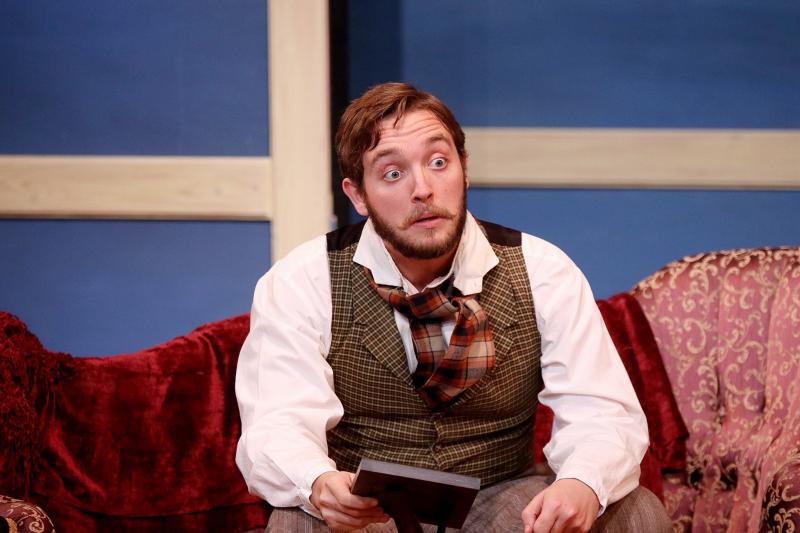 Classical Theatre Company tackles Russian Master Anton Chekhov once again. This time, the 9-year-old theatre company presents two of Chekhov's one-act vaudevillian comedies, THE BEAR & THE PROPOSAL and an essay of THE EVILS OF TOBACCO. The production is directed by John Johnston and stars Mark Roberts, Lindsay Ehrhardt, and Ben McLaughlin and runs through October 23, 2016.
---
Anton Chekhov was put under the spotlight when his work was performed by the famous Moscow Art Theatre under Konstantin Stanislavski's ensemble toward the end of the nineteenth century. But don't let the age of the work fool you into thinking you'll have work to decipher the language. Firstly, Chekhov is one of the main theatre artists who modernized the way theatre is written and performed. But also, John Johnston continues to masterfully tell classical stories to modern day audiences. So, when you enter the theater in Chelsea Market, you'll know you're in good hands.
Mark Roberts is fantastic as Nyukhin in THE EVILS OF TOBACCO (also known as THE HARMFUL EFFECTS OF TOBACCO). He sneaks in through the center aisle of the house, peeking in to see who is there, what they're doing, perhaps spying to see if his wife is in the audience. He takes the stage for his lecture on the EVILS OF TOBACCO, periodically digressing into the pains of being married to a bossy spouse who he genuinely fears.
Despite the farcical style of performance, Roberts injects moments of realism, thereby giving variation and making his characters interesting and relatable. Any farce Roberts does comes from a place of truth which is one of the greatest challenges for an actor taking on a production like this. Roberts goes on to play Luka in THE BEAR and Chubukov in THE PROPOSAL.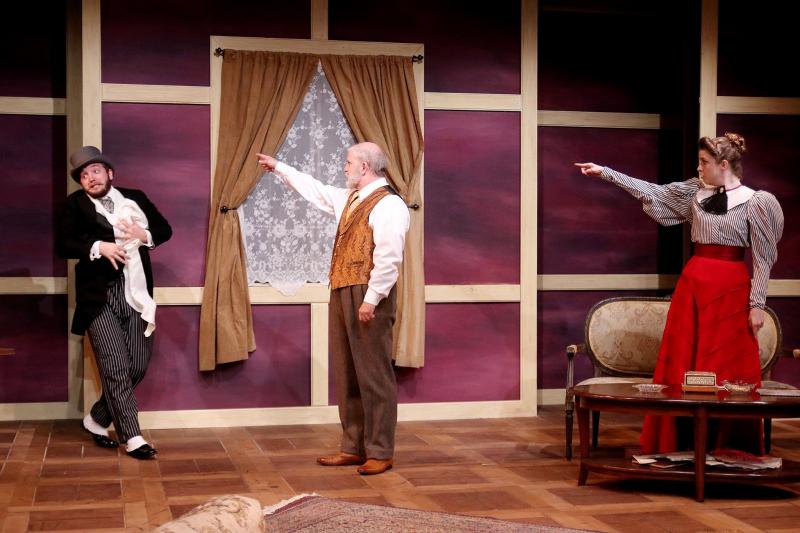 Lindsay Ehrhardt is hysterical as Popova in THE BEAR. Popova is mourning the loss of her husband, and by the looks of it, they just had the funeral. Popova is in all black, and she seemingly weeps and throws herself around with farcical cries. She claims she will never love another, that she will dedicate the rest of her life to loving and mourning her late husband. Luka, Popova's footman (Roberts), tries to help Popova to get past her husband's death, especially since it's actually been seven months. Luka provides an old man caricature that interjects hilarious lines and action to complement the conflict between Smirnov and Popova. Enter Smirnov (McLaughlin), who has arrived to collect a debt for oats that Popova's late husband never paid.
Smirnov has denounced ever loving again because "[he's' refused twelve women and nine have refused [him]". He must collect the debt, so that he can pay his mortgage tomorrow. When he is told that he must wait until the day after tomorrow for the money, he becomes outraged. He continues to brood and exclaim "I'm angry!", resulting in increasing conflict between the two main characters. Popova will have none of it, and fights back. Popova and Smirnov begin to change as they realize that they are more fond of each other than they were at the outset of the story.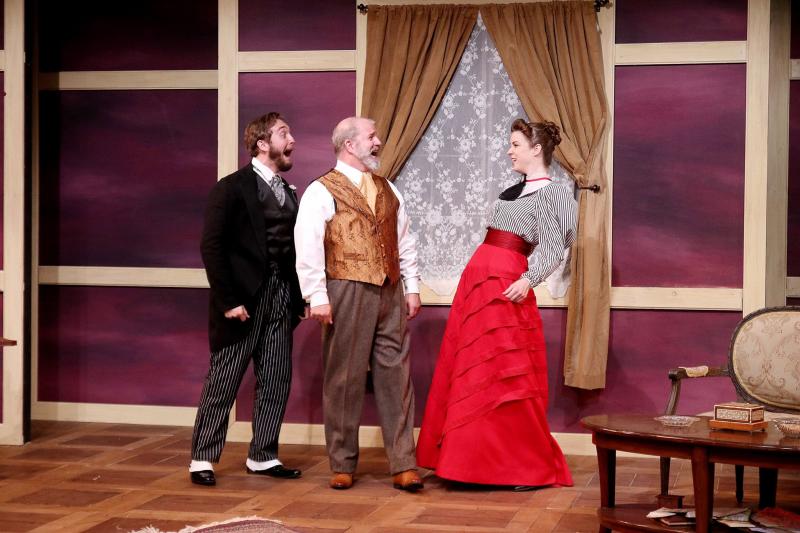 Ben McLaughlin has some of the most intense energy and stamina I've seen in a performer in a long time. He was all over the stage, in a good way, and provided the intensity needed for switching between conflicts, anger, hypochondria, and love within the final part of the production. McLaughlin plays Lomov in THE PROPOSAL, and he is a non-stop force on stage. Lomov has come to Chubukov's (Roberts) estate to propose to the estate owner's daughter, Nataliya. Before Lomov can propose to Nataliya, the two argue over who owns the meadows. Nataliya's father enters and joins in the argument further causing anxiety in Lomov. Chubukov finally sends Lomov out of the house.
While alone with his daughter, Chubukov scoffs at the audacity of Lomov wanting to propose to Nataliya. Nataliya becomes hysterical, pleading that her father bring Lomov back. He does, and again before Lomov can propose, they argue, this time about whose dog is better. Throughout the play, Lomov suffers from aches, pains, and palpitations. His ailments increase in intensity as the conflict comes to a head, and he finally passes out, leaving father and daughter to panic at the possibility that he's died. He comes to, and the play comes to its resolution and close.
Johnston along with the cast at Classical Theatre Company succeed once again in bringing the work of Anton Chekhov to life. With wonderful performances and highly entertaining stories, you will be sure to have a fun evening at the theater with this one.
---
THE BEAR AND THE PROPOSAL by Anton Chekhov runs through October 23, 2016 at Classical Theatre Company in Chelsea Market. For ticket information, visit classicaltheatre.org or call 713-963-9665.