Review: No Love for Andrew Lloyd Webber's LOVE NEVER DIES
LOVE NEVER DIES is an unmitigated disaster of such epic proportions that it is nearly unwatchable and entirely unworthy of your time and money.
---
Propelled by run-amuck theatrical vanity; backed by a marquee name; and seemingly produced with the single intention of filling seats, it is an example of what happens when an industry titan values consumerism over content.
The Right Honourable (formerly Sir) Andrew Lloyd Webber is one of the most prolific and influential composers in musical theatre history. His productions have been universally embraced around the world, heralded for their passionate, moving and sensational rock-operatic scores and larger-than-life characters. Just the name of one of his many hits ("Memory," "The Music of the Night," "Don't Cry for Me, Argentina," etc.) can spark a group of strangers across multiple generations to song. His 20 musical productions have sold more than 330 million tickets in 80+ countries. More than 40 million albums of his cast recordings have been sold - odds are, at least one to you! Lloyd Webber is a self-made billionaire, a titan, and most simply, the undisputable king of musical theatre.
So then why, or how, could this truly self-made Broadway icon create a clunker like LOVE NEVER DIES... and then allow it to tour?
I don't know.
LOVE NEVER DIES is a sequel - or 'second story' to the immensely popular and longest running show on Broadway, THE PHANTOM OF THE OPERA. The production reunites audiences with the same beloved characters, 10 years later, now on Coney Island.
That's right. We go from the grand Paris Opera House to the home of the hot dog at the turn of the 20th century.
Operatic sensation Christine Daaé is invited by Oscar Hammerstein to make her debut in America. The songbird accepts the offer to help pay off her husband Raoul, Vicomte de Chagny's, immense gambling debt. Off to New York they go, along with their musically gifted son, Gustave. At the dock, Christine is waylaid by circus stooges who inform her that vaudeville impresario 'Mr. Y' will pay more for her to perform at his rough-and-tumble Coney Island amusement park/circus Phantasma, than she would make at the well-appointed Hammerstein theatre in Manhattan.
Oh, how the mighty have fallen. The once desperately in love couple are now at bitter odds, and forced to make compromising decisions based on their finances. Raoul has grown grumpy, drunk and bitter over the years, preferring to spend time at a bar, rather than playing with his young son. The father/son relationship is detrimentally deteriorated to the point that Gustave directly asks his mother why "his father doesn't love him." Christine smiles only once in the first 45 minutes of the show, when a music box momentarily reminds her of her 'Angel of Music,' the (presumed) dead Phantom of the Opera.
In short, the family is in a state of disrepair, shacked up in a subpar suite on Coney Island, where surely Christine's immense talent will go unappreciated. Of Coney Island, Raoul sings: "What an awful mistake to have come here... What a farce, what an outright slap in the face / It's an utter disgrace." And isn't it ironic, don't you think?
Predictable twist: Christine discovers that the mysterious 'Mr. Y' is actually the Phantom! The two reminisce over a passionate night they shared before Christine married Raoul, and sadly consider what might have been. Gustave awakens from a nightmare, and Christine introduces him to the Phantom. The Phantom offers to show Gustave all of the wonders and oddities of Phantasma the following day.
Then, in a in a brief moment of self-respect, angered by the Phantom's manipulation and sustained power over her emotions, Christine refuses to stay and perform at Phantasma.
Less predictable: The Phantom responds to Christine's refusal with blackmail, threatening to abduct Gustave: "...that perfect specimen / May disappear on Coney Island / Vanish here on Coney Island." Christine agrees to perform in order to protect her child.
The next day, while touring Phantasma, the Phantom and Gustave connect on many levels. Both are drawn - and nearly controlled - by music. Both respond to the dark illusions of Phantasma. Both see the odd and unusual as beautiful. Believing that Gustave will accept him as he is, the Phantom rips off his mask and reveals his disfigurement to the young boy. Instead of "seeing with his heart," Gustave reacts in horror, and runs off the stage.
That's the plot of the first act. It's also an apt metaphor for the entire production.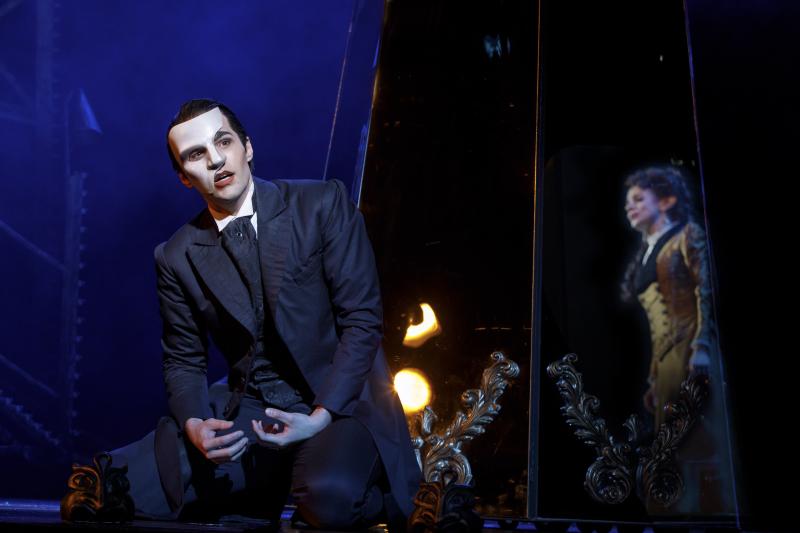 LOVE NEVER DIES is disjointed, overworked, and dramatic, for dramatics' sake. It feels garish and unsentimental. The book and lyrics feel forced and insincere. In a way, this makes perfect sense. Since 1986, fans have been begging Lloyd Webber to continue the story, to bring back the magic felt in PHANTOM, to reignite their imaginations with the next chapter. It's human nature, after all. We're socialized to want more of what we like, and then more and more and more, after that. This is the moment that Lloyd Webber should have wisely pumped the brakes. Who can name a sequel - equal or better than - the first? (Perhaps The Godfather II, but we can argue about that later.) He certainly isn't lacking for fame or money, and by releasing a subpar production, he works to diminish his own legacy. I don't know if I'll ever be able to see PHANTOM without considering this darker, lonelier, empty and isolating sequel.
The actors were dealt a tough hand. Based on their bios, they are all greatly accomplished and highly skilled. There's no question that on stage, they give their all. However, I can't properly assess their performances in the show outside of the dreadful material. I'd jump at the opportunity to see them in a different production, one worthy of their immense talent.
Lloyd Webber is fully aware of the poor reception to LOVE NEVER DIES. The production has been reworked multiple times, initially closing for major rewrites during its initial run in London, reopening and closing again in the West End, and undergoing new direction and design (and subsequently closing) to tepid reviews in Australia. I'll never understand why a touring production was mounted. I am confident that ticket sales are exclusively driven by the nearly universal love of PHANTOM, and the Lloyd Webber name.
Not every show is suitable for every audience; however in this case, LOVE NEVER DIES is a show for no one. All I ask of you, gentle reader, is to sit this one out. In doing so, you'll help preserve the legacy of one of Broadway's greatest talents. Without an audience, LOVE NEVER DIES will quietly fade away as a minor misstep within Lloyd Webber's massive body of noteworthy work.
BBVA Compass Broadway at the Hobby Center presents LOVE NEVER DIES, running now through July 22. For additional information and to purchase tickets, please visit thehobbycenter.org.