BWW Review: BERLIN? WE! LOVE! YOU! at Theater im Keller (The Basement Theater) - The Little Theater That Could!
Men or women dressed and performing as the opposite sex has a very long history. From Shakespeare to Grand Opera, Drag (or more properly, Travesty) has been a part of theatrical performances for centuries.
In 1982, John Epperson's brilliant Lypsinka brought a level of technical expertise and musical sophistication to Drag that heretofore never existed. In 1983, La Cage aux Folles brought a leading man in Drag to a Broadway Musical and won numerous Tony Awards for its effort. Starting in the mid-1980's, Charles Busch upped the ante once again with his fully-realized, female characterizations in Vampire Lesbians of Sodom, Psycho Beach Party, and numerous other works. Finally, since 2009, RuPaul and his Drag Race have made Drag performance an "everyday" occurrence. His television show has demystified the genre and its performers for the general public, lending cross-dressing a measure of "normalcy" by broadcasting Drag Performance into America's living rooms as well as across the globe.
Since 1987, Berlin's extremely popular Theater im Keller (The Basement Theater), a beautifully-appointed, teeny, tiny, theater has been providing its audience with Drag- Shows, Musicals, and Revues. Its stage is smaller than most people's living rooms and the auditorium only holds 43 people. Every inch of this tiny space is used to excellent effect. For the last 31 years, Theater im Keller, which produces almost exclusively a "niche entertainment," has beaten all the odds. It's the "Little Theater that Could!" Like the locomotive in the children's story, the theater, through extremely hard-work, optimism and lots of talent, has not only survived, it has thrived. One must assume they've been doing something right.
Based on last night's premiere of Berlin? We! Love! You! , I can assure you that not only are they doing something right, they are one of Berlin's "worst-kept Secrets." Tickets are extremely hard to come by, and deservedly so. Last night, this critic and the rest of the sold-out house, (of which more than 90% were heterosexual couples), had a roaring good time.
Michael Wallfass, Artistic Director of the theater, together with Raphael Douglas
Christian Jeschke and Robert Boy have collaborated to create a fast-paced revue which is astounding in its musical variety and excellent characterizations. Mr. Wallfass and his troupe are not from the RuPaul school of creating commercial drag personas which become their own "Brands," but rather, are gifted comedic actors, presenting a wide range of female archetypes in quite interesting situations.
Broadway, Rap, Opera, as well as German Folk- and Pop Songs have been woven together to create a musical tapestry that is both surprising and occasionally moving. Sitting in a 43-seat theater, one does not expect to see the overture to Rossini's "Barbiere di Siviglia" performed as a one-sided conversation between a frustrated housewife arguing with her husband in an opera house... but in Berlin? We! Love! You! it's just one of the many pleasant surprises of this very entertaining evening.
Neither Adele nor Barbra Streisand has anything to fear from the singing onstage, but the gentlemen acquit themselves nicely, even in some musically ambitious numbers. Mr. Wallfass proves himself not only to have a pleasant voice, but he is a talented, chameleonic actor and a very clever lyricist. While some songs are performed in their original versions, others like the "Cellblock Tango" from Chicago or "New York, New York" have gotten very witty, quite pointed German lyrics from Mr. Wallfass that would not be out of place in Gerard Alessandrini's Forbidden Broadway.
The performers are a well-selected ensemble of complementary personalities. Christian Jeschke and Robert Boy, excellent performers both, provide the lithe bodies, drag glamour and eye-popping costumes that one expects in a travesty show.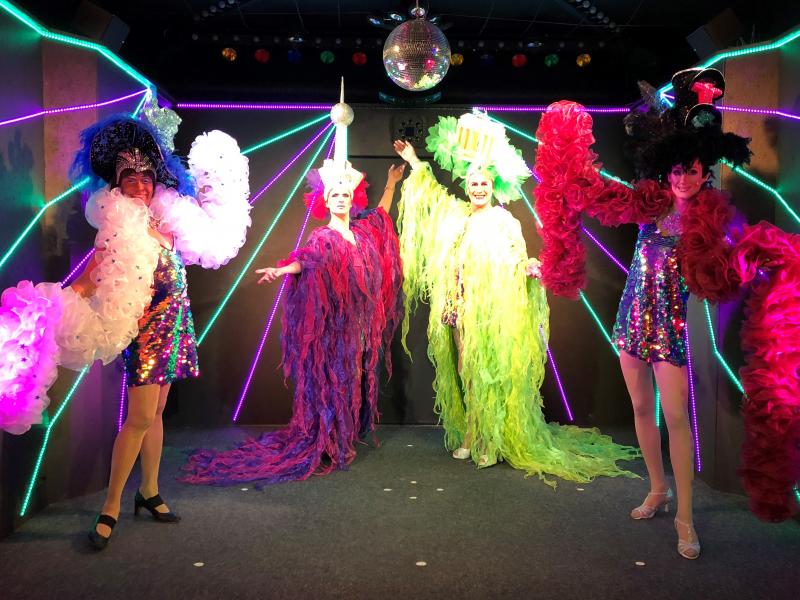 In addition to their comic numbers, they are both good dancers, even on a postage stamp-sized stage. Raphael Douglas has a somewhat off-kilter comic energy coupled with a slightly manic facial expression that imbues nearly all of his numbers with echoes of Charles Ludlam's "Ridiculous Theatrical Company."
A few numbers are absolute standouts. Though most of the songs in the show are sung live, Mr. Douglas' first appearance with "I Got The Money" kicked the show into high gear and was an excellent example of comic lip-synching. A clever juxtaposition of Lady Gaga's "Telephone" with the Comedian Harmonists' "Kein Schwein ruft mich an" ("Nobody calls me") was hilarious. "Babette vom Jumbojet" ("Babette from the Jumbo Jet"), as well as a brilliant comedic riff on Beyoncés "Single Ladies" nearly stopped the show.
The Theater im Keller's founder, Michael Brenncke, is unexpectedly moving in a quiet comic performance as the men's room cleaning lady. He was a study in virtuosic simplicity. Near the end of the evening, "Adios" a scenic choreography about three aging Taxi Dancers looking for love, left many in the audience wiping a tear from their eyes. It was another very poignant moment in this otherwise comic evening.
If you want "bang" for your entertainment buck, make a beeline to the Theater im Keller's website and try to secure a ticket to Berlin? We! Love! You! As the show only performs on weekends and seating is very limited, I would advise you to plan ahead and take any ticket you can get, but get into that theater and watch these talented comedic actors strut their collective stuff.