BWW Review: SCAPINO at Gulfshore Playhouse is Fresh and Fun!
Gulfshore Playhouse's production of SCAPINO, based on Molière's Scapin, brings an exciting, local twist to a play that is hundreds of years old. The show, adapted by Jeffrey Binder, has something for everyone--humor, romance, scheming, and much, much more.
The story of SCAPINO centers around two frenemy mafia fathers, Don Albert and Don Geronte, who are planning on having Don Albert's son marry Don Geronte's daughter, to unite their families. The only problem is, Don Albert's son, Octavio, has fallen in love with (and gotten married to) another girl, Chloe. As you can imagine, this is a bit of an issue. In steps Scapino, who tries to solve everyone's problems--though not without gaining his own bit of profit from this ordeal. As the plot gets more complicated, it also gets even funnier, which made this show so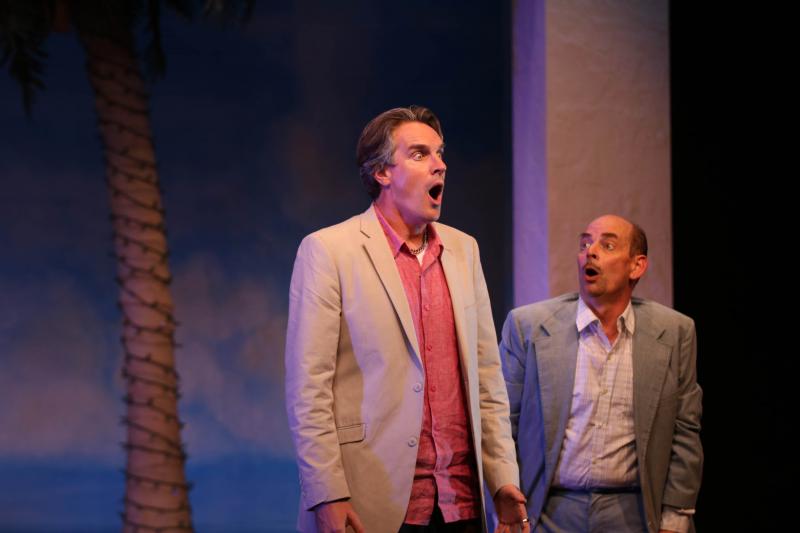 enjoyable to watch.
Larry Paulsen played Don Geronte and Gerritt VanderMeer played Don Albert, and both were excellent at portraying their characters' personalities. The oppositions they had with each other and other characters in the show were played out very well, which connected the audience more to the storyline.
In addition to brilliantly adapting this show, Jeffrey Binder stars as the title character, Scapino. Binder was previously in THE PRICE at Gulfshore Playhouse, and it was very neat to see him take on such a different character in SCAPINO. His stage presence was phenomenal; from the looks and interactions he shared with the audience, to his fast-paced, witty dialogue and execution of the sly
tricks his character played on the other characters... it was pure fun to watch, from beginning to end. Binder has been a fantastic addition to Gulfshore Playhouse this season, and whether you had the chance to see him in THE PRICE or not, I absolutely recommend you see him in SCAPINO before it ends.
Phillip Taratula, who played Sylvester, was fantastic. From animal impressions, to a scene where Sylvester had to pretend to be a police officer, each time he was on stage was a riot--and based on the consistent laughter from the audience, I was not the only one who thought so.
Octavio, played by Jack Berenholtz, and Chloe, played by Monica Rae Summers Gonzalez, were one of the couples in SCAPINO, while Leo, played by Grayson Powell, and Feather, played by Jade Radford, were the other. I thoroughly enjoyed the dynamic these four brought to the stage. Their characters had very different relationships, and they were all great at portraying just how different their characters were. It made the plot twist near the end of the show even better.
SCAPINO is set in the present day in Naples, FL, where Gulfshore Playhouse is located, and I felt that this made the show even more fresh and lively. There were many jokes throughout the production that referenced other parts of Florida, such as Boca Raton, and to a Floridian, these jokes were definitely accurate and appreciated. Despite this being such a local setting, I am sure that SCAPINO would translate very well in other places.
Gulfshore Playhouse continues to entertain and delight audiences this season with their production of SCAPINO. I highly recommend seeing this show if you are looking for a lighthearted, humorous, tricky story. This modern adaptation of the 17th Century play Scapin is something you've never seen before, truly, and who wouldn't want the chance to say they saw the world premiere of such a well-done, hysterical show?
SCAPINO is playing at Gulfshore Playhouse through March 18, so get your tickets before they are completely sold out! Evening shows begin at 8 p.m.; matinees begin at 3 p.m. Show subscriptions are available and include priority seating, exclusive events and discounted pricing. Tickets range from $39-64, with student tickets available for $20. All show tickets are $30 two hours before a performance. For purchase information, visit www.GulfshorePlayhouse.org or contact 866-811-4111.
Related Articles View More Ft. Myers/Naples

Stories

Shows