BWW Review: COMMUNION at Primal Forces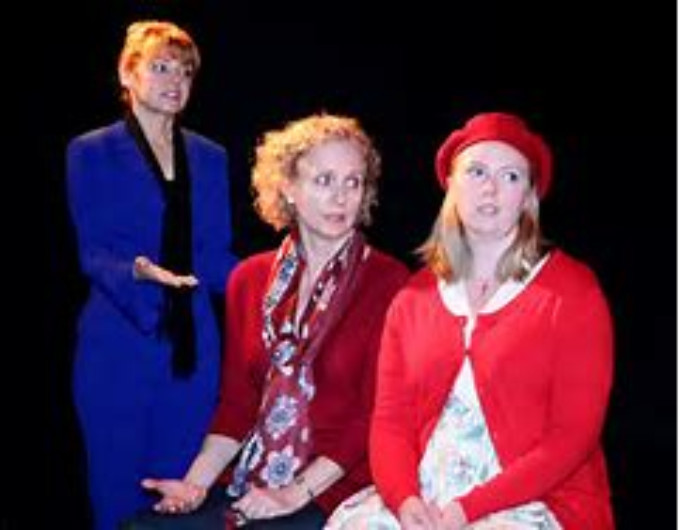 Primal Forces presents Daniel MacIvor's Communion at Empire Stage.
It's a dark and rainy day, and Leda is at an appointment with her therapist, longing for answers as fiercely as someone drowning longs for a life raft. Leda is a terminally ill cancer patient, with two years of sobriety under her belt, and a broken relationship with her estranged daughter she wishes to repair before it is too late. She turns to her therapist Carolyn looking more for the comfort and guidance of a friend than the detached clinical assistance Carolyn tends to offer. Carolyn finally breaks her own set of professional rules by giving Leda actual advice, and telling her to go see her her daughter Ann.
Leda's personality is big and intense. She paces, talks, teases and ponders. Her observations and comments are those of a woman who has the ability to laugh at the irony of the world around her, as well as her own illogical anxieties. At the heart of it all is the quest for inner peace. She recalls sitting in church and watching people on their way back from communion. With the body and blood of Christ fresh upon their lips she thought that surely the secrets of wisdom and serenity could be gleaned from their eyes if she looked hard enough. As they did look peaceful in those moments to her, why did she not find the answer when she herself took communion. Kim Ostrenko delivers a heart-wrenching performance as Leda, bowling us over with her vulnerability and fortitude. She delivers lengthy monologues with polished pacing and enviable sincerity.
Leda's lesbian therapist Carolyn is seemingly embroiled with her own issues of how to be an effective therapist. She initially aspires to a straight-forward, clinical application of her studies, but comes to realize that in not providing the suggestions or comfort to her patients that they desire, that she is not providing them with the help they deserve. In fact, she is so unhappy and frustrated with this aspect of her work that she quits her practice. The truth is that she could simply switch theories or styles of therapy rather than quit, so one wonders what else is going on in her life. Jacqueline Laggy plays the role with a tight-lipped grimness that makes the character seem emotionally unavailable. Carolyn therefore feels like someone with unresolved issues as well. Perhaps she is in need of therapy herself as the character mentions that many therapists are themselves in therapy.
Leda's daughter Ann is a born-again Christian with a troubled past that includes jail time. She now purports to follow a fundamentalist set of religious tenets to hold her new life together. A new life with a questionable man, and a baby on the way. It is hard to say how much of her past was influenced by the bad parenting administered by her alcoholic mother, but there is a rift between them to be sure. Somewhere along the way Ann seems to have missed the part of the Bible that focuses on forgiveness; and would rather spend time attempting to proselytize her. Actress Jenna Wyatt captures the basic essence of the immature Ann, and has a good connection to Ostrenko as her mother in their scenes together.
Leda speaks in depth of her recurring dream of a room filled with darkness and uncertainty. In that room there are two women (we certainly can pretend that they are her therapist and her daughter) watching her. And also in that room is a doorway around which spills light. As much as she dislikes the darkness, there is still an inability to open the door and see what is on the other side. It is an inability born from the fear that whatever is on the other side of that door might be worse. It is powerful imagery that speaks of complacency and fear of change. More specifically is centers around the potentially painful journey of self-examination, as Leda, Carolyn and Ann must all open doors to their psyche.
And what of the choice of the title of the show? Like Leda, as I child I would watch the faces of those people who had just received communion and wonder with what knowledge they had just been empowered. It would be years before I realized that communion was not a remedy, but a reminder - a reminder of the Grace into which we all are born. That forgiveness for our sins has already been bought and paid for (as is mentioned by the character Ann). To sin is originally an archery term which means simply to miss the mark. Some people live lives of regret, ever emotionally entangled in their holding onto their "sins". Each of the three characters in this play holds on tightly to the perception of how they have missed the mark in their own lives. There is resignation and determination but little peace. Another definition of the word communion is the sharing or exchanging of intimate thoughts and feelings, especially when the exchange is on a mental or spiritual level. Perhaps on the other side of Leda's door these three women are finally able to let go of their self-recriminations, and connect with themselves and one another in a true communion of souls.
This Primal Forces production of Communion is in the intimate setting of Empire Stage. The set and the costumes are effective and clean. The direction is surprisingly sensitive from a company that prides itself on cutting-edge shock value. The writing is intelligent, the subject matter is thought-provoking, and the acting is gripping and smart. This is definitely worth a go see, especially for a stand out performance by Kim Ostrenko.
The other plays of Canadian born playwright and director Daniel MacIvor include Sessions, Wild Abandon, This Is A Play, Marion Bridge, Monster, In On It, You Are Here, Bingo!, Was Spring, Cake and Dirt, and I, Animal. MacIvor is the recipient of the award for overall excellence at the New York International Fringe Festival for his play Never Swim Alone. His play In On It earned him a GLAAD award and a Village Voice Obie Award; and in 2008, he was awarded the Siminovitch Prize in Theatre.
Artistic Director Keith Garsson formed Primal Forces in 2014 in order to offer more alternative fare to sophisticated theater goers starting with the first post-Broadway production of David Mamet's The Anarchist (Silver Palm Winner) and followed by directing Sunset Baby (Silver Palm Winner) and Lanford Wilson's Redwood Curtain. His production of Sex with Strangers won the New Times Best Play of 2016 followed by the New Times Best Actress award for his subsequent production of The Devil's Music both directed by Genie Croft. His other directing ventures include the Silver Palm Winner Reborning and the premiere of Smoke.
Communion will be appearing through February 11, 2018 at Empire Stage, located at 1140 N. Flagler Drive, Fort Lauderdale. Show times are 8 p.m. Thursdays-Fridays, 7 p.m. Saturdays, 2 p.m. matinees Sundays. Ticket prices are $30. For reservations, and/or information about Primal Forces you may contact them by phone at 866-811-4111 or on line at PrimalForces.com.
Cast:
Carolyn: Jacqueline Laggy
Leda: Kim Ostrenko*
Ann: Jenna Wyatt
Crew:
Director: Keith Garsson
Set Design: Natalie Tavares and Jodi Dellaventura
Lighting Design: Nate Sykes
Sound Design: David Hart
Costume Design: Alberto Arroyo
Stage Manager: Marjorie O'Neill-Butler*
*Indicates a member of Actors' Equity Association, the union of Professional Actors and Stage Managers in the United States.
Pictured: Jacqueline Laggy, Kim Ostrenko and Jenna Wyatt
Review by John Lariviere
John Lariviere currently headlining throughout South Florida at local theatres and clubs. In August of 2016, John performed for the second year at the Florida (read more...)