BWW Review: ON YOUR FEET! at Fisher Theatre was Fresh, Fun, & Will Have You Dancing in Your Seats to the Beat!
The hit Broadway musical On Your Feet! based on the life of seven-time Grammy winning international superstar Gloria Estefan and her husband 19-time winning producer-musician-entrepreneur Emilio Estefan is currently playing now through Sunday at the Fisher Theatre in Detroit. Gloria Estefan has sold over 100 million records and sold out stadiums around the world. Music is only half their story. From the heart of Havana to the streets Miami came a cultural phenomenon unlike anything the music industry has ever seen. On Your Feet! is the Broadway musical that follows the Estefan's journey to superstardom, set to their chart-topping, smash hits, including "Rhythm Is Gonna Get You," "Conga," "Get On Your Feet," and more. This musical was fresh, fun, and will have you dancing in your seats!
Christie Prades played the role of Gloria Estefan. When watching Prades on stage, it felt like you were watching Gloria Estefan perform. She had her energy; her pizazz; her shine; she was outstanding! Her singing voice was stunning - at times making you think you were at a Gloria Estefan concert - but then she hits a note that makes you remember you were at a musical. Prades was an exceptional performer taking on the life story of one of the biggest superstars in our history and she does it with ease, grace, and talent - a fantastic choice for Gloria Estefan in this company of On Your Feet!
Mauricio Martínez played the role of Emilio. The show was about Gloria, but when Martínez was on stage it was hard not to watch him because he was so full of life. Martínez stole the show with his comedic timing and charm. He had wonderful chemistry with Prades and the two of them together made an excellent pair, especially during their duets. Martínez was a strong performer in everything that he did on stage and because he was so entering, he left you wanting more every time he exited.
One fascinating aspect about On Your Feet! was that the musical crosses a long period of time of Gloria's life and lots of places, but while the sets could have been bulky, big, and distracting, they were not. In fact, it was a simple, clean set with the band on stage to allow the show to really focus on the story and the talented performers. It was refreshing to watch with the simplicity of the singing and dancing do the storytelling because this especially helped emphasize poignant scenes like during Gloria's surgery when she sang "Wrapped."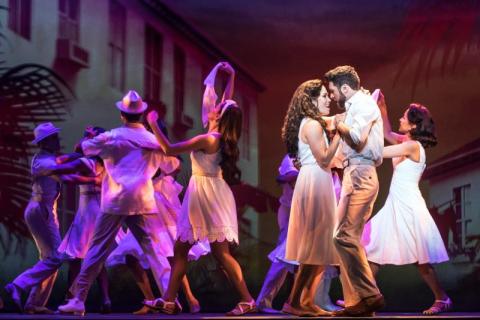 For fans of Gloria Estefan, On Your Feet! is a dream come true! If you just know a Gloria Estefan tune or two, you will enjoy the show. Same can be said if you are a musical theatre fan because it is truly just a wonderful show. If you do not fit into any of the above categories, but are just looking for a fun night out, this is the show for you: it is fun, tells a great story, and will have your foot tapping in your seat!
On Your Feet! is currently playing now through Sunday, May 13th at the Fisher Theatre in Detroit. For more information and tickets, along information about the 2018-2019 season including Hamilton, visit www.BroadwayInDetroit.com.