BWW Review: SWEENEY TODD at Kansas City Repertory Theatre
An outstanding cast opened Kansas City Repertory Theatre's new production of Steven Sondheim's 1979 "Sweeny Todd, The Demon Barber of Fleet Street" at the Spencer Theater on the UMKC campus. KC Rep Artistic Director Eric Rosen does more than justice to Sondheim's incredible operatic score and the dynamic libretto by Hugh Wheeler.
Based on an eighteen part, 1847 print serial called "A String Of Pearls," the musical tells the outrageous tale of a man whose life is stolen from him by a corrupt judge in Victorian London. He is transported to the penal colony at Botany Bay Australia but escapes and attempts to reclaim his lost wife and daughter after fifteen years separation.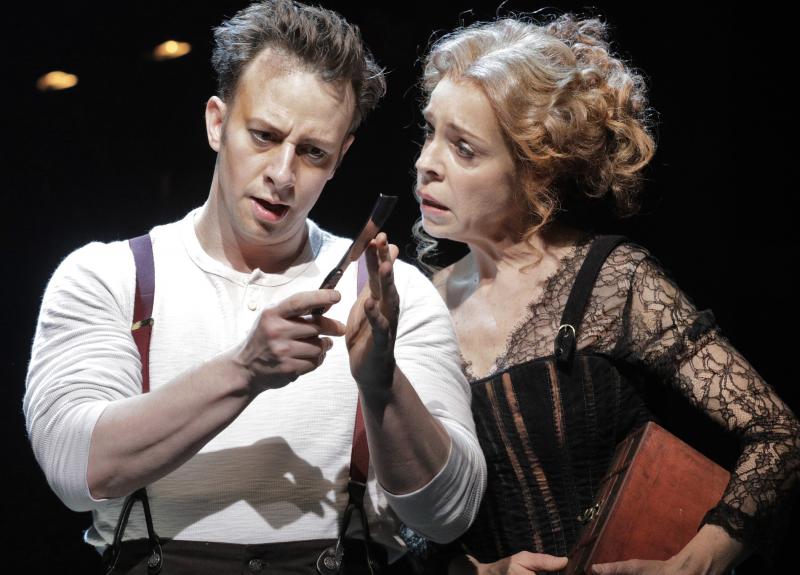 Sweeney (Tally Sessions) wanders London only to finds himself at his abandoned and presumably haunted tonsorial parlor located above a failing restaurant. The restaurant proprietor is an eccentric woman named Mrs. Nellie Lovett (Ellen Harvey). Mrs. Lovett admits to baking the worst meat pies in London mainly because she cannot afford necessary meat other than the occasional unfortunate kitty cat or stray rodents.
Sweeney learns his wife has poisoned herself after being abused by Judge Turpin (Christian Whelan) and daughter Joanna (Emily Shackelford) is now a ward to the same wicked judge. Sweeney vows revenge.
Sweeney becomes a serial killer. He slits the throats of unsuspecting tonsorial clients. What to do with the bodies? Mrs. Lovett proposes a scheme that destroys the evidence and solves her meat shortage. Customers like the new variety of tasty pies . The restaurant thrives. Sweeney and Mrs. L plot to lure Judge Turpin to the barbershop and offer the villain his just (hehehe) desert.
Tally Sessions gives us an intense and heartfelt Sweeney Todd with an incredible baritone. Ellen Harvey's widowed Mrs. Lovett is alternately nuts, maniacally manipulative, and hysterically funny in her devotion to Sweeney. Her voice is multifaceted and up to its very difficult task. Both of these fine actors have long Broadway resumes.
Emily Shackelford as Joanna is an excellent ingénue who makes us feel the distress of her situation. Chris McCarrell as Anthony the sailor is her opposite number while bringing a haunting tenor with him after a recent turn as Marius in the Broadway cast of "Les Miserables."
Christian Whelan as Judge Turpin offers us a character you love to hate. Turpin's henchman The Beadle played by Bradley J. Thomas is a surprising actor who shares an unexpectedly melodious parlor duet with Mrs. Lovett before losing his voice forever and thudding from the flies above the stage.
Tim Scott makes the most of the evil, comic Pirelli. He is funny, deliciously swarmy, and more than deserving of being Sweeney's first victim. His young assistant Tobias (Jordan Haas) is in real life only a high school sophomore. He is blessed with one of the most memorable tunes in the show "Not While I'm Around," the presence to pull it off in fine style, and the show's penultimate moment when he himself dispatches a bereft Sweeney in the final scene.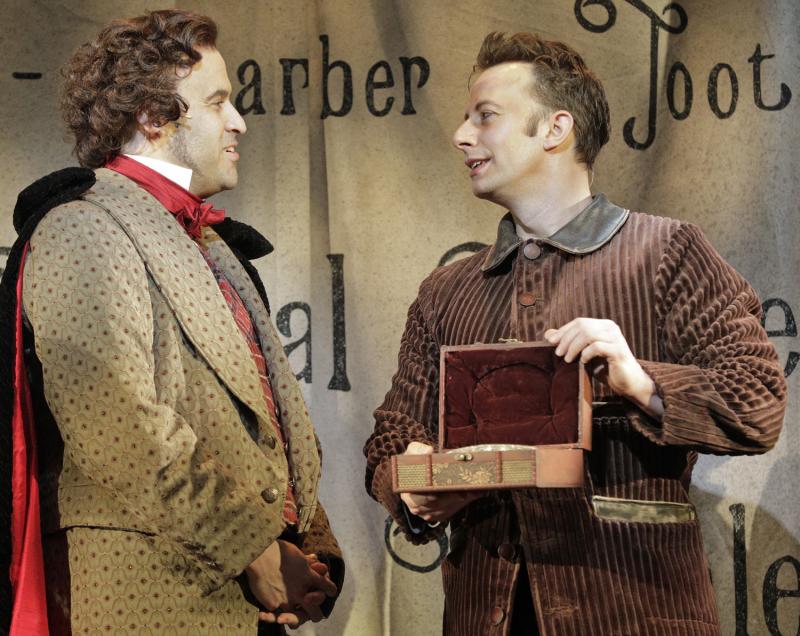 Sweeney Todd is an epic of a musical thriller. Eric Rosen shows us how restrained direction and limited radio controlled set pieces free the audience to imagine Victorian London on a limited physical space. The sudden thud of the victims dropping out of the virtual sky becomes more shocking than would be more obvious and gratuitous displays of spurting blood.
"Sweeney Todd" is not a musical that you can love, but it is one that you have to admire. This cast deserves the opening night standing "O." The appropriate response is "Wow."
"Sweeney Todd" continues through April 15 (think the Ides of April). Use part of your tax refund to see this show. Tickets are available on the KC Rep website or by telephone at 816 235-2700.235-6106.
Photography courtesy of Kansas City Repertory Theatre and Cory Weaver.