Nashville's Most Beloved Songwriters To Perform Their Iconic Country Hits At Coppell Arts Center This April
Performances are on Friday, April 21 at 7:30 PM and Saturday, April 22 at 7:30 PM.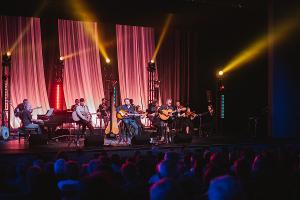 Coppell Arts Center will bring award-winning Nashville songwriters Lee Thomas Miller and Wendell Mobley, two members of the Music City Hit-Makers, to Coppell for two intimate acoustic performances on Friday, April 21 at 7:30 PM and Saturday, April 22 at 7:30 PM. Both performances will take place in the Main Hall at the Coppell Arts Center, 505 Travis Street, Coppell, TX 75019. Tickets are $45 and can be purchased at CoppellArtsCenter.org or through the Box Office at 972-304-7047.
Nothing represents Nashville better than a songwriter with a musical vision. The Music City Hit-Makers are award-winning songwriters that perform acoustic renditions of songs they penned for Nashville's most notable stars and household names such as Carrie Underwood, Kenny Chesney, Rascal Flatts, The Dixie Chicks, Tim McGRaw, Wynonna Judd, Brad Paisley, Chris Stapleton, and many others. Backed by the sublime sound of symphonic strings, piano, and upright bass, this is a one-of-a-kind acoustic music experience. In addition to musical performances, Lee Thomas Miller and Wendell Mobley will share the unique, comical, and surprising tales of how these hits were made with each country star, bringing the audience back to the moment they first heard the songwriters' hits.