Click Here to Visit the College Center

Blogs are the opinions of the authors and do not necessarily reflect the opinions of BroadwayWorld. BroadwayWorld believes in providing a platform for open and constructive conversation.

Student Blog: Student Spotlight: Underclassmen Edition
Asking my pals about the past year as the spring semester is almost coming to an end!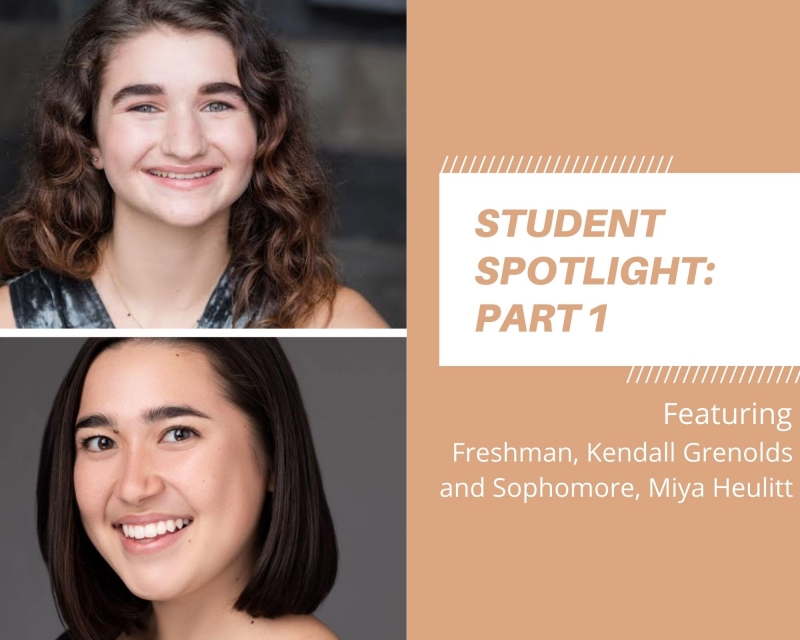 The past year of BFA life has truly been like no other. From tap dancing on zoom to performing Checkhov in masks, we've definitely had to stretch our skill-sets beyond what we ever thought we could do.
You've heard enough about my experience with COVID-era Broadway School. I wanted to ask my peers how they were holding up (and catch up with their current favorite things). Here are some responses from freshman actor training major, Kendall Grenolds and sophomore musical theatre major, Miya Heulitt.
Kendall Grenolds' IG: @kendalljuliaaa
Where are you from!
A suburb just north of Chicago, IL.
What made you want to major in theatre?
I've loved theatre since I've been a little kid and can't imagine myself doing any other career. I have so much passion for theatre and art in general, and I want to continue to actively work in it for the rest of my life.
How has your college experience differed from what you thought it would be going in?
I have more freedom than I thought I would have with COVID restrictions. I'm able to live in a dorm and take in-person classes, which I'm very grateful for.
What has been your favorite memory from freshman year?
Driving around with my friends on sunny days blasting music! Really anything I do with my friends makes me happy.
What's your favorite show you've seen at Hartt thus far?
I really enjoyed A Midsummer Night's Dream.
Favorite class you've taken?
I enjoy movement a lot, it's very freeing and makes my day better.
Current favorite play on your bookshelf?
Schoolgirls by Jocelyn Bioh! Great read and I hope to see a production of it after COVID.
Favorite place to be on campus?
I like sitting on the benches in the Hartford Art School's courtyard, it's calming and scenic.
How has it been making friends at COVID university? Do you feel like you're missing out on anything?
I wish I had more opportunities to make friends outside of theatre. I love my theatre friends, but I miss having people around me who have different interests.
How have you been taking care of yourself during these crazy stressful times?
I've been participating in my hobbies a lot, exercising, journaling, and most importantly practicing gratitude and mindfulness.
Miya Heulitt's IG: @miyaheulitt
Where are you from!
Honolulu, Hawaii!
What made you want to major in theatre?
I just couldn't picture myself doing anything else. Theatre makes me so happy and I can't imagine a life without theatre. Being here has only made my passion grow and I am so grateful to be pursuing it every day.
How has your college experience differed from what you thought it would be going in?
The BFA life is so hard but SO rewarding! Going in, I was just excited to sing, dance, and act all day but it's so much more. You learn so much about not only theatre, but about yourself and what makes you, you!
How has your sophomore year differed from your freshman year?
Sophomore year is h a r d. The rigor is a lot higher and now we have rehearsals on top of a long day of classes. I think the biggest difference between the two is trying to balance it all without getting too overwhelmed and also finding time to hangout with friends and relax.
What was it like being sent home last year for Spring break and not being able to come back?
It was really hard! Because I'm so far from home, being across and ocean from all of my friends I felt really isolated from school and found myself longing to go back. Being separated from theatre and school for so long really re-ignited my passion and had me coming back extremely ready and eager to learn.
What's the most important way you've been able to adapt to this hybrid learning experience?
Self tapes, self tapes, self tapes. They're never ending but they're so important in our online world. It's been hard to go on zoom everyday for a three hour rehearsal, but it's still a blessing to be creating and learning everyday in a worldwide pandemic.
Has anything surprised you about college life in general?
The most surprising thing I think is the amount of free time you have. In movies and TV shows, I feel that college is always portrayed as a place full of free time, but with a rigorous class schedule, you definitely have to be very cognizant about how you're spending your breaks!
What's your favorite show you've seen at Hartt thus far?
Brigadoon last fall. I was super lucky to ASM the show and I got to see the entire process from start to finish. It's such a beautiful show and it was such a great way to start off my four years here!
Favorite class you've taken?
Definitely Jazz with Ralph. He's such a bundle of energy and the class is extremely technique driven and he makes it so much fun.
Favorite song to sing in your rep book?
Definitely "Who Knows" from I Can Get it For You Wholesale. My go-to!
Current favorite show you're listening to?
I'm such a golden age girl at heart so I've been listening to Anything Goes so much recently, and the Sutton Foster 2011 revival of course.
Favorite place to be on campus?
The rooftop of the bookstore at night. It has such a gorgeous view + me and my roommates always bring blankets and sit up there for a while. Very peaceful.
Any projects you're currently in/working on?
I'm currently rehearsing my sophomore project and we're doing Urinetown! I'm having such a fun time with it and the entire cast and creative team are amazing and it's just so exciting to be in rehearsals again.
I love these girls with all my heart, and I'm so glad they wanted to be a part of this piece. Be sure to check out their Instagram pages, and stay tuned for part 2 where I get some fellow upperclassmen's perspectives!