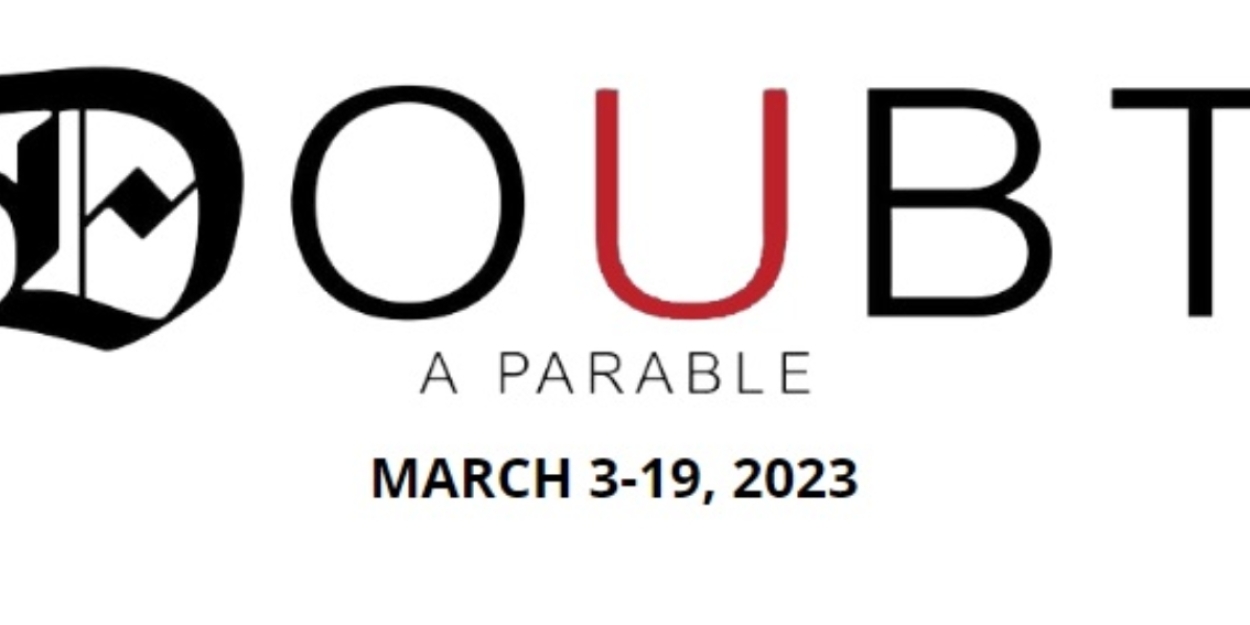 Review: DOUBT at Castle Craig Players
Doubt runs through March 19.
On Saturday, March 4, 2023, I had the pleasure of seeing DOUBT, yet another first-rate performance by the Castle Craig Players at the Almira F. Stephan Memorial Playhouse in Meriden, CT. I had previously seen the movie in 2009, but I must say that this play, which originally pre-dates the movie, is far better, especially with this cast! The play is written by John Patrick Shanley and brilliantly directed by Oliver Kochol who brings out the best in this stellar cast whose stage chemistry with each other is so strong that every interaction feels real!
The story is set in a Catholic school, in the Bronx, in 1964. The set features a bench outside the outer wall of a church rectory, on stage right. Center stage is the pulpit of the church, with a stained glass window behind it. Stage left is an office with an entrance. Mark Laucella's set design and the cast's use of the stage are perfect for this production.
The show opens with a homily by Father Flynn, who is masterfully performed by Todd Santa Maria. The authenticity that Todd Santa Maria brings to the role is so convincing that several audience members joined him in making the Sign of the Cross at the end of his homily. Throughout the show, Todd Santa Maria sells every line and emotion with conviction, very impressive in that the audience is left to question whether Father Flynn is being honest, or whether he is just a convincing manipulative smooth talker.
The next scene is set on stage left in Sister Aloysius' office. Pamela Amodio has excelled in many roles before, but this role as Sister Aloysius is definitely my favorite role that I have ever seen her perform! She becomes Sister Aloysius so convincingly that it is easy for the audience to forget that we are watching a fictional character. Sister Aloysius is the principal of the Catholic school. She is a very distrustful character who goes out of her way to look for the worst in others, sharing her suspicions, before gathering concrete evidence. Sister Aloysius has a very off-putting personality, and some attitudes that are incompatible with those that a true Catholic should have. She nevertheless seems content and self-validated in her own bitterness.
Kelsey Alexander provides a powerful performance in the role of innocent young school teacher Sister James. Sister James has a positive relationship with her students and genuinely enjoys teaching. She sees the best in others and wants to believe the best about others. As a devout Catholic, she lives her life consistently with the Eighth Commandment, which is not to bear false witness against our neighbor, not even in our minds and hearts. She is easily the most relatable character, most likeable character, and arguably the central character, in that the conflict in her mind is the same conflict that the story provokes in the minds of the audience.
Sister Aloysius is the direct boss and mentor of Sister James. The two have personalities and attitudes that stand in sharp contrast with each other. Nevertheless, Sister James conducts herself with class and decorum while interacting with Sister Aloysius. Sister Aloysius, on the other hand, is unjustly critical of Sister James, seemingly motivated by the fact that Sister James does not share the same attitudes of pessimism, skepticism, distrust, and all around negativity that Sister Aloysius allows to consume and poison her own heart, mind, and soul. Sister Aloysius believes that Sister James' positive attitudes towards the integrity of her students are out of touch with factual reality and therefore enable the students to easily manipulate and deceive Sister James. It is sad when someone has become so jaded and disenfranchised that she believes that attitudes of coldness and distrust are wiser than attitudes of love and trust.
Sister James heeds the bad advice of Sister Aloysius. Sister James' new cynical and suspicious outlook leads to her suspecting Father Flynn of possible misconduct with one of her twelve year old students, the first and only black student in the school. Sister James hints at her suspicion in a conversation with Sister Aloysius. Sister Aloysius immediately believes the worst about the situation, wanting Father Flynn to be guilty. It is as if Sister Aloysius either has an axe to grind with Father Flynn to begin with, or that Sister Aloysius has a hero complex and therefore wants to create a villain out of Father Flynn, to become a hero by defeating that villain. Sister James, on the other hand, shows that deep inside, she still wants to believe that there is a more innocent explanation to what she has observed, her student appearing uncomfortable upon returning to class after a one to one meeting with Father Flynn, her student furthermore having the smell of alcohol on his breath.
Sister James soon starts losing her joy of teaching and her joy in general. Sister James feels the deep disconnect of not being true to herself as a person and as a Catholic. She becomes convincted that her new attitudes, new actions, and the deep emotional pain that comes with them are not consistent with who God calls her to be. They harm her relationship with God, with her students, and with her own sense of self.
The fourth character is the allegedly victimized student's mother, Mrs. Muller, who is convincingly portrayed by Alicia Saunders. Alicia Saunders is excellent in the role of the parent who gets unnecessarily defensive of her child, because she misinterprets the intent behind the educator's words. It is a fascinating bit of irony that Sister Aloysius suddenly becomes the one at the end of unjustly pointing fingers coming from someone who unjustly saw the worst in her intent. What was also interesting is the enhanced depth of the issue that Mrs. Muller's perspective brings. Furthermore, if Sister Aloysius was so concerned with the protection of children, why was there no indication that she was willing to report the fact that, according to the student's mother, the student's father beats him? Was she really out for the students' well-being, or just to bring down Father Flynn?
This is a multi-layered story with incredible depth that challenges the audience to examine our own prejudices and inclinations to assume the worst about our fellow human beings. At the same time, it also challenges us not to be complacent or dismissive of potential grave evil and injustice. Furthermore, it challenges us neither to gossip nor spread suspicions that have the potential to destroy reputations.
How does this story end? I would argue that this show's ending lies not with the storyline or characters on stage in such a way that audience members can boast, "I predicted it," as if it was a murder mystery. Rather, I believe that the resolution comes with the self-examination of every audience member. Is it our instinct to automatically assume the best or the worst about others? Does our pride make us want our negative suspicions to be correct or incorrect? Are we seeking truth in a responsible and ethical manner or basing our perception of reality on whatever gels with what our emotions would like us to believe is true? DOUBT challenges us to avoid gossip and to avoid jumping to negative conclusions without sufficient evidence.
I highly recommend DOUBT, which is scheduled to continue to run through March 19, 2023. For times and tickets, please go to https://cloud.broadwayworld.com/rec/ticketclick.cfm?fromlink=2228602®id=60&articlelink=https%3A%2F%2Fcastlecraigplayers.org%2F?utm_source=BWW2022&utm_medium=referral&utm_campaign=article&utm_content=bottombuybutton1.