Elm Shakespeare Ice The Beef Present HAMLET
This production is a hybrid of Shakespearean performance and interactive social justice theatre.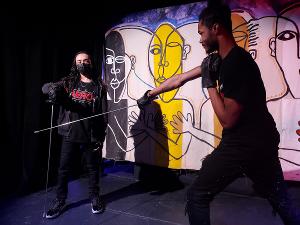 Student anti-gun violence activists from New Haven's Ice the Beef present their own spin on Shakespeare's classic tragedy, Hamlet, after a residency with the teaching artists of Elm Shakespeare Company. Their performance will be held at Bregamos Community Theatre, 491 Blatchley Ave in New Haven on February 18 (3:00 pm and 7:00 pm) and 19 (5:00 pm), 2023. Admission is free and tickets can be reserved via Eventbrite.
This production is a hybrid of Shakespearean performance and interactive social justice theatre that looks to create conversation, and explore strategies for ending violence in our community. It is the culmination of a 4-month collaboration. Thanks to the support of The Carolyn Foundation and New Haven Community Foundation, Elm Shakespeare's Director of Education Sarah Bowles and Ice the Beef's President Chaz Carmon worked with student leaders to create a transformative performance.
Ice the Beef is a student-driven Connecticut nonprofit, dedicated to empowering teens who want to end gun violence. Led by Chaz Carmon, the students are clear about their goals, saying, "We focus on gun violence prevention by teaching youth that their voice and decisions matter! ... We support each other as a family, and we choose to be the change we wish to see in the world...We support [each other's] dreams, goals, and talents by creating a family and giving mentoring support to youth through having meetings, sharing stories, laughing, joking, performing, and standing up for what is right!"
Through Shakespeare's classic tragedy, Hamlet, the ensemble asks these questions: What is the difference between seeking revenge and seeking justice? Is the cost of getting one's revenge too high? What innocent parties get caught in the crossfire? This conversation is particularly salient in our current cultural landscape and the rehearsals and performances act as a creative space for students to envision new ways of reacting and recontextualizing anger and violence. After presenting Shakespeare's play, the ensemble will share a trio of contemporary scenes inspired by real life experiences that offer community healing, and useful tactics for violence de-escalation.
This work is an example of how Elm Shakespeare Company believes these 400-year-old plays can work today, and belong to everyone. "The creativity, resiliency, and courage of these young artists is inspiring and what they have to say is so important," says Rebecca Goodheart, Producing Artistic Director. "Elm Shakespeare is proud and humbled to partner with Ice The Beef and grateful for the incredible support of Bregamos Community Theatre."
About Elm Shakespeare Company: The Elm Shakespeare Company is a 28-year-old professional theatre company that brings all of New Haven together through classical performance and education programs that ignite a spark in our humanity, enrich people's lives from widely diverse backgrounds,
and strengthen the artistic and educational landscape of the Greater New Haven region. It is committed to offering inclusive, accessible, and inspirational theatrical experiences in our parks, classrooms, neighborhoods, and even computers! For more information visit www.ElmShakespeare.org