Review: WHERE ALL GOOD RABBITS GO at Thrown Stone Theatre Company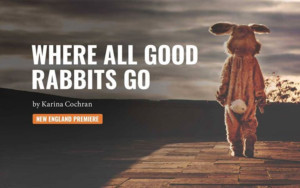 At the Ridgefield Conservatory of Dance, On Thursday, July 17, I had the pleasure of seeing Thrown Stone's newest production, the East Coast premiere of WHERE ALL GOOD RABBITS GO by Karina Cochran. Thrown Stone has yet again brought a first-rate show to Ridgefield, showing that they know how to consistently find and produce shows that have never before been performed live in the area.
The set depicts the inside of a house, including the living room, bathroom, dining room, and bedroom, all on stage at all times, making great use of the entire stage. This is probably the first show I have ever seen that included a toilet on stage. Scenic designer Fufan Zhang, who has also deigned the set for The Arsonists, has yet again provided Thrown Stone with the right scenic design for the show.
During transitions that usually involve costume changes, the audience remains entertained by hearing an amazing original score. Aidan Meachem, who played the high school student last year in Thrown Stone's production of Milk, has now shown yet another highly impressive talent in song writing. It is mesmerizing to realize that such polished and professional sounding music has been composed by someone who has just graduated high school in 2017.
Actress Alexandra Bazan who excelled as the high school girl in Thrown Stone's production of Milk shows that she can be equally convincing in a very different role, as she returns to the stage, portraying a married woman named Julia. Julia is a loving wife, standing by her man, even as he is suffering. Alexandra Bazan's mannerisms and expressions are convincing, with delivery that sells every line of this well-written character. The audience can feel Julia's pain, and relate to her genuine desire to help someone who at times does not properly communicate how he needs her to help him.
Jason Peck plays Walter, Julia's husband who begins to slowly suffer from a condition that is potentially terminal to his human life. He goes through the stages of denial, anger, pain, fear, and ultimately acceptance of the inevitable. The stage chemistry between Jason Peck and Alexandra Bazan is very strong, including while their characters are arguing with each other. The audience feels like they are witnessing a real couple in a genuine conflict with each other's ways of dealing with a serious issue impacting their lives.
Actor Mike Boland plays Dorn, Julia's older brother who also is a doctor, the doctor who is addressing Walter's condition. Mike Boland is very convincing, both as a doctor and as an older brother to Julia. Dorn provides insight into an emotional struggle faced by people in the medical profession. Dorn talks about the expressions on people's faces when they are depending on him for healing, and how he is forced to emotionally disconnect himself, knowing that not every patient who comes his way is going to be cured. Mike Boland is also believable in as another character who makes a cameo appearance towards the end.
An unlisted fourth cast member also enhances the quality of this production. It would be too much of a spoiler to provide more details regarding this cast member. I will merely say that Alexandra Bazan successfully sells the authenticity of all of Julia's interactions with this cast member, which is a true talent that many people would not be able to pull off even on camera, never mind live. I'm not speaking ill of that fourth cast member by saying that. What am I saying, then? Come to the show and my words will make total sense.
The struggle faced by Walter and Julia regarding the condition, the different potential treatment options, the past successes and failures that others with the same condition experienced, and the uncertainty of how quickly the condition will worsen are all very real emotional conflicts that people with serious ailments and those people's family members must deal with, especially when compounded by a slow, yet evident and consistent deterioration, as symptoms escalate. This play sends a very strong and positive message about truly appreciating all our blessings in life, while they are happening, as we never know when our lives may take a sudden and dramatic turn for the worst, one that we never saw coming, at least not as soon as it may happen.
The show also shows the deficiency of emotional tranquility experienced by those who are going through a difficult situation, while lacking faith in God. Julia claims to be praying, but not to God, while Walter's form of prayer is a struggle to remain in control of his situation, rather than to trust a higher Authority who loves him and wants what is best for him. While this show has nothing to do with cutting, in Walter, we see a similar mindset with those who feel victimized by outside forces and respond by wanting to gain a sense of power over their own pain.
I have to admit that when I first read that this show was about a man (Walter) slowly transforming into a rabbit, against his will, (the aforementioned medical condition) I was apprehensive. Having been traumatized by Disney's Pinocchio, as a child, I still to this day find the most terrifying fictional horror to be when humans are transformed, against their will, into something not human, something they have no desire to be, not before, during, or after the transformation. I am very pleased to say, however, that this story is not like that. I would consider it to be a cross between drama and comedy, but certainly not horror. Why not? It takes place in a fictional universe where, like death (and arguably taxes) in our universe, that universe is one in which everyone understands that turning into a rabbit is a part of their existence, like a caterpillar into a butterfly. In that universe, it happens to everyone, eventually, just at different times and at different speeds. What makes Walter's case stand out is that it begins happening to him at a much younger age than is statistically common, in that universe. The tradition in that universe is that the rabbit stays with his or her family for the first year after the transformation is complete, and then is allegedly taken away by the rabbit collectors, and brought to the place where good rabbits go, a place only seen by rabbits. This set up naturally leaves the show's audience's minds open to considering potential conspiracy theories as to what actually happens to the rabbits.
For mature audiences, I highly recommend WHERE ALL GOOD RABBITS GO which is scheduled to continue to run, through Thrown Stone, at the Ridgefield Conservatory of Dance through August 4, 2018, in repertory with The Arsonists, which I also highly recommend. (You can read my The Arsonists review at http://bit.ly/sffarsonists.) For times and tickets for either show, please go to https://thrownstone.org/events/.