Review: ROCK 'N' ROLL REDEMPTION at Seven Angels Theatre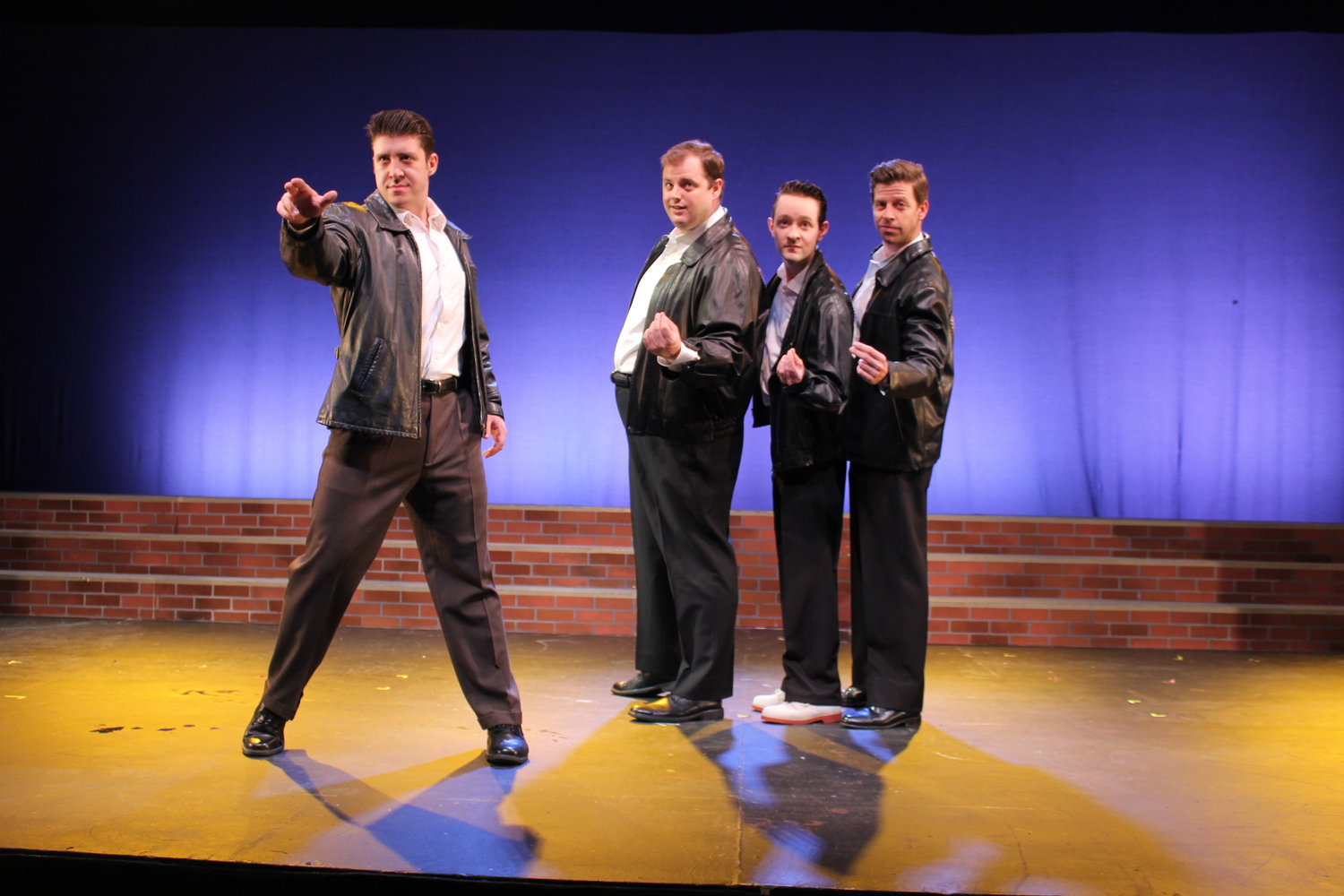 On Thursday, May 17, I had the pleasure of seeing the opening performance of a true musical masterpiece, ROCK 'N' ROLL REDEMPTION. This story, depicting the life and music of rock n' roll legend Dion DiMucci touches the human heart deeply, showing how our deepest sense of joy can never be attained apart from obedience to God's call to be who God has made us to be, no matter how much worldly success we may attain, trying to be someone who we are not. The incredibly talented cast and crew at Seven Angels Theatre in Waterbury, CT, does a phenomenal job bringing this story to life on the stage.
The audience is drawn into the show right from the start, as "Chantilly Lace" is the opening number, excellently performed by James Donohue as the Big Bopper.
The story soon goes back to the DiMucci apartment, where we get a sense of Dion's homelife, right around the time he began his professional music career. JP Sarro and Marilyn Matarrese portray Dion's father and mother, Pat and Frances DiMucci, respectively. Their stage chemistry is very strong, a particularly impressive achievement in that their roles are those of a very dysfunctional husband and wife. Sparing the details, these characters, based on Dion's parents, are realistically multi-dimensional. While different audience members can understandably have differing views regarding the degree of likeability of Dion's parents, no one can deny the excellent acting performances by JP Darro and Marilyn Matarrese. The degree of empathy or sympathy these characters receive from the audience hinges largely on the perspective of the audience members, which makes them such fascinating characters.
Matthew Dailey stars as Dion DiMucci, truly becoming Dion up on stage, selling every line and note, as if he was the real Dion. This is truly a first-rate performance. As the central protagonist, Dion is conflicted between wanting to make the type of music that truly reflects himself, or the type that the industry is demanding of him. Dion wanted to play his own guitar, and have more of a folk sound, while doo-wop was the sound of the time, being pushed by the industry. Pat DiMucci wanted to see Dion succeed, not merely for Dion's sake, but seemingly also as a way of feeling personally justified in his own existence. Pat DiMucci, however, believed that the key to Dion's success would be playing by the rules of the industry, rather than being himself. This was a huge area of conflict between Dion and his father.
John Little and Joel Robertson were an excellent comedy duo in the roles of Bob Schwartz and Gene Schwartz respectively. As the people offering Dion his record deal, like Pat DiMucci, they were more interested in Dion conforming to the sound of the times, rather than being who he truly wanted to be as a musician.
Dion's backing doo-wop vocalists, the Belmonts, are magnificently played by Harry McEnerny V, Clint Carter, and Nate Rocke. Their acting is strong, with vocals that blend well together with Matthew Dailey, to smoothly convey that Dion and the Belmonts sound. Harry McEnerny V deserves particular credit as the most spot-on vocal impersonation, as Carlo Mastrangelo, the Belmont whose doo-wop vocals start up and dominate "I Wonder Why."
The story of the fatal "day the music died," is critical to Dion's own story. Dion performed at that concert on that winter night. Buddy Holly and the Big Bopper had secured seats on the airplane, but the final seat was to be decided by a coin toss. Would it go to Dion or to Ritchie Valens? The coin was flipped, Dion called, "heads" and the coin landed on heads. When it comes to placing one's hope in the false deities of chance and luck, Dion seemed to have them on his side. The one true God, however, had bigger plans for Dion, plans that go back before he was even born. Dion's mother, Frances, had once been engaged to a milkman who was an addict. That addict died in an accident, prior to the wedding. Had he not died, Frances would never have married Pat, and Dion would never have existed. Pat struggled to get by, and had to pay what was then considered a high amount of rent money, monthly, to keep a roof over the family's head. Dion won the coin toss, but when he found out that the cost of the plane ticket would be the same as it cost his father to pay a month's rent, Dion could not morally justify spending that type of money on a plane ticket. So, he declined, and Ritchie Valens took his seat instead. After the plane crashed, Dion was left with a significant degree of survivor's guilt, not yet embracing the bigger picture, or God's divine providence, upon his life.
Anna Laura Strider plays Susan Butterfield, a girl who Dion meets. As soon as she said that her name was Susan, I naturally assumed that she would take his love and run around with every single guy in town, and that he would write a song about it. That romance, however, is not sad, and the story, as sung about, is not true. Dion and Susan married in 1963 and are still married to this day, with three children. The song was in no way reflective of Dion's real life experience with Susan.
Jason Ostrowski is amazing in his role of "Johnny," which is in reality, Dion's conscience. Dion grew up Catholic, prior to Vatican II, and seemed to be well versed in Scripture, even though he did not always obey it. He suffered from a heroin addiction himself, and was foul-mouthed, but his conscience kept pushing him to make better choices for his life, especially the choice to be himself, as a person, and a musician. Dion, in all his success was still not experiencing joy, as he was not being true to himself. "For whoever wishes to save his life will lose it, but whoever loses his life for my sake will find it," is a quote from Jesus, as recorded in Matthew 16:25. In Romans 12:2, the Bible also reads, "Do not conform yourselves to this age but be transformed by the renewal of your mind, that you may discern what is the will of God, what is good and pleasing and perfect." Dion struggled with obedience to both these verses, caught up in trying more to please the world, while remaining conflicted in the fact that he wasn't being his true self. His conscience reminded him of the parable of the lost sheep, a parable found in Matthew 18:12-14. Dion's conscience insisted that Dion was the sheep who went astray, the sheep who was the wanderer.
I have been familiar with Dion's "The Wanderer" for about thirty years. On seeing this show, I saw a far deeper meaning behind this Ernie Maresca written song than I had ever seen in the past thirty years! I had previously viewed this song merely on the surface, seeing it as a song about a womanizer bragging about his womanizing, a 1962 precursor to a disturbing attitude that has dominated much of modern chart-topping mainstream music, since the early 1990s. I never thought to look at this song from a deeper spiritual perspective, as a song about someone who has strayed from God, and is roaming around, around, around, around, in the bleakness of spiritual wilderness, clinging from one idol to another, while moving further away from the truth, self-deceived, claiming to feel happy on the surface, when deep down inside, he feels total emptiness, sinking more deeply into despair with every new idol, desperately trying to fill that spiritual void that can only be satisfied by the one true God.
For Dion, however, the story would not end there. The call to be who he truly was meant to be would stir too strongly in his soul. God's bigger plans for Dion's life would be far too important. While Dion's later music would never quite achieve the same commercial success as his earlier works from the late 1950s and early 1960s, Dion would find true joy follwing God's path for his life, to be the person who God created him to be, rather than who others are trying to tell him to be. Dion's time as a wanderer would just be a part of a greater story of redemption of the soul who would return to Him.
If the true driving force behind rock n' roll has always been rebellion against the established norms of society, it will take devout Christians, moved by God's grace, to truly revive rock n' roll in this modern American culture. ROCK 'N' ROLL REDEMPTION has the power to help inspire that type of movement to recover what America's younger generations have never gotten to experience arising in their own lifetimes.
I highly recommend ROCK 'N' ROLL REDEMPTION, which is scheduled to continue to run at Seven Angels Theatre in Waterbury, CT, through June 17, 2018. For tickets and times, please go to https://sevenangelstheatre.org/.
Photo by Paul Roth