BWW Review: BIRDS OF NORTH AMERICA at Thrown Stone Theatre Company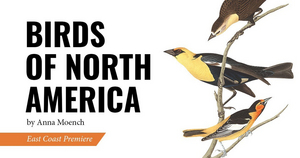 On Thursday, July 18, I had the pleasure of seeing America's East Coast Premiere of BIRDS OF NORTH AMERICA, as put on by Thrown Stone, at the Ridgefield Conservatory of Dance, in Ridgefield, CT. This play, written by Anna Moench, is yet another brilliant selection by Thrown Stone, bringing a meaningful show to a new audience. Under the phenomenal direction of Jason Peck, this highly talented two person cast of J.R. Sullivan and Mélisa Breiner-Sanders who portray father and daughter, respectively, have such an excellent stage chemistry with each other that, combined with the intimate setting of the venue makes it easy for the audience to forget that we are watching a show, and not eye-witnessing a real father and daughter interacting.
The audience is seated on three different sides of the rectangular acting area, with the blocking done in such a fascinating way that all audience members simultaneously feel as if we are in the best seats in the house. The set involves a yard with a tree, a bench, and a tree stump, depicting the house of John, the father, and his wife, the mother of Caitlin, the daughter who once lived there, too. John and Caitlin go birding with binoculars, in that back yard, looking for birds that John writes down in a book, when he sees them. Sound effects of the birds and the effect of falling leaves enhance the quality of the show.
The father and daughter dynamics between the two characters are heartbreaking. As Caitlin tries to pour her heart out to her father, in a deeply dramatic way, John just insensitively replies with statements that he may believe to be factually true, but that are nevertheless irrelevant to the deep emotional turmoil that Caitlin is experiencing and expressing in hopes of connecting with her father, being heard, and possibly receiving some type of meaningful consolation. John even gets distracted by birds that come across as more important to him than his daughter's most strongly held personal feelings.
While John initially comes across as merely an atrocious communicator, he eventually is revealed to be a despicable person. He cares more about the life of birds yet to hatch from inside their eggs, than he cares about the lives of in utero human babies, including when those babies are his own grandchildren. After Caitlin has multiple miscarriages, John furthermore berates Caitlin over valuing the dignity of the lives of the babies she lost, and over feeling the hurt of those losses, essentially dismissing Caitlin's very real, very deep, and very common emotional pain to nothing more than what John wrongly feels to be mere propaganda that Caitlin believed as a result of her working for a politically conservative website. Only a man who is as heartless as he is deceived would try to undermine a grieving woman's pain over losing a baby, by condescendingly attacking her with the intolerably obnoxious lie that the baby who died was not a real person with whom the mother naturally bonded, but was merely a lifeless "clump of cells," in John's words.
While John continues to come across as caring more about the environment than about the well-being of the people living in it, including his own wife and children, Caitlin has a heart for others, including John. Caitlin is the character with whom even male audience members will connect with and view as the central protagonist. She shows herself to be far more attuned to John's feelings than John is to hers. For example, when she overhears a phone conversation that makes it clear that John has been fired from his job, Caitlin asks him for car purchasing advice, knowing that, as a man, John still needs to feel needed and important, and that her question is a way to show him that he still holds importance in the world, despite the loss of his job. John, on the other hand, further shows his callousness by condemning Caitlin's work with an oil company by claiming that she wants to ruin the world for other people's kids, just because she can't have kids of her own.
Mélisa Breiner-Sanders effectively conveys a myriad of emotions through her various facial expressions, including making it clear that something was wrong, before the audience hears about her loss of her baby. Her delivery of her lines is spot on and resonates as real and natural with the audience.
It takes incredible talent to successfully portray a character like John, and J.R. Sullivan pulls this off flawlessly. While I found myself furious with the character, I also found myself marveling at how believable and likable I found J.R. Sullivan's portrayal of this character.
While I don't have any daughters, I feel that seeing this show has helped make me a better person, in that the character John serves as the ideal poor example of how to communicate with those who are emotionally hurting, and therefore becomes an excellent reality check for all in the audience, especially men, to become aware of how heartless and insensitive we come across as when we try to respond to people's emotional suffering with words that undermine and marginalize the other person's right to feel however she (or he) naturally feels, as if feelings were facts that could be proven wrong.
For mature audiences, I highly recommend BIRDS OF NORTH AMERICA, which Thrown Stone has scheduled to continue to run at the Ridgefield Conservatory of Dance through August 3, 2019. For times and tickets, please go to https://thrownstone.org/events/.