BWW Interview: Brian Hill and Neil Bartram, creators of new musical YOU ARE HERE at Goodspeed's Terris Theatre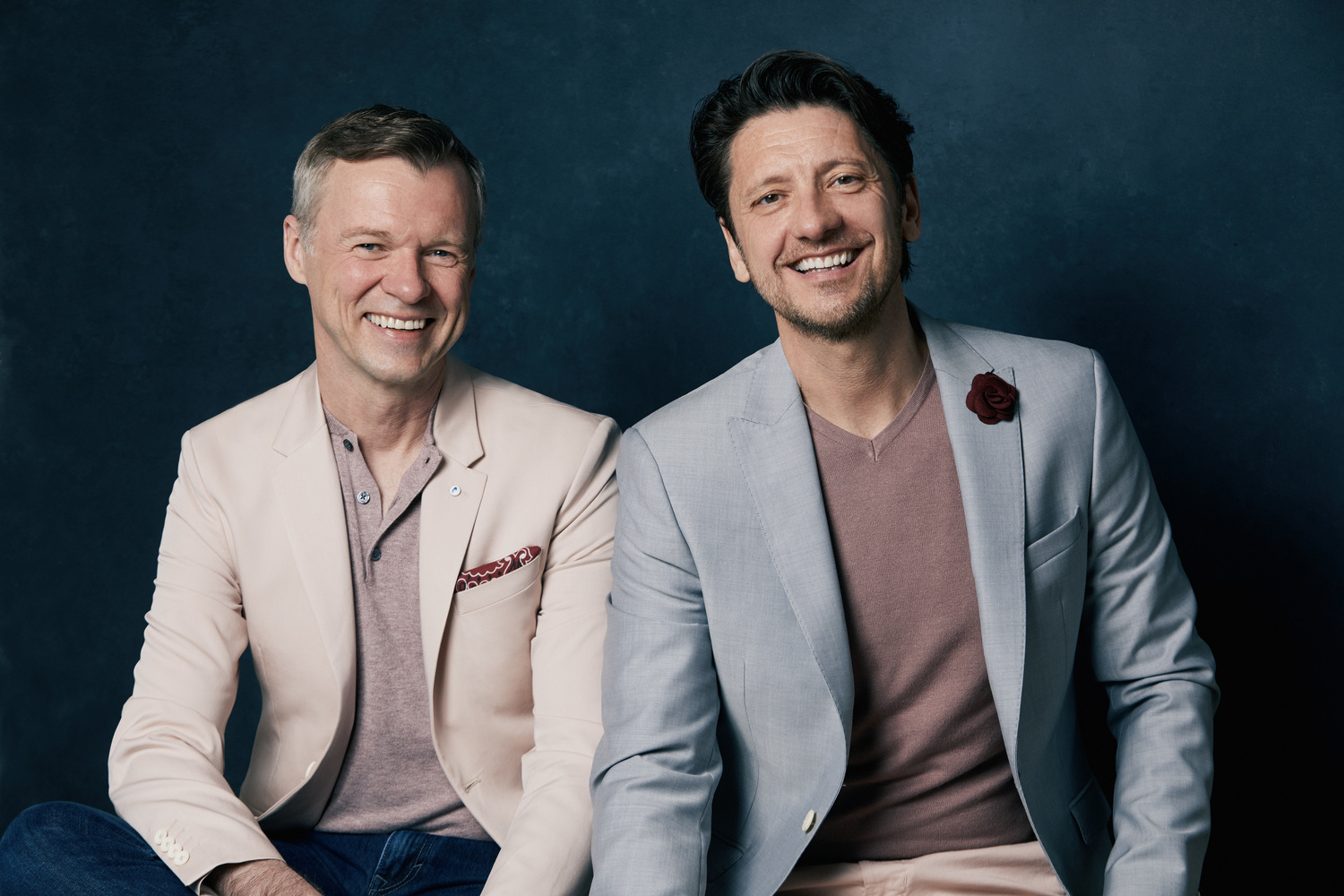 Have you ever wondered what it would be like to drop everything, walk out your door and do something completely new? That is what Diana, the central character in Neil Bartram and Brian Hill's new musical YOU ARE HERE does on the eve of the moon landing - she walks out of her comfortable suburban, Chicago life and learns how the unexpected can lead to a life changing experience. I had the chance to sit down with the duo behind the show, book writer Brian Hill and composer and lyricist, Neil Bartram who shared a little about their creative process, Diana's journey in the show, and how they work effectively together to bring a musical like YOU ARE HERE to life.
BWW: Tell us a little about YOU ARE HERE. What's the show about?
Brian Hill: It's about a woman of late middle-age in Chicago in 1969 who, on the eve of the moon landing, gets up and walks out of her suburban life into urban Chicago and has an adventure of self-fulfillment.
What is it about Diana's story that you felt needed to be told?
Neil Bartram: We were just fascinated with the idea of somebody late in life just taking a U-turn and changing their life completely. We just loved the idea of somebody starting over. It felt like a story that says it is never too late to re-invent your life.
YOU ARE HERE is about overcoming fears and stepping out of comfort zones to experience something bold and new. Do either of you have a moment like this in your lives where you just decided to take a leap of faith?
Brian: Every single day! A big one was, we are originally from Canada and we received an offer to move to the U.S. We looked at each other and it was an easy and instant decision that completely changed everything.
Neil: Brian was working on THE LION KING - he was the resident director in Toronto - and they wanted to move him to the Broadway company. I had just started to write music and lyrics for theatre and wanted to study it more intensely. We were living in Toronto and he turned to me and said do you want to move to New York? So it was definitely a big leap. We did what Diana did, we just moved forward together as a couple.
Do you feel like being a couple enhances your creative process as you write?
Neil: I do think it helps, very much so. We often finish each other's sentences and we think along the same lines. Correspondingly, it helps to work with a director like Sarna Lapine in the case of this production, where an outside person can come in and ask questions and provide their perceptions of what we have done. Sometimes we might think things are good and someone comes in to question it, which is really good.
Brian: We are always happy when someone has a better idea!
YOU ARE HERE is set in the 1960's but has a message that is as applicable today as it was back then. What made you choose to set the show at that time?
Brian: We wanted to put Diana in a time period where everything was changing around her, and certainly the 60's was a time of complete upheaval and change. Between the end of WWII and the 60's everything was in a "Leave it to Beaver" land. Then the 60's happened and the women's movement happened and the music changed and the Vietnam War was in full swing at this point.
Neil: ...and the racial unrest in Chicago as well. There was a lot of turmoil in the air. We wanted to put her somewhere for maximum effect. So, we put her in the middle of that and used the men walking on the moon as a catalyst for her to say "I can do something in my life".
Brian: This is only a year after Martin Luther King was assassinated and the riots in Chicago at that time were massive.
I am curious about how a show like this is born. Was there a moment one of you turned to the other and said, "I bet this would be a great idea for a show?"
Neil: I remember, as a kid, being lucky enough to see Lily Tomlin's "The Search for Signs of Intelligent Life in the Universe" and I was so enamored with this idea of a single person telling a story on stage and I said to Brian I would love to find a way to do that in a musical. So, we initially started working on this as a single voice piece for one woman of a certain age. There are so many great women in that age category (late 50's early 60's) - I wanted us to see if we could write something for them. As it evolved and we started working on it we realized we needed these other characters for Diana to have relationships with. But the initial impulse was to write something centered on this one character.
Brian: So now it is a cast of four. Patti Cohenour is playing our central character, Diana, and our other three amazing actors are playing specific roles and are also the voices in her head and give vocal support throughout the show.
What has it been like with an actress like Patti Cohenour?
Brian: It's a blessing. She is incredible.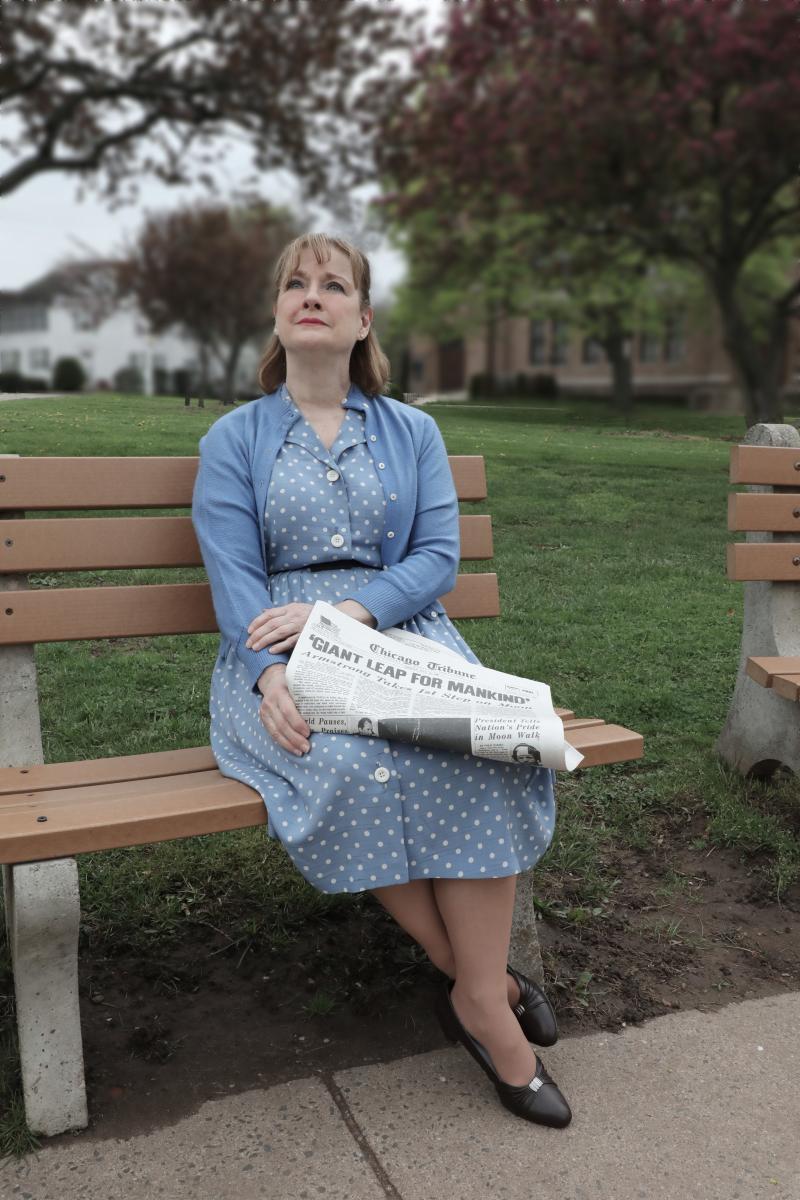 Neil: One of the things I didn't know about Patti was that she started out playing guitar and singing folk songs in bars around this time (the late 60's). She is this glorious soprano with a crystal clean voice, yet she has this background of other styles. She is just a doll. There is a lot of heavy lifting. She is carrying the show and is the ambassador for this whole journey. She never leaves the stage. We looked for an actor that had vulnerability, which Patti has in spades. But we need to worry about her as well. We wanted the audience to be slightly terrified for her.
Speaking of creating musicals, you both have experience creating shows from an original idea (like this one, from existing material (e.g., SOMETHING WICKED THIS WAY COMES) and even building on existing musicals (e.g., BRIGADOON) - How do those experiences compare?
Brian: They all come with their pluses and minuses. Writing an adaptation is wonderful because the structure already exists and you can build on top of that, but you are also hemmed in by the existing piece. Writing something original means the sky's the limit and the choices are infinite, but it also means the sky's the limit and the choices are infinite; which means you need to somehow whittle it down to the story that you want to tell. That is the biggest challenge with something original.
Neil: There's definitely a freedom with something original, but something like SOMETHING WICKED THIS WAY COMES has quite a following so we feel responsible for putting it on stage. We are also adapting BEDKNOBS AND BROOMSTICKS which has songs already so the new songs I am adding need to work stylistically in the world of the original piece as well with songs by The Sherman Brothers. Each has their own unique challenge and reward.
Neil - How would you describe the style of music for YOU ARE HERE and do you feel it is like any of your other shows in any way? Do you feel you have a certain "sound"?
Neil: It is hard being on the inside. It's like someone asking you to describe your own face. I just write what feels right and then I think other people will say if there are stylistic similarities, which I think there are, because I am me and it comes out of me. With a show like YOU ARE HERE you look for the one thing that is the gift from the material itself. In this case it was the time-period, so we are looking at the late 60's, but not a pastiche 60's score. You also have a character who was born in the early part of the century and has gone through different styles so there is stuff from her past that I can pull from. So, when she is grounding herself in her old life, I pull from the 1920's style, but when she is exploring what she can be, I get to pull from some of the sounds of that era like Burt Bacharach and Joni Mitchell. That is the specific musical influence that I hope people will hear in YOU ARE HERE.
Brian - You've had a varied career as an actor, director and now book writer. How do those past experiences inform your work?
Brian: I think they all feed each other. I am so happy that I wear all those hats. I find that when I am writing for a character I put myself into the shoes of that character as an actor. I look at it from the point of view of how would I approach this if I were playing this role. Certainly, writing the book of a musical is a complicated thing, so I like to help the director by writing with that hat on as well, that way, what I am putting on the page is something that actually could be put on the stage without throwing too many curves at the director.
Do you find, as a director yourself, that it's hard not to have that hat on when working on a show?
Brian: No, I am happy to step back once that really smart person walks into the room. It does mean we have a shared vocabulary, which is great, but it's easy for me to Take That hat off and let the director do their work.
So, I want to talk a moment about your creative process together. You both have been working together for a while and have produced some really great work. How does it work for you two? Does the music come first, then the story? A little of both?
Neil: The idea comes first from one of us. Generally, what we do is we work through an outline together and pinpoint song moments and how we want the shape of the story to go. Then we part ways, and since I write music and lyrics, I go off and dive into whatever moment in the show that I feel the most comfortable with. It is almost never the first thing, but I find a key moment that inspires me. I will go work on that song, and Brian will work on fleshing out the outline into actual scenes. Then we meet up from time to time and share our work. For me, I like to play a whole song for Brian so he is the first audience for it. It's an important moment, so I can get a visceral response from him. It's easier for me to write the whole thing, audition it for him and get a reaction. He does the same thing with scenes. We live in the same space most of the time, but generally we are in our own offices working on our own thing.
Brian: Which is probably why our relationship has survived, because we are not sitting in a room 24-hours a day.
How long have you been working on YOU ARE HERE? How much has the show changed over time? How fluid is it today?
Neil: I think it has been about three years that we have been working on the show. This is the first time that a show we have worked on is at such a vulnerable stage and still heading towards a production. The first time we heard it all with the four actors was the first readthrough that was last week.
Brian: That is rare for us to go into production without a reading or a workshop before that, but this is exactly what Goodspeed does in Chester. This is the developmental production where we can play and learn and continue to make the show better.
Neil: At the core of it, the basic idea and the philosophy of the piece is intact.
Brian: I agree. I feel like the core idea has remained through all the iterations, but the details have changed. The main impulse is still there.
Who were your inspirations growing up, theatrically, musically?
Neil: I didn't listen to musical theatre at all growing up. I was a pop/rock kind of guy. That is the kind of music I loved. It wasn't until I started studying musical theatre that I started to love it. When we moved to New York, I did the BMI workshop. The transformative moment for me was when I got a job as Lynn Ahrens and Steve Flaherty's assistant. I worked with them on a couple of shows - Dessa Rose and THE GLORIOUS ONES. They were unbelievable mentors to me and I think they are incredible. That changed my life in terms of wanting to do what they are doing. I admire them so much
Brian: I have been immersed in musical theatre since I was a kid. My grandmother introduced me to the original cast recordings of BRIGADOON, MY FAIR LADY, and THE SOUND OF MUSIC when I was six and it has been a slippery slope since then.
You have been at the Goodspeed/Norma Terris before, as recently as 2015 with THEORY OF RELATIVITY - is it different coming back to a familiar setting vs. putting up a show somewhere new?
Brian: We've done the math and between the two of us we have been to Goodspeed seven times in various incarnations. It is kind of like going home in a wonderful way. We know how it works. We know the people that we're working with and we know the resources they have to offer, which are incredible.
Neil: And we can hit the ground running as soon as we get here. There is no learning curve. We just dive in.
Is there a song/scene/moment in YOU ARE HERE that you feel is your favorite?
Brian: I was away yesterday and they staged a scene with a song called "Everyone Dances", and I just saw today what the cast, the director, and the music director had done. It's one of my favorite moments because it is a bonding moment between Diana and her new acquaintance, Ruby, where a lot bubbles to the surface and a lot changes for our central character. I really enjoy that moment now.
Neil: That is also an affirmation that the adding of the other characters really was the right thing to do, because you see them relate to each other and it just makes a ton of sense. For me, it would be one of the final songs in the show that Patti sings called "Sea of Tranquility. I am proud of the song to begin with - it's a hard song - but Patti does such an amazing job with it.
In YOU ARE HERE, Diana walks away from her life to do something completely new. If you were going to drop everything and do something bold and new, what would it be?
Neil: It's funny, but before Brian and I even knew each other we both were artists. I had a crossroads where I was going to college for either art or music. I wanted to be an animator...
Brian: ...and I had been accepted into one of the top animation schools on the continent and decided not to do that.
Neil: So if I dropped everything now and did something else, I would do that.
Brian: But you notice we would drop everything and still be together.
I wonder if you have any inspiring words for other young people who want to take a shot at creating musicals?
Brian: I think the resources that young people have now, mainly because of technology, are incredible. You can do, literally, anything now with the push of a button. So, I would say just do it, first of all. Secondly, find a great mentor, find somebody to learn from. Both Neil and I have had those in our lives and I think that is a huge part of your growth as an artist.
Neil: A lot of people ask me how to get involved in writing, and the first thing I say, is "Just write". Don't talk about it, just do it, then do it again and get better. And if you can find a mentor to bounce things off of, that is great, but don't sit around and ask yourselves how to do it, just do it.
Anything else you would like our readers to know about the show?
Brian: I do want to stress that as intense as Diana's journey seems, it's a wildly uplifting show. It is funny at times and heartbreaking at times and the roller coaster ride of the show is just thrilling.
Neil Bartram and Brian Hill's YOU ARE HERE runs at the Goodspeed's Terris Theatre at 33 North Main Street, Chester, Connecticut May 18 - June 10. Curtain times are Wednesdays at 2:00 p.m. and 7:30 pm, Thursdays at 7:30 p.m., Fridays at 8:00 p.m., Saturdays at 3:00 p.m. and 8:00 p.m., and Sundays at 2:00 pm and 6:30 p.m. Tickets are available through the Goodspeed Box Office (860.873.8668), open seven days a week, or on-line at www.goodspeed.org.
Top Photo: Brian Hill and Neil Bartram
Bottom photo: Patti Cohenour as Diana Photo by Diane Sobolewski
Related Articles View More Connecticut

Stories

Shows
Joseph Harrison has been involved with the theatre in some form or fashion all his life. He holds a Journalism degree from the University of (read more...)