Wright State Theatre Presents ARCADIA Next Month
Performances run February 3-12.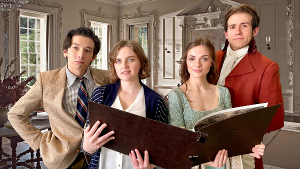 Wright State Theatre will present Tom Stoppard's romantic play of ideas, ARCADIA at Wright State University's Creative Arts Center from February 3-12.
Stoppard is widely considered one of the greatest playwrights of the English language, and ARCADIA one of his most impressive works. Many audiences know Stoppard for his early play, ROSENCRANTZ AND GUILDENSTERN ARE DEAD, or his screenplay for SHAKESPEARE IN LOVE. First produced in 1993, ARCADIA leaps artfully between the past and present, certainty and confusion, genius and unexpressed passion. The play explores the possibilities life offers as we make seemingly minor, but irreversible choices.
ARCADIA is directed by Marya Spring Cordes (Associate Chair of the School of Fine and Performing Arts), whose recent works at Wright State include SWEET CHARITY, THE WOLVES and THE CURIOUS INCEDENT OF THE DOG IN THE NIGHT-TIME. She is also a regular contributor at The Human Race Theatre Company, among other professional theatres. About ARCADIA she says, "Arcadia is a witty and thoughtful comedy that strikes you immediately with the beauty of the language and complexity of the relationships. The audience moves between real time (of 1809) and a future reality decidedly set on exhuming the mysteries of the past. The play is emotionally riveting, Stoppard's mystery keeps you on the edge of your seat and the payoff is stunning". Set in a classic British manor home called Sidley Park, Stoppard has created a dual world of both the present day and 1809, which alternate and eventually overlap with each other in a theatrical experience that will leave audiences enraptured. Stoppard has the rare ability to make complex ideas of physics, philosophy, higher math and even chaos theory accessible and powerfully dramatic to all of us.
ARCADIA has scenic design by Michael Brewer (Wright State's SWEAT, 9 TO 5 and others), costume design by senior Design/Technology major Sean Hannah, lighting design by Prof. Matthew Benjamin, properties design by John Lavarnway, sound design by James Dunlap, technical direction by Kevin Nedberg, and stage management by Isabella Myers.
Arcadia runs from February 3 - 12 in Wright State's Creative Arts Center Festival Playhouse. For tickets, Click Here or Box Office (937) 775-2500.