Student Blog: Geology and Dance Rock - Frosty's World #13
Do you think I can't segue from geology into theatre arts? Really?

When all at once I saw a crowd,
A host, of golden daffodils;
Beside the lake, beneath the trees,
Fluttering and dancing in the breeze.
You can measure time for your school year at Baldwin Wallace University by the flowers on campus. It is now time for the yellow daffodils and pansies. I don't know if William Wordsworth ever visited Berea, OH but he captures our Coe Lake scene perfectly. This is the time of year when your shorts and flip-flops are parked next to your snow boots and parka. You never quite know what you are going to get when you wake up in the morning. My former public relations instructor, Shawn Salamone took the picture of the year on April 1st when the snow hit a campus daffodil patch. It was not an April Fool's joke!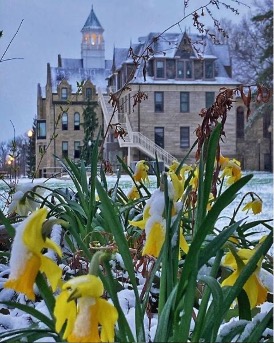 Berea's Coe Lake is exactly one block south of campus. It's a little blustery right now, and the trees are still bare, but it is still the best place to take a walk on a sunny day after a long winter of wearing a face mask. Here comes the sun!
Actually, we wouldn't have a college campus if the lake wasn't there. Like a lot of lakes in the Midwest, Coe Lake started out more than 100 years ago as an enormous sandstone quarry. There are buildings all over the world constructed of Berea Sandstone, including the Parliament Building in Ottawa, Canada. The stone was discovered in the 1830s by a fella named John Baldwin -- who went on to become über-wealthy and the founder of Baldwin Wallace University. That quarry is filled with a lot of water now. The only hints of the past are a few odd-looking circular millstones that are half-buried near campus, and stone buildings, of course.
Do you think I can't segue from geology into theatre arts? Really?
Geology was the theme of this year's fyoo zh en performance, Flood City, from Baldwin Wallace University's Dance and Movement Program. Let me explain. Each spring, the campus main stage at the Kleist Center pops with the fyoo zh en spectacular. It's a dance concert developed by student choreographers, student dancers and student stage designers. My former dance class professor Sara Whale serves as the co-director. It's a big show. This year, the team chose to highlight the academic work of Baldwin Wallace environmental science faculty member Carrie Davis-Todd. Dr. Todd is a geologist who has devoted years to constructing mathematical models of the 1889 flood in Johnstown, Pennsylvania.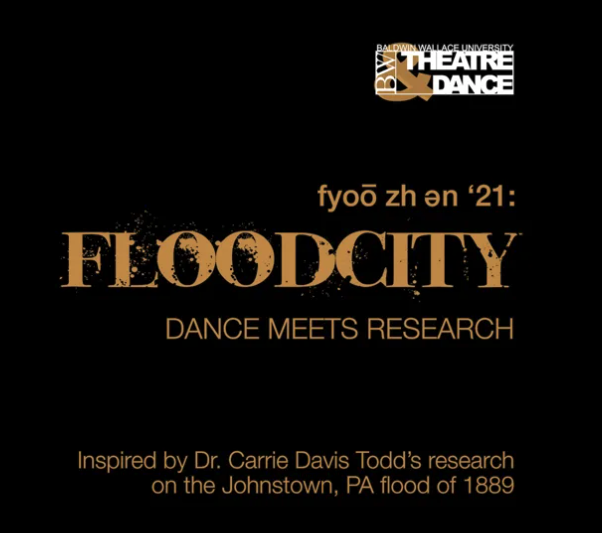 I knew nothing about the Johnstown Flood. I think that is the point. More than 2,000 people died in an event that was preventable. It turns out that the magnitude of the tragedy and the story of the people that were lost can be expressed in mathematical equations and through the medium of dance. The Flood City performance was done with masks and social distancing, but that was barely noticeable. The Vimeo platform streamed smoothly and the videography was wonderful. The set and music were haunting. I'll bet that the performance caused a major surge in Google searches on the Johnstown Flood. What a wonderful way to honor the lives of the victims and display the talents of the student artists. Congratulations to student choreographers Genesis Rosado and Max Laskar, who claims that geology and dance ". . . rock!" The expressions of emotion through dance were unforgettable. I guess you never know exactly how you will be moved by a performance.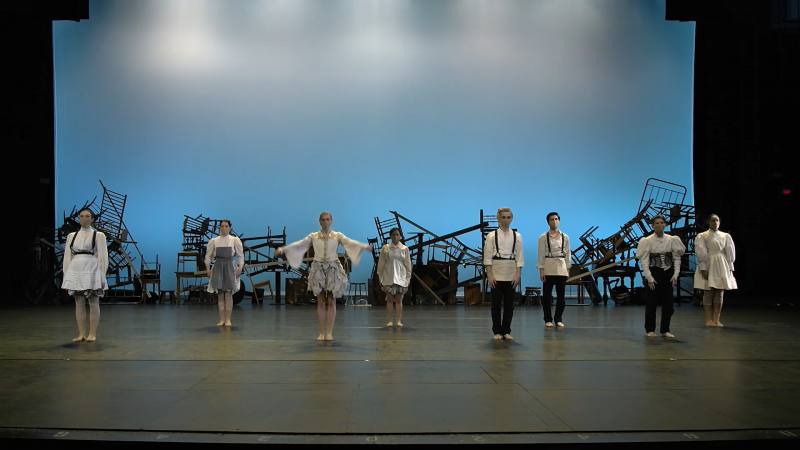 That idea was echoed by Broadway dancer and choreographer Dianne McIntyre during her visit last week to our Dance History course. We were thrilled that she accepted Professor Annika Sheaff's invitation to visit our classroom and take questions. Ms. McIntyre is a dance legend. Just scrolling her list of credits and awards (which spans 45 years) could cause carpal tunnel syndrome. She has received accolades for her work in every medium; feature films, Broadway, television and concert dance. We are very proud to claim her as a Cleveland native. Like another Clevelander, Langston Hughes, McIntyre moved to Harlem early in her career and achieved fame after founding Harlem's Sounds in Motion company and school. Her dancers toured the biggest venues of North America and Europe for two decades.
You will never meet a more gracious and dignified person than McIntyre. She shared amazing stories and took over an hour to answer our questions. Several of us in the class are not dance majors -- she took a special interest in the arts management and entrepreneurship students. In fact, class ended before she had time to answer all the questions, so she took the questions with her and later answered them via email!
Because she has performed and choreographed works all over the world, I asked McIntyre if she modifies her presentations to align with the people she expects to be sitting in the audience. She replied,
"My goals are the same no matter who the audience is -- I want to do the most high-quality, most creative presentation for all. The reason I keep the work the same is because you cannot always tell what touches an audience. I just do what I do and trust people will receive something to take with them."
It seems like we are inching forward to the point where we can soon enjoy dance concerts in person. The University is offering COVID-19 immunizations to all students. There are plans for in-person spring graduation at the football stadium. Cleveland's Playhouse Square plans to open for a live-audience performance of The Choir of Man in June in the Mimi Ohio Theater. This majestic 1,000-seat performance hall will host 250 lucky socially distanced patrons. If you have never seen Cleveland's Playhouse Square complex, it is worth a trip. It's ironic that many of the 11 beautiful performance spaces were built during the pandemic of the last century.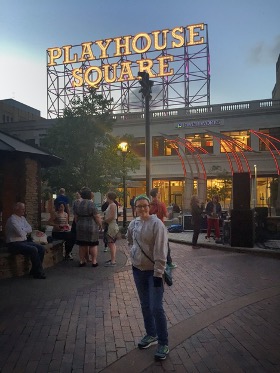 Cleveland's Playhouse Square and Baldwin Wallace University's Music Theatre Program have a multi-year string of 14 collaborative hits going, and I've already bought my ticket for the next one, a virtual presentation of BARS (Beatboxing, Acting, Rapping, Singing). The show was conceived by Baldwin Wallace alum, Jay Ellis, as an audience interactive improvisational performance, featuring the beats of our music theatre students!
Last week, several former Baldwin Wallace University Music Theatre alums-turned Broadway stars were on hand for a virtual celebration of the Beck Center for the Performing Arts. The Beck Center is a historic professional theater just a few miles north of campus in Lakewood, Ohio.
A few years ago, I was lucky to have an internship experience with legendary local actor, singer and arts marketing specialist Pat Miller at the Beck Center. On April 4, the Beck's Broadway Alums in Concert showcased an amazing array of stars that had begun their careers at the Beck. The Baldwin Wallace Music Theatre Program has a long and very close association with the Beck Center, so it makes sense that this show celebrated a number of actors who developed their skills in the Baldwin Wallace classrooms.
The Little Mermaid's Kathleen Rooney Faubel served as host of the event, but it was not long before she broke into song! Dear Evan Hansen's Colton Ryan took time out from his work on the new Bob Dylan musical (Girl from the North Country) to perform a reprise of Dogfight. He joined fellow Baldwin Wallace Broadway veterans Zach Adkins, Gabriel Brown, Mike Cefalo, Nick Drake, and Andrew Kotzen. The list of former students that took this virtual stage is like a catalog of Broadway roles; Cassie Okenka (School of Rock), Rebecca Pitcher (Phantom of the Opera), Corey Mach (Godspell / Kinky Boots) and Keri Rene Fuller (Waitress). Mach donates his time to teach Baldwin Wallace University and Beck Center students. Finally, no Broadway revue would be complete without an appearance from Glinda. Baldwin Wallace's own Libby Servais (Wicked) joined the crew for a musical tribute.
Watching the Beck Center's show was critical preparation for my biggest event of the week, Last Call Trivia, sponsored by multiple campus organizations and the Student Life Center. Incidentally, the aforementioned Pat Miller is one of the virtual hosts. The trivia topic this week? Musicals!