International Culture Comes To Life At CMA's World Fair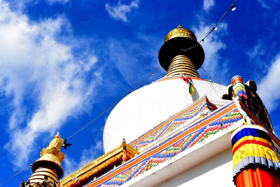 Celebrate international art, music, food, and more at the Canton Museum of Art's World Fair event on Saturday, February 10, from 5:00 p.m. to 8:00 p.m. Admission into the event is free for all ages. Visitors will take a journey through the museum, discovering new cultural experiences at every turn. Special performances inspired by international talent will take place in the lobby, courtyard, and galleries while guests are encouraged to create unique souvenirs using traditional folk-art techniques. A special Mail Art exhibit will be on display from an international mail art call featuring handmade works from around the globe. From the gardens of Japan to the petite desserts of France, everyone is invited to celebrate international culture at the Canton Museum of Art.
Some of the activities include:
Bachata lesson - learn this traditional dance style from the Dominican Republic
Sumi-e ink Painting - watch demos and make one of your very own Japanese paintings
Hula Fusion - travel to the Polynesian Island while watching an expressive dance routine
Family Trees - explore your own roots with the Stark County Genealogical Society
Mail Art - gain inspiration from our International Mail Art display and make some mail art of your very own
Irish Step Dancing - explore Irish culture and dance through this interactive performance
Travel to Israel without Leaving Canton - explore a virtual reality tour of Israel, get your photo taken in this beautiful country, and make your very own Israeli art
Experience Bhutanese Culture - immerse yourself in the beauty of traditional Bhutanese dress and music
Guatemalan Worry Dolls - release your stress and worry with this Guatemalan inspired make-and-take craft
6th Street Yoga - explore the ancient practice of yoga, as it originated in Northern India
International Gifts - Shop fun handmade World Fair items in the Artisan Boutique
International Food Court - tantalize your taste buds with food available for purchase from around the globe
This one-night event has been organized in conjunction with the Elijah Pierce: An American Journey exhibition. An American Journey explores the work of self-taught, American folk artists of the 20th century, Elijah Pierce (1892 - 1984). In his works, Pierce emphasized that everyone has a story to tell about their journey. As a prolific African American wood carver known for his brightly painted sculptural panels illustrating biblical stories, moral lessons, historical events, and images from popular culture - a landscape of wood-carved art that is unlike any in America. This exhibit focuses on 40 major works. Featured in the exhibit is Pierce's most ambitious carving, "Book of Wood" (1932), consisting of seven panels with 33 scenes illustrating the years Christ lived on the earth, as well as works depicting segregation, the Vietnam War, Watergate, and Civil Rights, among others.

About the Canton Museum of Art
The Canton Museum of Art is one of Ohio's premier museums for an exceptional visual arts experience, recognized for powerful original exhibitions and national touring exhibitions focused on American art. The Museum's innovative education outreach programs, classes, and workshops serve thousands of students of all ages. CMA's acclaimed collection focuses on American works on paper, primarily watercolors, and contemporary ceramics. Founded in 1935, the Canton Museum of Art makes the discovery and exploration of art accessible to all.