Review: Inlet Dance Theatre, Cleveland, Ohio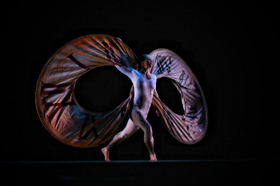 "Was it ever depressing, working on this for three years?" asked a child during a post-show chat with members of Inlet Dance Theatre at its world premiere and adaptation of author Kobi Yamada's New York Times Best Seller, What Do You Do With An Idea?, Wednesday, March 21, 2018 at Playhouse Square's Ohio Theatre in Cleveland. "Like the narrative, we wrestled with the process," said scenic designer Ian Petroni. Championed by Daniel Hahn, Vice President of Community Engagement and Education at Playhouse Square, Artistic Director Bill Wade and his company activated Yamada's book (illustrated by Mae Besom) to a multi-dimensional experience.
Elizabeth Pollert and Emily Stonecipher fully committed to their mice characters as they greeted audience members in the lobby. Later, they cavorted down the auditorium aisles and scampered across the stage. Joined by Kevin Parker, playing The Child, they played hide and seek. Pollert and Stonecipher set the tone for the evening, demanding laughter as they bowed for the audience after their escapades.
As The Idea, Katie McGaha, maximized expression with limited range of motion (her costume kept her arms at her sides). Her movement generated laterally, for balance, and with deep plies to ground her body. She split the energy of her body. Her legs strong and weighted, she kept her torso loose, undulating and shimmying in dialogue with Parker. McGaha traveled around Parker in one sequence, alternating her legs in a rond de jambe sauté, tipping her torso to redirect her body. McGaha and Parker's roles interacted on a highly intimate level without the assistance of romance. The Idea originated from The Child's psyche but moved as an independent unit.
Dee Perry's narration required the dancers to move beyond the rhythm of the music (an original score by Jeremy Allen) in relationship to her voice. Wade took his audience into consideration, intending for the reactions of children to fill quiet places in the score. In this work, everyone participated - the audience a necessary collaborator in this read-aloud.
Wade's previous work with Pilobolus co-founder Alison Chase defined his use of partnering. Wade interlocked his dancers in cyclical lifts. Each dancer adeptly operated at either end of the partnering trajectory. He folded his dancers together in rippling turns before they spiraled apart. His dancers exhibited a lightness and ease not usually seen in such demanding lifts and partnering. Very few lifts appeared to have any kind of lead up (or visible impact upon contact); rather, the dancers simply stepped or leaned together to initiate. The fluidity of partnering sustained continual movement - even with set changes or massive props like the butterfly wings that transformed into a huge clock whirled over, around, and by dancers.
Transitions incorporated tableau scenes. The Child tucked The Idea into a nest of dancer bodies. The townspeople moved as one unit while inspecting The Idea. The tableaus functioned as though the narrator paused to show everyone the pictures.
Wade held tightly to Yamada's text. His dancers created a see-saw, swings, and a slide out of their bodies for Parker and McGaha. Robin Van Lear's animal masks - made from hard hats, metal wire, and plastic ties - included animals seen in the book. Joshua Brown and Dominic Moore-Dunson pole-vaulted across the stage as deer. The pole provided a loping quality, suspending leaps in the air. Dancers manipulated Petroni's set pieces moving from nature scenes to the building clusters seen in Besom's illustrations.
In a final tableau, after The Idea hatched among confetti and more "ideas" covered the stage, The Idea ceded its crown to The Child. Yamada's text concluded with a charge to "change the world" through ideas. Throughout the evening, kids laughed, asked questions, and some adults were seen wiping their eyes. Inlet's work underscored the inclusivity of Yamada's narrative - everyone, young or old, has ideas. Like Wade's work, those ideas can come alive.
Emily Stonecipher in What Do You Do With An Idea? Photo by Stephen Bivens.