BWW Review: Hyper-realistic must see "On the Grill" compels at Dobama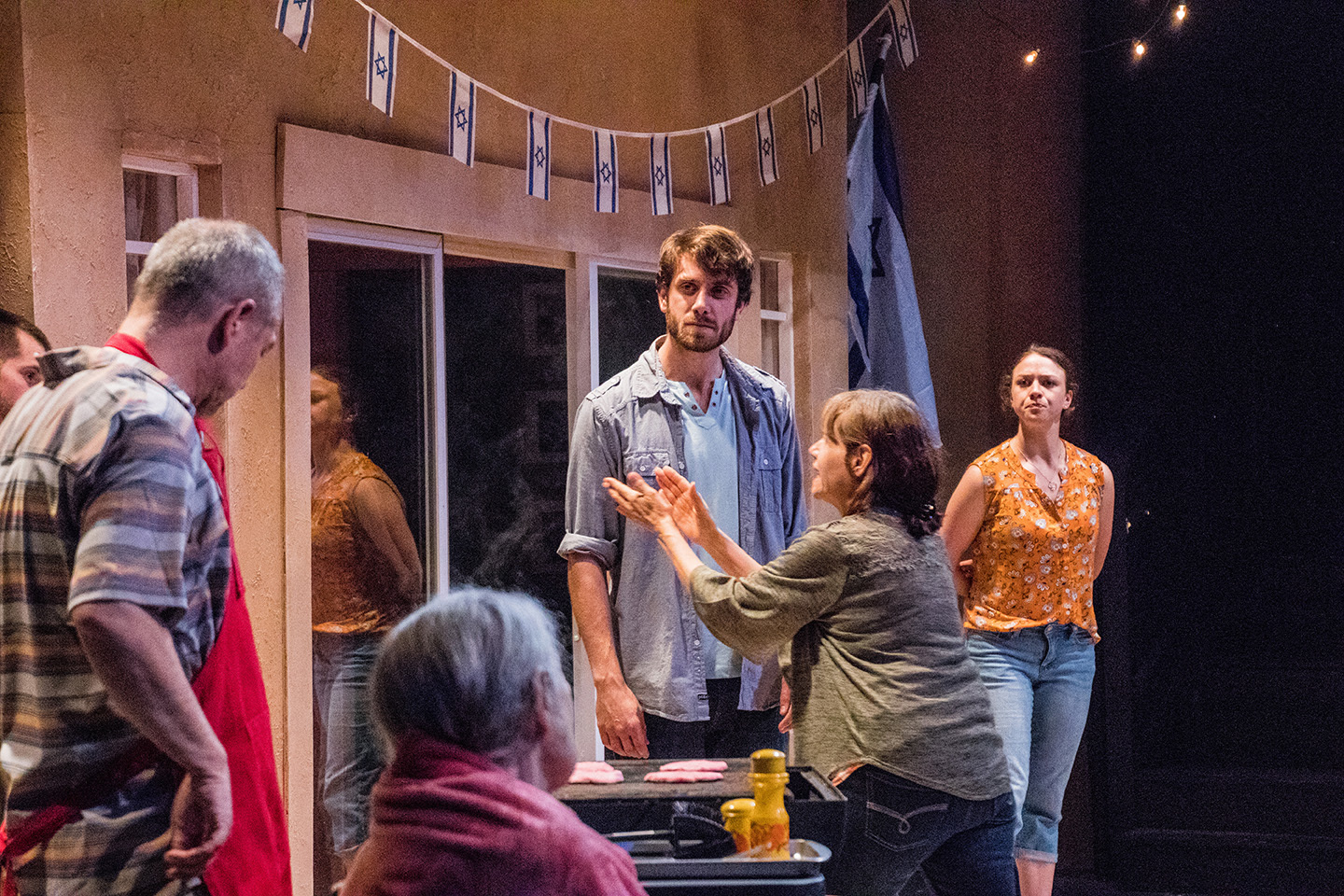 Last summer Dobama presented Greg Vovos's "How to Be a Respectable Junkie," which starred Christopher Bohan, in what was praised by local critics as "absolutely must see theater," "nearly perfect," and "powerful."
This summer, Cleveland's professional Off-Broadway theatre is showcasing the equally compelling "On the Grill" in its American premiere.
Dror Keren, author of "On the Grill," which is on stage with support from the Cleveland Israel Arts Connection and the Jewish Federation of Cleveland, is a noted Israeli performer. He is a 3-time winner of the Israeli Academy of Film and Television prize for best actor.
Israeli born, he is a graduate of the Mountview Academy of Theatre of London and is an important performer at the dynamic Carmeri Theatre of Tel Aviv, one of many prospering venues in arts-supporting Israel.
The play, entitled "Grilling" in its Hebrew language version, has been authentically translated into English by Michael Ezrachi, complete with a language cadence which is authentically Hebraic. It lends itself beautifully to the slight Israeli-English accents of the cast, and easily creates a Sabra-like presence of the hard-on-the-outside, soft-on-the inside reputation of the people of the promised land.
Keren gives the actors vivid, clearly stated, compelling language to use for developing his realistic tale which provides American audiences with a new view of present day Israelis, and adds to the historical perspective of the immigrants who inherited a land of dust, poverty and conflict and through pure guts and will-power created a land of milk and honey. A people who have fought war-after-war to create a sliver of land, surrounded by enemies, into a modern democracy where the dessert blooms, the health and scientific achievements astound, and is a destination for Jews who wish to "return" home.
Keren's characters are both those who founded Israel and the newer generation. The former appears to accept that the angst and conflict have been on-going and will continue to be so. The "newbies" want things to change. Obviously, this conflict means that the country is no longer unified and the generations "aren't together anymore."
It's Memorial Day and Independence Day when the play takes place, a time for reflection and visiting the graves of those fallen in battle as well as a celebration of the creation of the State of Israel.
We find ourselves in the backyard of a kibbutz home of a veteran and his wife, whose son, as required by law, served his army duty, returned with PTSD, and has escaped to Germany, the birth place of his beloved grandmother. Grandmother Gizela, a Holocaust survivor who was smuggled ashore just before the UN's mandate creating Israel, and who lives out her life with memories of meeting her now-deceased husband is wracked by thoughts of what happened in her life time. She is present with Raja, her Sri Lankan aide.
Her daughter, Rochale, her son-in-law, Zvika, and neighbor, Avinoam, wait for grandson, Mordi and his non-Jewish German girlfriend, Johanna, to wake up after their flight from Berlin. Also present is Tirtza, a neighbor, whose son, Gilad, is in the army and could be in the forces that may be going into combat. Soon to arrive is Alona, who, along with Mordi and Gilad are childhood friends.
As the tension builds, as jets roar above, and fireworks explode, they watch TV and wait for phones to ring, and family conflicts, neighborly resentments and generational differences collide.
Leighann Delorenzo's meticulous directing keeps the action real and involving, and the quality of the performances by the entire cast (Dorothy Silver, David Vegh, Juliette Regnier, Andrew Gombas, Arif Silverman, Emily Viancourt, Rocky Encalada, Nicholas Chokan, Michael Regnier and Olivia Scicolone) is so real that it seems we are eavesdropping, not sitting in a theatre watching a play.
"Grilling," which was selected as the Best Israeli Play of 2015, is still running. It is a play of exploration, tension, angst and hyper-realism. It is a look at Israel not usually presented in plays about that country.
As revealed in the talkback with the author, following an opening weekend staging, it was developed, much like the American musical, "A Chorus Line," by collecting stories from the original cast of 10 actors regarding real personal and family experiences, which were then melded together by Keren, to produce this, his first play!
Capsule judgement: "On the Grill" takes the audience on an emotional roller coaster. It is a superb script which gets a superb performance. This eye-opening delving into Israel, its joys, fears and projections into the future of the Jewish homeland, is an evening of theatre not to be missed. It can only be hoped that the show will be presented in other venues, including a New York production. This is theater at its finest!
"On the Grill" runs through July 8, 2018 at Dobama, 2340 Lee Road, Cleveland Heights. Call 216-932-3396 or http://www.dobama.org for tickets.
For Dorothy Silver groupies: Annie Baker's "John" will feature Dorothy, the first woman of Cleveland theater, from October 1-November 11, 2018 on the Dobama stage.