BWW Review: GLT's MAMMA MIA! Leaves Audience Singing & Dancing in the Aisles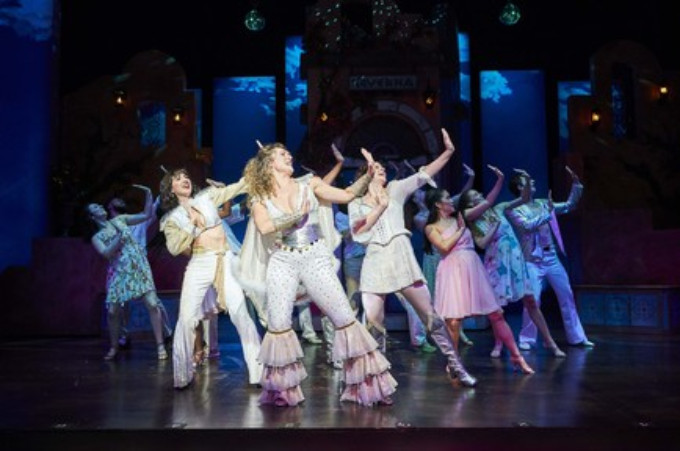 "Mamma Mia!," now on stage at Great Lakes Theatre, as has been the case on Broadway and in its many local tour stops, is a thoroughly entertaining theatrical experience. The audience was on its feet for the extended curtain call, dancing, clapping, and singing.
BTW...don't run for the exits as soon as you think the show is over. It's not. There is a remix of lots of the songs, some new dance moves, and an interactive love affair between the dynamic cast and the audience.
"Mamma Mia!" is a unique script. Most story-line stagings have a lyricist, composer and book writer who work together to develop the script. This show doesn't follow that pattern. "Mamma Mia!" is one of a genre of shows called a "juke box musical." The songs were all developed before there was any thought of a musical play and then a story was written, incorporating the songs.
The music and lyrics, by Benny Andersson and Björn Ulvaeus, with additional songs by Stig Anderson, were all originally performed by ABBA, the Swedish pop-rock group, in their concerts and albums. Catharine Johnson loosely wove a story around the songs. The surprising result is a delightful, basically well-integrated musical. The songs and spoken lines generally flow together to develop a cute "chick-flick" story.
For the few uninitiated: On an unnamed island in Greece, Sophie, a twenty-year-old, is about to get married to Sky. Her single mom, Donna, who owns a small island resort, has never revealed the identity of Sophie's father.
Sophie unearths her mother's diary from the year before Sophie's birthday. Romances with three different men are revealed. Any of them could be "daddy." Sophie wants to be given away by her dad, so, without her mother's knowledge, she invites all three to the wedding, hoping to find out the sperm donor.
Other wedding guests include Tanya and Rosie, Donna's former 60s girl-group members, and Ali and Lisa, Sophie's buds.
Through humorous twists, pseudo dramatic instances, and some great music, The Winner Takes All. Along the line the audience is rocked with such songs and production numbers as Dancing Queen, Does Your Mother Know, I Have a Dream, Our Last Summer, Super Trouper, and Voulez-Vous, leaving the audience shouting, Thank You for the Music.
There is no way you aren't going to leave the theatre without singing one or more of the score's great songs on the way to your car.
Director Victoria Bussert has let out all stops, going for shtick and audience enjoyment. Bussert, head of Baldwin Wallace's nationally recognized musical theatre program, has wisely peppered the cast with many talented BW alums and students.
Matthew Webb has his musicians well-tuned and keeps the high octane music rocking and wisely under control so that the singers are not drowned out.
Choreographer Jaclyn Miller does a nice job of reinterpreting the dance numbers, though a little more island moves and fewer contemporary dance routines would have been appreciated. The songs are well sung, with word meanings being stressed.
The cast is excellent. Pretty Kailey Boyle gives the right strong yet vulnerable image as Sophie. Shayla Brielle G. (Ali) and Amy Keum (Lisa) shine as Sophie's best friends.
Jillian Kates makes Donna, Sophie's mom, live. As her former girl group buds, Jodi Dominick (Tanya) is character right, while Laura Welsh Berg almost steals the show as the husband-seeking (Take A Chance on Me) Rosie.
Jake Slater (Sky) and the island guys, Warren Egypt Franklin, Mack Shirilla, Eric Damon Smith and Tré Frazier, sing and dance with playfulness and vigor.
Studly Nick Steen (Sam), Crocodile Dundee-like Alex Syiek (Bill) and, Eric Damon Smith as gay Brit, Harry, are excellent as the three candidates for "who's my dad?" They are especially delightful in the curtain call.
CAPSULE JUDGEMENT: MAMA MIA! is once again an audience pleasing delight. If you haven't seen it before, go! If you have, go again!
Tickets for "Mamma Mia!," which runs through November 11, 2018 at the Hanna Theatre, in repertoire with "Pride and Prejudice" can be ordered by calling 216-241-6000 or going to http://www.greatlakestheater.org/