The Roustabouts to Premiere Ike Holter's PUT YOUR HOUSE IN ORDER This Summer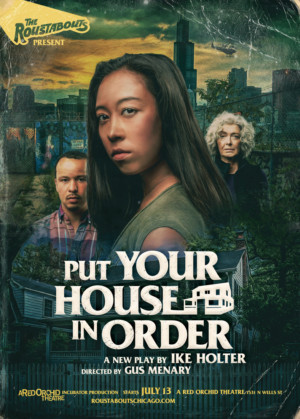 On July 13, 2017 new creative arts ensemble The Roustabouts will drop the world premiere of Put Your House In Order by Ike Holter in a limited five-show run, in coordination with A Red Orchid Theatre's Incubator.
Holter was voted Chicago of the Year in Theater for the Chicago Tribune and most recently received the nation's most lucrative award for playwriting, the Windham-Campbell Prize for Drama.
The plot is being held tightly under wraps, but we know it is a three person piece featuring Aurora Adachi-Winter, Tony Santiago, and Janice O'Neill. It is rumored to be in the vein of an early Stephen King thriller. The Roustabouts have been producing the new play in secret for months.
In their first time working together since the wildly successful Exit Strategy, Holters' Put Your House In Order will be directed by Gus Menary, Artistic Director of Jackalope Theatre.
Tickets will be available to the public beginning July 5 at 3pm at www.RoustaboutsChicago.com. The Roustabouts previous endeavors The Midnight Society at Oracle Productions and Stay Lit at Steppenwolf's 1700 Theatre sold out incredibly quickly.
The Roustabouts are pursuing new forms of audience engagement including the release of trailers, song lists and sneak peeks across social media and they're asking their audiences to stay tuned to www.RoustaboutsChicago.com and www.Facebook.com.
A Red Orchid Theatre's Incubator Series was created to get to know emerging talent and foster exploration in Chicago's theater community. For more information visit www.aredorchidtheatre.org/incubator-series.