The Den Announces Comedian Ted Alexandro On The Heath Mainstage
Ted Alexandro has made multiple appearances on David Letterman, Conan O'Brien, Jimmy Kimmel, Craig Ferguson and The View.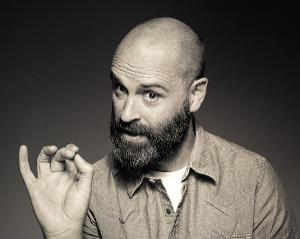 The Den Theatre ihas announced that comedian Ted Alexandro is playing four stand-up performances March 3 & 4, 2023 on The Heath Mainstage, 1331 N. Milwaukee Ave. in Chicago's Wicker Park neighborhood. Tickets ($18 - $30) are currently available at thedentheatre.com or by calling (773) 697-3830.
Ted Alexandro has made multiple appearances on David Letterman, Conan O'Brien, Jimmy Kimmel, Craig Ferguson and The View, along with two half-hour specials on Comedy Central. He co-created the award-winning comedy webseries "Teachers Lounge" with Hollis James. The series stars Ted as a music teacher and Hollis as a janitor in a NYC elementary school. Each episode stars a different comedian (Judy Gold, Jim Gaffigan, Dave Attell, Michael Che) as a faculty member. He has also appeared on Louie, Inside Amy Schumer, The Gaffigan Show, Dr. Katz and Oz. Ted has had the pleasure of performing at iconic venues including Carnegie Hall, Madison Square Garden and the Sydney Opera House, and appears regularly at the Comedy Cellar in NYC. He has also performed internationally in France, Jordan, Egypt, Kuwait, Hong Kong, South Korea, Singapore, Canada, Iceland, Norway, Sweden, Jakarta, The U.K., Holland, Israel, South Africa and Qatar. Ted is one of the co-founders of the New York Comedians Coalition, which successfully organized over three hundred comedians for the first pay raise in decades. He has also been active in social justice movements like Occupy Wall Street, Black Lives Matter, The Climate March and Fight for $15.
Performance schedule:
Friday, March 3 at 7:15 pm and 9:30 pm
Saturday, March 4 at 7:15 pm and 9:30 pm
Tickets: $22 regular seating ($18 obstructed view); $30 front row VIP table seating; $28 VIP table seating; $25 mezzanine table seating. All ticket prices include cocktail service with a two-drink minimum.
COVID safety: The Den Theatre no longer requires patrons to offer proof of vaccination for COVID-19 to gain entry into the facility. For the most up-to-date information on our venue's COVID precautions, please visit thedentheatre.com/covid19-policy.
The Den Theatre opened in 2010 in the Wicker Park neighborhood with just a single theatre space. Now celebrating its thirteenth year, Co-owners Ryan Martin and Carol Cohen, along with their talented and dynamic staff, have developed The Den into a multi-level, live entertainment venue that boasts five intimate and unique theaters ranging from 50 - 300 seats. In addition, the first floor houses The Den Bar & Lounge - a full-service bar where audiences gather before and after performances to share a drink and commune with like-minded culture-hounds. Today, The Den is focused on providing world-class stand-up comedy and cultivating its first love - the theatre. The Den is home to six resident theatre companies including About Face Theatre, The Artistic Home, Broken Nose Theatre, First Floor Theater, Haven and The New Coordinates. Hundreds of other companies, artists and comedians from Chicago and beyond have called The Den home - from national names to local stars, and The Den consistently plays host to a lineup of exciting and diverse talent. As a building created for interdisciplinary arts, The Den has accommodated a wide variety of programming, including plays, musicals, stand-up comedy, improv, dance, film screenings, seminars and speaking engagements. For additional information, visit www.thedentheatre.com.