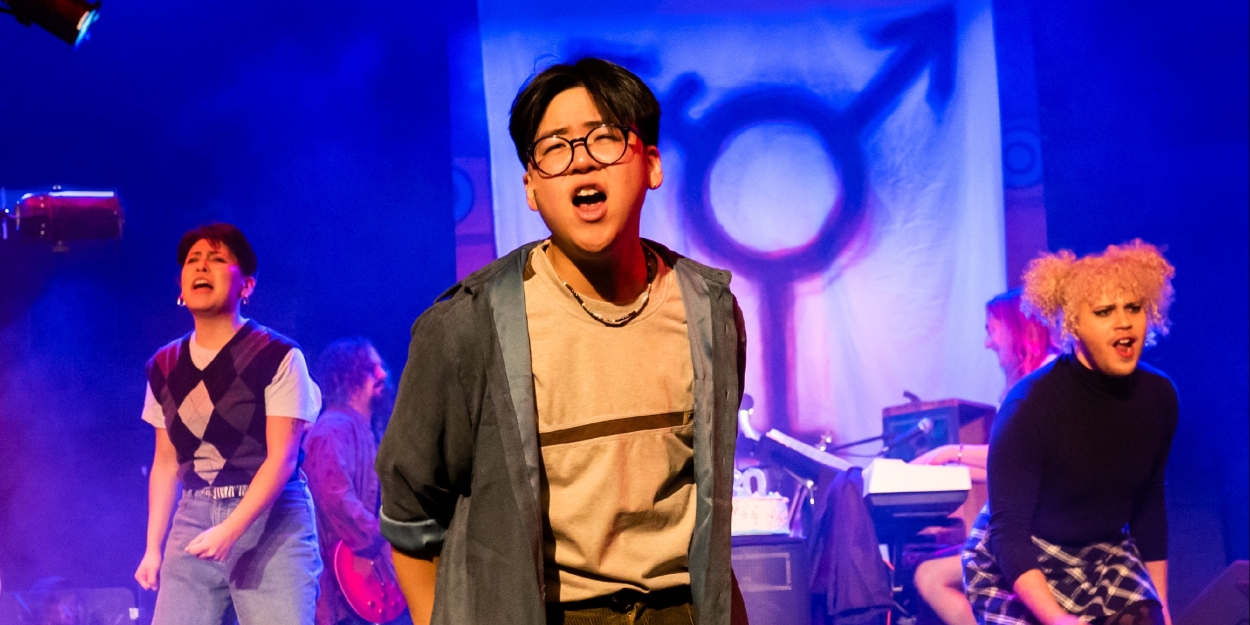 Review: TICK, TICK... BOOM! Rocks the House at BoHoTheatre
BoHo Theatre brings this intimate-yet-in-your-face musical to life with a superbly talented cast.
"They're singing happy birthday / you just want to lay down and cry" - Who hasn't resonated with these lyrics at some point in their lives? Despite its 90s punk rock aesthetic, Jonathan Larson's tick, tick...Boom! so accurately captures the essence of your late 20s. Whether it's straddling the decision of whether to "settle down," or watching your friends' careers take off while yours feels stagnant, anyone can relate to the challenges depicted in this gem of a show. With Director Bo Frazier at the helm, BoHo Theatre brings this intimate-yet-in-your-face musical to life with a superbly talented cast, highlighting trans and gender non-conforming voices in the process.
Although popularized in recent years by the Netflix film starring Andrew Garfield and Vanessa Hudgens in 2001, the film and stage play have several notable differences including the addition, removal, and rearranging of certain songs. In fact, the central point of conflict is different as well! Nevertheless, audiences who are only familiar with the film will be sure to love this show in its original live stage format.
Alec Phan's portrayal of Jonathan truly had all the right stuff- that unnamable mixture of tenacity, restlessness, defiance, and ambition that makes it so easy to root for this character: a dogged underdog, if you will. Phan's vocal prowess seemed shaky in the opening number 30/90 but quickly gained in confidence and depth as the show progressed, notably giving a moving performance of Why near the conclusion of the show.
The undeniable standout of the evening, Crystal Claros played Jonathan's best friend, Michael. Their delivery of everything from emotion, to high notes, to flawlessly timed kicks in the song No More was exquisite. Though not the central character, Michael in my opinion is the most complex of the trio: Between being forced to justify his choice of career and being dealt a life-altering diagnosis, Claros teased out all these nuances, and left it all on the field.
What's more, Phan and Claros played off each other seamlessly, bringing all the realities of lifelong friendships, warts and all, to perfect life.
Jonathan's girlfriend Susan - the one in the Green, Green Dress - was portrayed by Luke Halpern. Though saddled with a difficult role - Susan seems to be written as perpetually impatient, almost nagging- I do not think Halpern was the right casting choice for this character. There was minimal chemistry between Phan and Halpern, making the longtime relationship of their characters difficult to buy into. What is very clear, however, is that Halpern's talent lies in performing comedic roles. During moments where they play the role of Jonathan's agent, Rosa, Halpern had the audience in stitches. Their timing, body language and talent for accents was incredibly gratifying to watch- you felt like Halpern was really at home in this secondary role.
One element highlighted in the film is the many parallels tick, tick... BOOM! has to Stephen Sondheim's musical, Sunday in the Park with George. Will the protagonist choose his art, or his love? For those familiar with the work, they will roll laughing during the number Sunday - though the melody is identical, the lyrics have been adapted to apply to the chaotic brunch scene that can be found in any New York diner on a Sunday morning. This comedic tribute to the legendary Sondheim is when the trio of Jonathan, Michael and Susan shine the brightest.
No musical is complete without its musicians, and tick, tick... BOOM! is no different. The rock band - keyboard, guitar, bass and drums - played onstage alongside the actors, occasionally sharing keyboard duties with Phan's Jonathan. These talented artists rocked the house without drowning out anything that was being sung onstage, each complementing the other totally.
Use of lighting in this show matched the grunge/rock aesthetic appropriately, shifting depending on the mood of the number- the intense bright red was particularly fun during No More. Costumes were simple but worked well for each character, especially Rosa's gaudy fur coat!
Though Rent is the smash hit that Jonathan Larson is known for, tick, tick... BOOM! is what got him his start. Though Larson tragically passed away before he was able to reap the rewards of his success, he blazed a trail as one of the first composers to heavily feature rock music in musical theater. BoHo Theatre tells the semi-autobiographical story of tick, tick... BOOM! with great care and explosive energy.
tick, tick... BOOM! runs through February 5, 2023 at The Edge Theatre. Tickets can be purchased here.