Raven Theatre Founders Michael Menendian and JoAnn Montemurro to Step Down After 35th Season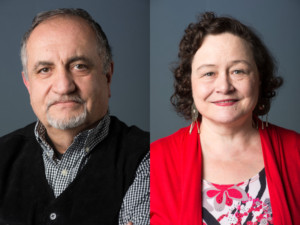 Raven Theatre Company today announced the theater's founders and co-artistic directors Michael Menendian and JoAnn Montemurro will retire at the end of the 2017-2018 season, after leading the company for 35 years.
Since founding Raven Theatre in 1983, Menendian and Montemurro have produced, directed, designed and/or appeared in more than 100 productions. Under their leadership, the company has occupied two long-term theater spaces - the first in Roger's Park from 1985-1999 - and the company's current home in Edgewater since 2002. During their tenure, Raven Theatre has been honored with 23 Jeff Awards and 85 Jeff Award nominations. The company will celebrate its 35th anniversary in March 2018.
Walter Pophin, President of the theater's Board of Directors, said: "We are deeply grateful for the work which Mike and JoAnn have done over the years for the theater. Through their effort and inspiration Raven Theatre has offered high quality, accessible modern drama to Chicago audiences for 35 years and has established a dynamic education program in the local public schools."
Raven Theatre Company will begin a national search for a new artistic director immediately.
Michael Menendian is a co-founding member and Co-Artistic Director of Raven Theatre, where some of his directing credits include: Red Velvet, Direct from Death Row The Scottsboro Boys, The Old Friends, Beast on the Moon, All My Sons, The Playboy of the Western World, A Soldier's Play, Glengarry Glen Ross, Golden Boy, A Streetcar Named Desire, A View from the Bridge, Dancing at Lughnasa, Jesus Hopped the 'A' Train, Death of a Salesman and Cat on a Hot Tin Roof. He has earned multiple Joseph Jefferson and After Dark awards for direction and design.
JoAnn Montemurro is a co-founding member and Co-Artistic Director of Raven Theatre where she has directed The House of Blue Leaves, Bus Stop, Grace & Glorie, Lord Byron's Love Letter, The Long Goodbye and The Trip to Bountiful. She has appeared in many roles, including Faye in The Assembled Parties, Kate in All My Sons, Beatrice in A View from the Bridge, Bessie in Marvin's Room, Kate in Dancing at Lughnasa, Mary Jo in Dividing the Estate and Arkadina in The Seagull. JoAnn earned a Joseph Jefferson Award for Outstanding Performance for the title role in Luann Hampton Laverty Oberlander and was nominated for her performances as Mrs. Wire in Vieux Carré and Faye in The Assembled Parties. JoAnn is a graduate of the Goodman School of Drama.
Michael Menendian and JoAnn Montemurro founded Raven Theatre Company in March of 1983. The company was itinerant until August of 1985, when it moved into a storefront in Chicago's Rogers Park neighborhood, which had previously been the Rogers Park Post Office. The company renovated the space into a 70-seat black box theatre. During its time in this location, the company produced 41 shows, most of which were revivals of classic works from the American canon.
The Rogers Park space was taken over in 1999 by the Chicago Public School system, and the company was forced to find a new home. With the assistance of community leaders and philanthropists, Raven purchased a 10,000-square foot building in November of 2000 at the corner of Granville and Clark in Chicago's Edgewater, which had previously housed a grocery store. Over the course of two years, the company renovated the space to fit the needs of a theatrical venue. It now has two stages - a 130 seat East Stage and a 55 seat West Stage, as well as administrative offices for the company's five full-time and five part-time staff members. In 2016, the company liquidated the mortgage on the building and now owns it outright.
Raven began performing in its Edgewater location in August of 2002. As of June, of 2017, Raven has mounted 58 productions in this building, most of which again were revivals of classic American plays. However, beginning in 2014 the company began a concerted effort to include more Chicago and World Premieres in its programming. In 2003, Raven began an educational program called "Take Flight". The program involves Saturday classes, a summer camp program, field trips to the theatre for elementary school students and in-school residencies providing classroom instruction in theatrical skills for students from elementary through high school.
The company entered a new phase of its development in June of 2013. Raven hired its first executive director, strengthened its board of directors with new members who possessed a broader array of organizational development skills, and expanded its staff to include full-time development and marketing personnel. In so doing, the company nearly doubled in size. Raven is continuing to implement its strategic plan of developing the infrastructure necessary to ensure that the theatre will remain a vibrant part of the Chicago theatrical landscape following the retirement of its founders. For additional information, visit raventheatre.com.
Photos by Dean La Prairie