Judy And Bernie Rice Bring Broadway To Boystown At Drew's On Halsted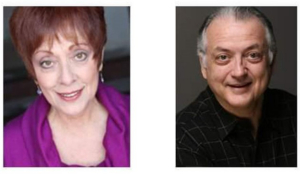 Acclaimed Chicago cabaret and theater favorites Judy Rossignuolo-Rice and Bernie Rice will be performing songs from the Great White Way including Fiddler on the Roof, Man of LaMancha, Gypsy, Bells are Ringing, and many more in their show Broadway Comes to Boystown! At Drew's on Halsted, Sunday, July 21st. . It promises to be an evening of fun and great music performed in their special way. The husband and wife team have performed at the Park West, Skokie Theatre, and appear many times at Monday Night Live At Petterino's.
There is a $10 cover charge with a $15 food/drink minimum. Dinner starts at 5:30 and the show kicks off at 7pm. Reservations are highly suggested for this special event by calling 773-244-9191 or visit DrewsonHalsted.com. Drew's is located at 3201 North Halsted, Chicago.
Together and separately Judy and Bernie have made hundreds of appearances on stage in many dozens of roles, including Tevye and Golde in Fiddler On The Roof, and as Howard and Rosemary in Picnic. Judy has appeared in national television commercials including Sears, AT&T U-Verse, and as the Cat Lady for Method Cleaning Products, and theatrical productions of Tale of the Allergist's Wife, Collected Stories and View From the Bridge, She also won critical and audience acclaim for her one-woman shows They Shoot Sopranos, Don't They? and An Alto's Lament.
Bernie has also done numerous television and radio commercials, and has been seen in several films, including Killing Poe, Roundabout American, The United States, Cheat Cheat Bang Bang, Train Town and the web series The Old Quarter. He also has numerous directing credits, as well as productions of his own original plays and musicals including Playing The Palace and Good Night My Love, which he wrote the book, lyrics and music.
Noted for using their talents for charitable causes, the duo appeared in Stuttgart, Germany, in productions of The Guys and Brighton Beach Memoirs for the U.S. Military Department of Morale, Welfare and Recreation, and a multimedia fundraiser cabaret that Bernie created and directed to support victims of Hurricanes María and Irma, which struck Puerto Rico in 2017. Judy and Bernie are members of Actor's Equity and Bernie is the immediate past president of the Chicago Cabaret Professionals.
Drew's on Halsted's Entertainment Director Russ Goeltenbodt has created an exciting musical lineup for the coming weeks and months which also features:
The Feathered Beaus return on Sunday, July 28th and August 25th at 8pm. Made up of Kylie Bear, Olin, Kiki and Dustin, the Beaus sing the gambit of music styles from blues to jazz to showtunes to pop. They do it with style, sassiness, humor and dazzling vocal harmonies. There is a $15 cover and $15 dollar drink/food minimum.
Russ Goeltenbodt and his enormously successful monthly Cabaret Night returns Wednesday, July 31st at 8pm. Now in its 10th consecutive month and produced by Denise Tomasello Entertainment, the evening will feature Chicago favorite Russ Goeltenbodt and special guests Kim Jones and Cindy Firing, supported by acclaimed music director Mark Burnell. There is no cover charge and only a $15 cover food/drink minimum.
Thursday, July 25th at 8pm is Pam Peterson and the Diva Sisters who are Hilary Feldman and Cynthia Clary this month. There is a $15 cover charge and a $15 food/drink minimum.
On the second and fourth Tuesday of each month (July 23 August 13 and 27), the new Open Mic with hosts Russ Goeltenbodt and keyboardist Mark Burnell kicks off at 7pm until 10pm. There is no cover charge only a $15 food/drink minimum.
And special performances on August 30th and September 1st at 8:30 with the Chicago return of the MAC Award winning, cabaret and Broadway star Michael McAssey in his first Chicago performance in over a decade. Called "Cabaret's most accomplished balladeer" by Variety, Michael will be paying homage to the Gentry Days, one of Chicago's premier piano clubs of years gone by.
Reservations for Drew's on Halsted are strongly recommended by calling 773-244-9191 (except Ms. Tomasello's performance). You can also visit DrewsOnHalsted.com. There will be special announcements of guest entertainers and exciting musical events at Drew's on Halsted in the coming months.
Russ Goeltenbodt, as Entertainment Director for Drew's on Halsted, has brought back a supper club experience that had all but disappeared from the Chicago scene. Each month, with ever growing audiences, Russ has invited special musical guest performers, giving artists a chance to showcase their art and restaurant goers the opportunity to see and hear Chicago talent, while dining in one of Lakeview's culinary gem's. Moving forward, Russ will be booking more exciting entertainers in the coming months.
Drew's on Halsted has been a staple in the Lakeview neighborhood since 1996, delighting locals and visitors with classic American fare, a full bar, and a friendly atmosphere. Their food is locally sourced, and our seasonal menu always has something new to try. And they have now added the monthly Cabaret Night with Russ Goeltentbodt to their menu.
Russ has been a mainstay on the Chicago music scene for years. From his days of singing at Gentry on Rush, State and Halsted, to Monday Night Live at Petterino's, and Davenport's Piano Bar. He also currently sings at St. Gertrude's in Chicago's Edgewater neighborhood. Russ has had four, highly-acclaimed, sold-out concerts at The Skokie Theatre: Let's Hear It For The Goy, Oy to The World My Goyfriend's Back to the recent No Foolin', which also marked his debut at the cabaret of Davenport's Piano Bar. He has also performed at many Chicago Cabaret Professional events, benefit concerts and has been invited to sing at many private events.