Eclectic Full Contact Theatre Announces 10th Season
The season includes PATCHWORK 2: ECLECTIC BOOGALOO and THE WONDER.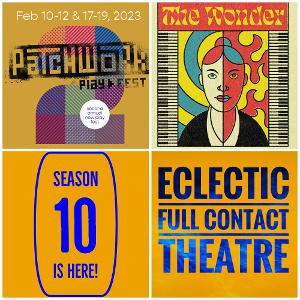 Eclectic Full Contact Theatre's 10th season is focused on new works and new directions. The season starts with:
PATCHWORK 2: ECLECTIC BOOGALOO
Join Eclectic for the 2nd Annual Patchwork New Play Festival. Nine of the best new one-act plays from around the world, performed in rotating rep, highlighting this year's theme of Yearning. Plays are adjudicated by a panel of Chicago Theatre Community luminaries, with a $259 prize for he panel's favorite playwright.
This year's playwrights include: Lisa Dellagiarino Feriend, Dana Hall, Lena Kaminsky, Aly Kantor, Elizabeth A. M. Keel, Nina Mansfield, Becky Schlomann, Courtney Taylor, and Michael Wells-Oakes.
Directors include: Michelle Annette*, Rashaad Bond, Brandii Champagne, Ben Locke, Stephanie Murphy, Alexis Vaselopulos*, Lexy Weixel, Anthony Williams, and Joel Willison,
*denotes EFCT Company member
RUN INFORMATION:
February 10-19th at The Edge Theatre 5451 N Broadway.
Fri/Sat nights ar 7:20, Sundays at 3:00
In Person Tickets $25 Livestream $20
THE WONDER
A WORLD PREMIERE
An American Midwestern Ghost Story by Maggie Lou Rader
No feeling is more powerless than parenting a child with an untreatable illness. Or more painful than the eventuality of saying goodbye. So if an allegedly supernatural occurrence could ease the grief and offer hope, would you accept it? Inspired by the first reported case of spirit possession in America, this 2021 Eugene O'Neill National Playwrights Conference honoree explores the emotions faced by two Illinois families, and the enigmatic events that would keep their daughters' memories alive.
RUN INFORMATION
Previews April 18-20 at 7:30
Regular Run April 21st-May 13th
Th-Sat eves at 7:30, Sat matinee at 2:00, Sundays at 3:00
In Person Tickets $30 Livestream $20
More information about the shows and subscriptions can be found at eclectic-theatre.com