Cast Announced For Artemisia's Fully Staged Production Of SWEET TEXAS RECKONING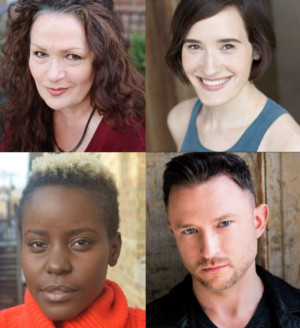 Cast announced for Midwest Premiere of Traci Godfrey's SWEET TEXAS RECKONING, opening June 7 at The Den. Comedy of a Texas native paying a visit home from New York with her new African-American wife will play throughout the Pride Month of June
In Traci Godfrey's comedy, SWEET TEXAS RECKONING, Ellie is a lonely, bigoted alcoholic living in the small southeast Texas town of Sealy. She's welcoming home her daughter Kate, now living in New York City, back for a visit. Ellie has hopes Kate will reconnect with and even marry Kate's childhood sweetheart Alan John. Imagine Ellie's surprise when Kate visits with her beautiful, African-American wife, Samantha. SWEET TEXAS RECKONING was the First Place Winner of the New Works of Merit International Playwriting Contest, the Artemisia Fall Festival 2016, and the Playwriting Contest of Panndora Productions in Long Beach, California, who produced the play's world premiere in 2016. Julie Proudfoot, who has collaborated closely with Traci on developing the play, will direct Artemisia's staging of this heartfelt comedy.

Proudfoot announced her cast today. Appearing as Ellie will be veteran Chicago actress Molly Lyons, whose resume includes such disparate roles as the cabdriver in HELLCAB (Agency Theatre Collective), Kate Mayo in BEYOND THE HORIZON (Eclipse Theatre Company) and the title role in JULIUS CAESAR (Unbraced Theatre). Ellie's daughter Kate will be played by Scottie Caldwell, who has worked in Chicago with Lookingglass Theatre Company, Windy City Playhouse, Strawdog Theatre Company, The Gift, Commission Theatre, First Floor Theatre, and Cor Theatre, among others, and most recently played Raina in City Lit Theater's ARMS AND THE MAN. Cast as Kate's old flame Alan John is John Wehrman, who recently appeared in A Red Orchid Theatre's TRAITOR under the direction of Michael Shannon, and as Pato in THE BEAUTY QUEEN OF LEENANE for Bluebird Arts. Ellie's wife Samantha will be Anita Kavuu Ng'Ang'A, who has worked with Red Tape Theatre and the Goodman.
Playwright Godfrey, whose career includes acting in feature films like GRAND THEFT AUTO IV and V and television shows including LAW AND ORDER CRIMINAL INTENT, AS THE WORLD TURNS and THE SOPRANOS; as well as writing for feature films and the stage, says she drew from personal experience for SWEET TEXAS RECKONING. "Having grown up closeted in Texas, I am acutely aware of the pain and isolation of dealing with one's sexuality," Godfrey says. She adds, "Whether we encounter differences in thoughts about race, religion, sexuality, or political views, I believe our best approach to healing is one person, one family, one Theater at a time."

SWEET TEXAS RECKONING was the winner of Artemisia's 2016 Fall Festival of new play readings. At that point, it had already enjoyed a fully staged production by Panndora Productions in Long Beach, California earlier that year. The ORANGE COUNTY REGISTER named that production one of the year's 10 Best, calling it a "superbly crafted comedy-drama ... very much along the lines of the great works of Horton Foote, known for his lifelike dialogue and realistic approach to characters whose roots are often in the Deep or Rim South."

Since 2016, Proudfoot, who is a story analyst for HBO Films, has worked extensively with Godfrey to further develop and refine the script for this production. Proudfoot says, "I'm thrilled to see SWEET TEXAS RECKONING arrive at this stage of Artemisia's process of developing new plays about women created as rich, nuanced characters who have agency,"

Artemisia will stage the Midwest Premiere of SWEET TEXAS RECKONING during Pride Month 2019 - from June 7-30, 2019 at The Den. Tickets for SWEET TEXAS RECKONING are $25 and are now on sale at www.artemisiatheatre.org.
More Hot Stories For You