Cast And Crew Announced For World Premiere Of DIAMOND LIL & THE PANSY CRAZE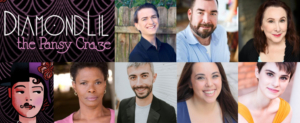 Three Cat Productions presents the world premiere of the music revue Diamond Lil & the Pansy Craze at the Chicago Park District's Berger Park Coach House Theater at 6205 N. Sheridan Road (Edgewater by Granville el stop on Red Line).
You may remember Three Cat Productions celebrated musical revue At Mister Kelly's. Three Cat Productions is going to take you even further back in time to 909 North Rush and the famed "Diamond Lil's". The musical revue set in Chicago, 1932 explores the famed Pansy Craze club "Diamond Lil" which was packed so tight with partying boys that people were turned away. Chicago gay subcultural rocked the country. Variety reported in December 10, 1930, "World's toughest city, Chicago, is going pansy. And liking it."
Diamond Lil & the Pansy Craze is written by Jason Paul Smith, Three Cat Productions Artistic Director, and Roy Freeman, Three Cat Productions Resident Musical Director. The piece is directed by Jason Paul Smith, and stars Sam Bowling, Michael Hampton, Lauren Miller, Carolyn Nelson, Orlando Shelly, Maiko Terazawa, and Sophie Vitello.
Previews begin August 8, 2019. The show runs from August 8 - September 8, 2019. Performances are Thursdays at 7:30pm, Fridays at 7:30pm, Saturdays at 4:00pm and 7:30pm at the Berger Park Coach House Theater at 6205 N. Sheridan in the Edgewater neighborhood of Chicago. Doors open 30 minutes prior to curtain. No late seating.
The production team included musical composer and arranger Roy A. Freeman, lighting designer by Pat Henderson, costume and set design by Jason Paul Smith, prop design and stage management by Emily Nelson.
Tickets range from $15-25 each for all performances. Tickets can be purchased on our website at threecatproductions.com or via phone at 312.970.9840.
Street parking (paybox until 9pm) is available on Granville, side streets, and Broadway (Handicapped and limited parking is available. Please call the box office for special parking arrangements).