BWW Reviews: Theo Ubique's Crazy Good Hamlisch Songbook
I'm not entirely sure why, but the work of late composer Marvin Hamlisch initially seemed like an odd choice for Theo Ubique's popular "Songbook" series. Previous entries have featured Cole Porter and the Andrew Sisters, but an evening dedicated to a composer known primarily for his toe-tapping, auto-biographically ballads? Crazy talk!
And, as it turns out, as conceived by Courtney Crouse and Aaron Benham (who also serve as director and musical arranger, respectively), Theo Ubique Cabaret Theatre's "A Marvin Hamlisch Songbook" running through July 12 at No Exit Café is crazy good!
Though Hamlisch had more misses on Broadway than hits (flops include "The Sweet Smell of Success" and "Smile" -the latter I'm convinced would work if only it were performed by drag queens, but I digress), you don't get any bigger than "A Chorus Line.". It's a show that won Hamlisch both a Tony and a Pulitzer. Along with Richard Rodgers, Hamlisch is the only composer to have one a Pulitzer, Emmy, Grammy, Oscar and Tony (even more coveted than the EGOT is the PEGOT, because it is even more rare).
So, in hindsight, an evening celebrating Hamlisch is perhaps overdue. And fortunately, the young and good looking company of singers that Crouse and Benham have assembled are up to the challenge and put forth a passion-filled evening that celebrates the highs and lows of love, romance and the theater.
The first act actually ends with Hamlisch's first hit, 1965's "Sunshine, Lollipops, and Rainbows," which Lesley Gore took to #13 on the Billboard Hot 100. Song by the entire cast, it features the hallmark of a Hamlisch song: hummable, infectious melodies.
Though the six member cast is equally talented, there is one notable stand-out: Caleb Baze. I can't recall if I've ever heard "If You Remember Me" (from the film "The Champ") before, but it is unlikely that I will every forget it after hearing Baze's haunting delivery of the song.
He manages to top himself in the second act with "I Cannot Hear the City" (from "Sweet Smell of Success"). So captivating was his performance, even the nearby Morse L station trains seemed to fall silent in awe.
Sarah Larson deserves a shout for her performance of "Disneyland" (from "Smile"). The song is always a great character piece in the hands of the right actress and Larson proves she is up to the task.
Stephanie Hansen has the thankless task of taking on the Liza number ("The Travlin' Life" for Minnelli's album "Maybe This Time"). She puts her own unique, bluesy spin on the number
Garrett Lutz makes the most of his moment as a sleazy Hollywood producer/director in "Do YouWanna Be In My Movie."We also see a tender, more playful side in the second act duet "When You're in My Arms" (from They're Playing Our Song", opposite Hansen).
Tall and lanky (not unlike Hamlisch), Patrick Byrnes fills in for the composer as such in the opening number, "They're Playing Our Song" and he is joined by the rest of the company. He is exceptionally effective in the buddy duet "The Only Way to Go" (with Baze).
Of course, the material from "A Chorus Line" proves to be the most challenging. It is so well-known, it is hard to find some new inroad into the material that hasn't be done before. Crouse and Benham's solution is to ease us into the all-to-familiar territory with "A Beat Behind" from "The Goodbye Girl." Sarah Wasserman plays an aging, chain-smoking dancer trying (and failing) to keep up with the pretty young things. Wasserman displays some great comic talent and the piece is capped off with a few bars of "One" that Wasserman bitterly delivers towards her rivals that turns the celebratory song on its head. It's the kind of smart theater that sets Theo Ubique's revues apart from the crowd.
"A Marvin Hamlisch Songbook" by Theo Ubique Cabaret Theatre at No Exit Café runs through July 12, 6970 N. Glenwood. Tickets $29-$34. Call 800-595-4849. Theo-u.org.
Review: SWEENEY TODD: THE DEMON BARBER OF FLEET STREET at Chopin Theatre

September 30, 2022

What did our critic think of SWEENEY TODD: THE DEMON BARBER OF FLEET STREET at Chopin Theatre?
---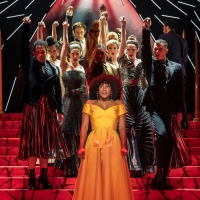 Review: THE DEVIL WEARS PRADA at Nederlander Theatre

August 8, 2022

What did our critic think of THE DEVIL WEARS PRADA at Nederlander Theatre? Haute mess. Fashion weak. Prêt-à-poor taste. I could go on with the fashion puns all day, but suffice to say THE DEVIL WEARS PRADA, the new musical which opened Sunday in not quite ready for the runway in its current state.
---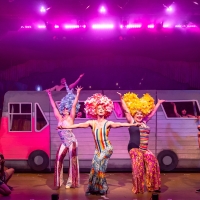 REVIEW: A Magical PRISCILLA QUEEN OF THE DESERT at Mercury Theater Chicago

July 29, 2022

What did our critic think of REVIEW: MERCURY'S MAGICAL PRISCILLA QUEEN OF THE DESERT at Mercury Theater Chicago?
---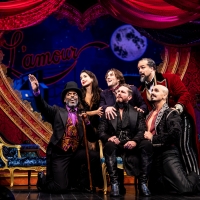 BWW Review: National Tour Of MOULIN ROUGE! THE MUSICAL at Nederlander Theatre

April 22, 2022

A grand, glitter and confetti-filled spectacle, the Tony Award-winning musical Moulin Rouge! The Musical officially opened the national tour at the Nederlander Theatre in Chicago on April 21 and those who attended may still be giggling from excitement while picking confetti out of their hair.
---