A KIND OF LOVE STORY Comes to Oil Lamp Theater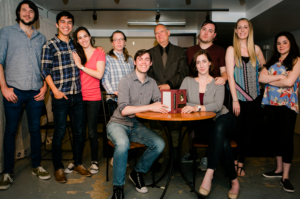 Executive and Artistic Director, Keith Gerth and Associate Artistic Director, Stephen Smith of the Oil Lamp Theater in Glenview announce their next production, the witty and heartwarming romantic comedy A Kind of Love Story by Jenelle Riley. This endearing tale of true love almost missed is directed by Oil Lamp's Executive and Artistic Director Keith Gerth and will be performed from July 25th through September 8th 2019 at 1723 Glenview Road in Glenview.
Can Disney princesses offer good advice about romance to a modern young woman? Do comic-book superheroes have any helpful wisdom about relationships to share with a hip but hapless young man? Jenelle Riley explores these and many other questions about modern romance in the sprightly tale, A Kind of Love Story. This comedy lovingly skewers many of the tropes and conventions of modern "rom-coms" and other happily-ever-after stories that we've all come to know and love. The show is framed by a seemingly all-knowing "Narrator" (Rob Weinstein) who introduces the audience to the characters and then guides us through the story, much like a dad telling a quirky, modern-day version of a fairy tale.
Ally (Rachel Silvert) and Mark (Kyle Quinlivan) are two young people who have a lot in common. They're witty, intelligent -- and hopelessly romantic. They both love fairy tales, comic books, and Cameron Crowe movies. Sadly, they also have something else in common: they are both unlucky in love. Goodness knows, they've tried, but the right person has eluded them both. And in the process, they've also each endured more than their fair share of the hurts and indignities that are part of the modern dating scene.
Mark, we quickly realize, is the proverbial "nice guy." All the women who know him think he's charming. They like him a lot - but only as a friend. Whenever he attempts to kindle something, it always seems to go nowhere. As a result, he usually winds up on dates with co-workers and friends who aren't right for him - with predictable results. Ally's situation is a bit different. She has a steady boyfriend, Max (Travis Monroe Neese) - but deep down inside, she knows he's not "the one." Sure, Max can be charming when he wants to be (which is usually when he wants something), but he's terrified of commitment and is often such a boorish clod that even she can't figure out why she puts up with him.
Ally and Mark seem to be made for each another. They could be soul mates in the truest sense of the word. But there's just one problem. They've never met, and they seem fated never to do so.
It's not as though Ally and Mark don't have close friends who are doing their best to help them. Mark's best friend, Bob (Matthew Torres), is a pleasant fellow who's been married for ten years to Diane (Lydia Hiller). As the long-married friend, Bob is always there for Mark, assuring him that "there's someone out there for everyone... you just gotta hang in there!" But Bob may not be the best person to give Mark advice on relationships. With ten years of marriage under his belt, Bob is feeling a bit restless and is having second thoughts about his wife, Diane. This only complicates things for Mark, who's had a secret crush on Diane for years.
Ally has helpful friends, too. Kelly (Sharon Kushiner) keeps encouraging her to break up with the loutish Max and find someone new. She gives Ally lots of advice and moral support. Unfortunately, most of her suggestions are little more than well-worn clichés along the lines of "You always find the right person when you're not looking!" And then there's Lucy (Jaclyn Renae Jensen), Ally's roommate. Lucy is attractive, charismatic and popular, but her immaturity combined with a healthy dose of self-centeredness makes her another questionable source of advice. How questionable? One suggestion she offers for evaluating candidates found on dating websites: "Make sure you get full body shots and that they're recent. Tell them to hold up today's paper and take a picture!"
Ally does a lot better with Casey (Elizabeth Stenholt), a charismatic lesbian activist and writer who gives her wise council, support and friendship. Casey also helps Ally calculate the right balance between risking more pain and emotional scars by taking a chance on love and the potential rewards of happiness and satisfaction in a healthy relationship.
Will these more-than-star-crossed lovers overcome their own fears and the good intentions of their friends and finally meet? Will they create a true connection despite all the landmines of modern dating sites and social media? Will these two all-too-human human beings ever find their own happily-ever-after -- the way "rom-com" tradition says they should? Well, in the words of playwright Jenelle Riley, "In the end, it is my hope that the play has it both ways: both parodying and paying homage to the romantic comedy genre. Because everybody loves a happy ending."
This Oil Lamp Theater production of A Kind of Love Story will feature Rachel Silvert (Ally), Kyle Quinlivan (Mark), Matthew Torres (Bob), Lydia Hiller (Diane) Jaclyn Renae Jensen (Lucy), and Sharon Kushiner (Kelly), Travis Monroe Neese (Max), Rob Weinstein (Narrator), Jared Sheldon (Ensemble - Superman, Dad, John, Sam, Dean, Guy, Colin and Stefan) and Elizabeth Stenholt (Ensemble - Belle, Mom, Brenda and Casey).
Understudies for this production are Patrick Riley and Hannah Mary Simpson.
Stage Manager for this production is Bronte DeShong.
A Kind of Love Story had its world premiere at Sacred Fools Theatre in Hollywood on
September 21, 2012. That production earned six L.A. Weekly Award nominations and won a directing award for playwright Riley.

Box Office: 847-834-0738; oillamptheater.org