Review: A SOLDIER'S PLAY at Knight Theater
A Soldier's Play runs at the Knight Theater from January 10 - 23.
Racism, a horrid system of degradation that usually seeks to divide and conquer, whether if it is hidden behind a wall of generational belief systems based on stereotypes undergirded by family loyalties or blatantly displayed in hateful slavery, derogatory language, lynchings and/or public and unwarranted killings...racism has no boundaries. It crosses geographic and color lines, to include domestic and foreign nations. It is universally experienced and sometimes displayed by persons in the same race as a means of allegiance to a particular sector, organization, political affiliation and/or in a highly regarded governmental organization as the military, which is the setting of this powerful stage play, written by Charles Fuller, entitled "A Soldier's Play".
The military, whose mission is to "defend and protect", has sometimes been the breeding ground of calculated prejudices amongst the ranks of its soldiers, whether enlisted and/or commissioned officers. The storyline in this powerful depiction is based on a murder case of a colored (as African Americans were referred to then) enlisted soldier, Sergeant Vernon C. Waters (Eugene Lee), assigned as leader over a colored regiment, who was mysteriously murdered. Many factors could have contributed to his death...the hatred of colored people by the citizens of this Southern town during that time period, and by the notorious white supremist organization, the Ku Klux Klan. Also, Sergeant Waters' abusive treatment, his disrespect, and hatred spewn at his colored subordinates was highlighted in the most despicable and unfavorable way. One soldier stated he treated them like "dogs". Any of those reasons could have served as a motive to eliminate Sergeant Waters. In a twist of fate, Captain Richard Davenport (Norm Lewis) a colored officer with a law degree from Howard University (a rare find in those days), was selected to investigate the case. His experience with racism came in layers from various sources. The response to his arrival was mixed: some of the soldiers were proud to see a colored officer. Some of the soldiers mistrusted his motives. And the white officer, Captain Charles Taylor (William Connell) just blatantly let him know that his presence was not welcomed nor did he plan to let a colored officer conduct an investigation over white soldiers. Yet, Captain Davenport was graceful, focused, and determined to do "his job" without disruption. He was not dissuaded by the opposition he received. Captain Davenport, as often it is in real life, had to constantly prove that he was capable and equipped to do the job and that skin color is not a factor in competency.
The point that is truly evident on many levels in this production is the detriment and destruction that racism causes, regardless how it is packaged. For example, the incident with Private C. J. Memphis (Sheldon D. Brown), Sergeant Walters went to great lengths to set him up and have him arrested simply because he did not like the manner in which C. J. represented the African American culture. He hated his country and backward demeanor and expressed that he felt that C. J. was a disgrace to his race. He (Sergeant Waters) knew that his actions would cause C. J. to self-destruct in jail but his hatred was stronger than his morals. Racism within a race can be as dangerous as racism from another ethnic group. But as it has been said, you reap what you sow and eventually Sergeant Waters' racist actions led to his own demise.
I would be remised if I didn't mention the incredible acting of Eugene Lee, who is also a playwright. Eugene appeared in the original production of A Soldier's Play, along with Samuel L. Jackson and Denzel Washington, that was produced in 1981 by the Negro Ensemble Company. Speaking of Denzel Washington, Tarik Lowe, who portrayed Private First Class Melvin Peterson, the same role Denzel portrayed in the stage play and movie, did an excellent job. Many times my critical eye compares and critiques a lot harder, as in this case, I am a huge fan of Denzel Washington, who had already set a precedence for that character. Well, Tarik passed my test because he brought as much excitement to the role as Denzel did. I have to disagree with Tarik's statement in the talkback stating that he was better looking than Denzel. He's handsome but he is not Denzel (my hearty laugh).
An observation for me is the relevancy of the storyline racism is still as prevalent today as it was during the time period in which A Soldier's Play was set. Major kudos to director, Kenny Leon, the cast of A Soldier's Play, and of course the playwright, the late Charles Fuller (who passed away last year) for reminding this audience that we still have a long way to go to knock down the door of racism, whether it is systemic or individualized.
Following curtain call, a few of the actors, led by Norm Lewis and Eugene Lee engaged in a talkback session hosted by award-winning jounalist, Mary C. Curtis. One of the comments that was made by Norm Lewis was that the film version of A Soldier's Play was more cinematic but live theater is more intimate. Mary Curtis asked Eugene Lee what did he want the audience to take away from the play. He responded, "The Truth. I have two objectives in everything I do...truth and clarity. And with the level of truth and clarity, i hope this play wakes you up next week...". I can truly say that a semblance of truth and clarity was truly delivered and I will certainly do my part to stomp out the ugly dragon called "racism".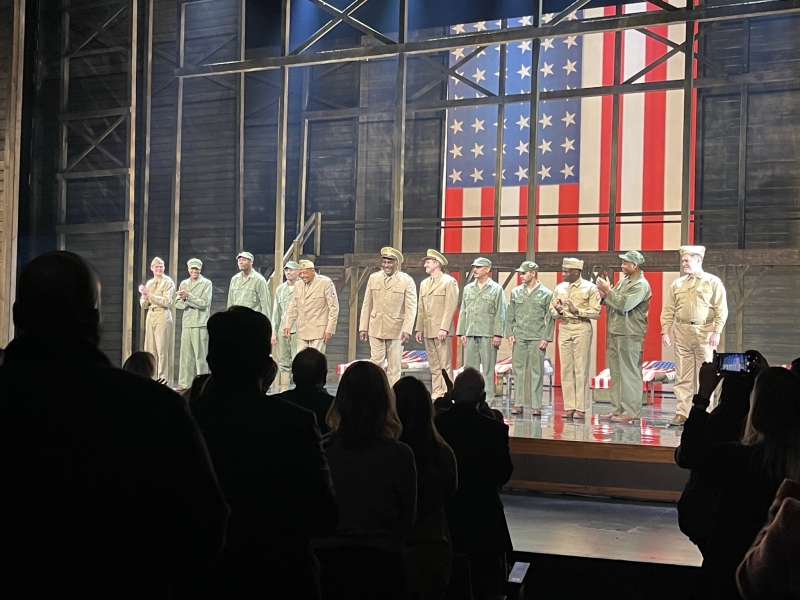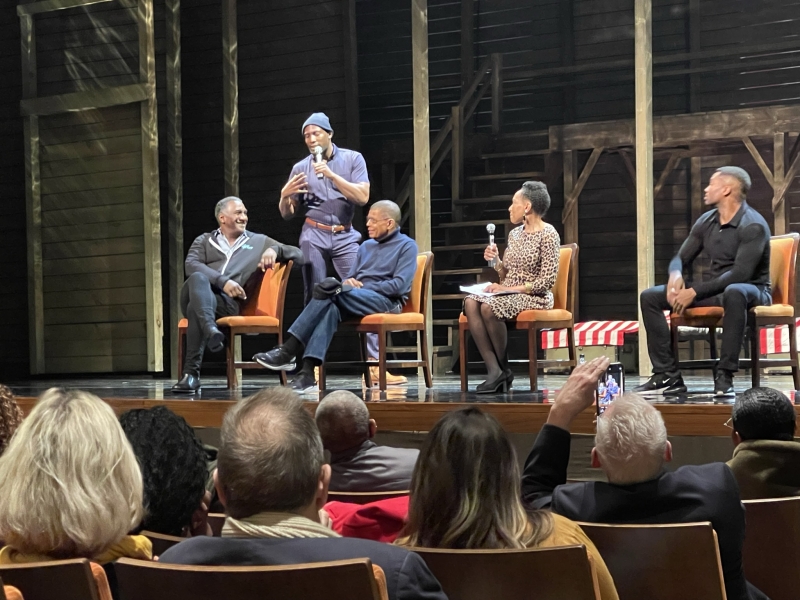 Tickets can be purchased via website www.blumenthalarts.org