BWW Review: TREASURE ISLAND at Fulton Theatre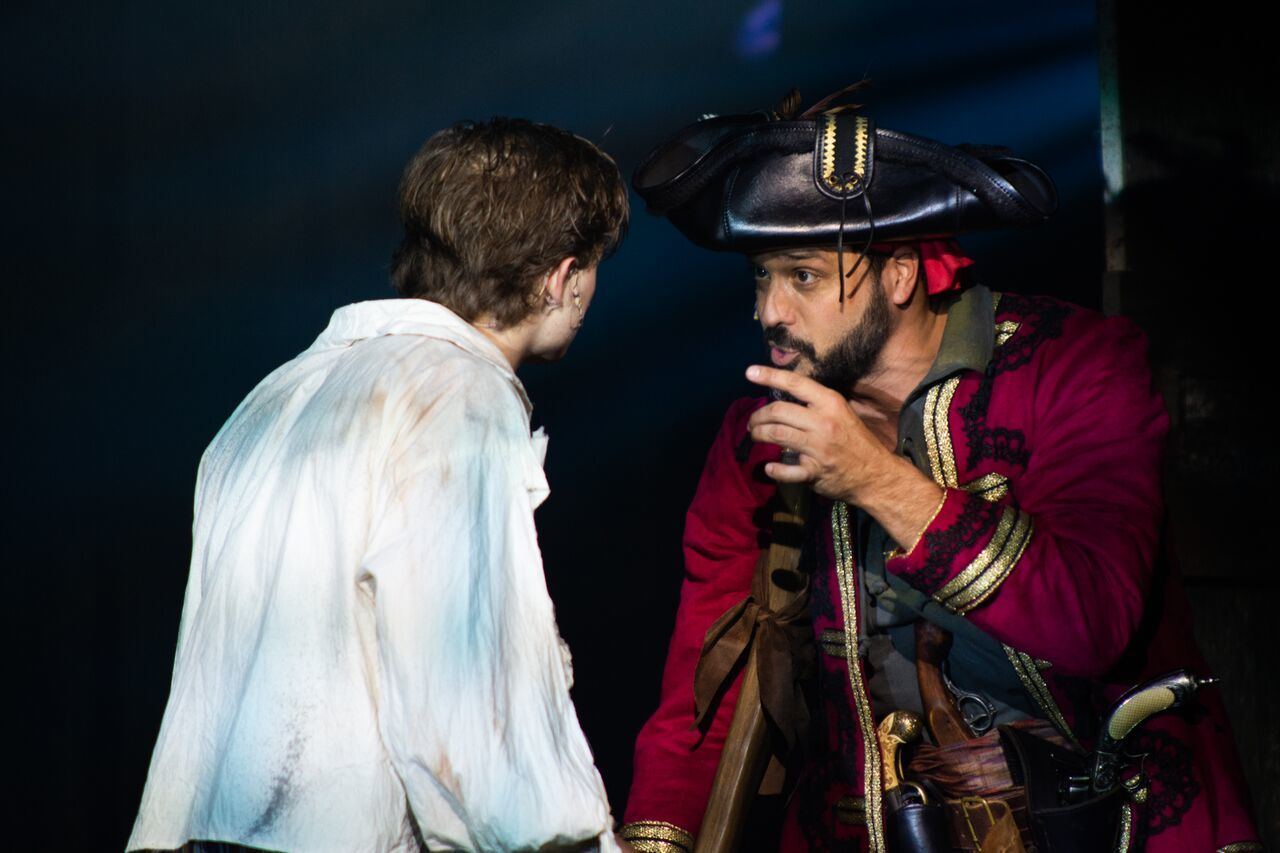 Last spring, at the conclusion of Fulton's production of The Hunchback of Notre Dame, I assumed it would be a very long time until they'd be able to top that show. I was wrong. Only a few months later, their current production exceeds expectations in every way. Treasure Island is an amazing theatrical accomplishment-both on stage and behind the scenes.
The flawless cast of 36 is led by Michael Nigro as the young Jim Hawkins. After the death of his father, Jim comes into possession of a treasure map, and sets sail on a voyage in search of riches and adventure. Nigro conveys Jim's youth and innocence effortlessly in both word and song. Accompanying Jim on his journey is Dr. Livesey (James Patterson) and Squire Trelawney (Michael Iannucci). Livesey serves as the responsible, protective guardian figure, while the Squire is the flamboyant and impulsive tag-along. Patterson and Iannucci have solid chemistry together, and are responsible for many of the night's laughs.
Once our heroes set sail, we are introduced to the ship's ragtag and dangerous crew. Characters such as Tom Morgan (Travis Taylor), Job Anderson (Paul Jordan Jansen), and George Merry (Jason Simon) look tough, rough and intimidating. When the pirates first sing the rousing chantey, Mutiny, we immediately know that things don't look good for Jim and friends.
Jeremiah James plays the iconic role of Long John Silver, the ship's cook and eventual leader of the pirate mutiny. James does a masterful job of bringing balance to the role. Although he may be the main villain of the show, he plays him as intelligent, thoughtful, and even kind, at times. He builds a genuine relationship with Jim, and can be seen, in some ways, as more of a father figure than his designated guardians.
Although James does a powerful turn in the more consequential numbers like Someday, I actually liked his song The Joys of Cooking a little better. It is a great introduction to the character, and it is used to effectively gain Jim's trust. Incidentally, I was "stumped" regarding how Long John's missing leg was created. I was in the sixth row, and it looked very real up close!
The excellence behind the scenes easily matches the talent on the stage. Scenic designer, Thomas M. Ryan constructed sets that are both magnificent and enormous. The various ship designs easily support the dozens of crew members that are crawling, sliding, and swinging all over it in every direction. Props, costumes, lighting and make-up also deserve recognition for seamlessly adding to the singular vision of the production.
Fulton's executive artistic producer, Marc Robin serves as both the composer of the show and the director. Along with his partner, Curt Dale Clark, Robin has gifted Lancaster with an original show easily worthy of a Broadway run. Music, dialogue and action work seamlessly in moving the story forward. This is a show for audience members who like action. there are no tedious dance numbers and no sappy love ballads. pace is outstanding, and demonstrate how much better storytelling can be when a show's creators and directors are perfectly aligned.
Last spring, I stated that Fulton's Hunchback of Notre Dame was worthy of several Broadway World Awards. This fall, I am willing to state that Treasure Island is worthy of Broadway.
Buy tickets, while they last, at the Fulton website.