Patchogue Theatre Announced 50th Anniversary Celebration of The Beatles' SGT. PEPPER..., 10/27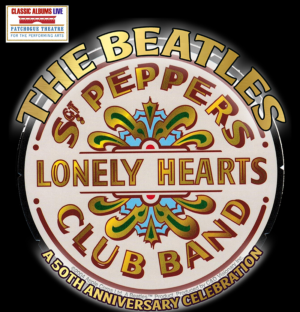 Patchogue Theatre for the Performing Arts (PTPA) is proud to present the second show in its "Classic Albums Live" concert series, which will celebrate the 50th anniversary of The Beatles' iconic album, "Sgt. Pepper's Lonely Hearts Club Band," on Friday, Oct. 27 at 8 p.m.
It has been said that The Beatles' 1967 "Sgt. Pepper's" album single-handedly changed the course of rock music. By early 1967, weary of touring, the band, with producer George Martin, began to fully explore more complex and experimental musical creations. The resulting album, "Sgt. Pepper's Lonely Hearts Club Band," became The Beatles' psychedelic, orchestral masterpiece and one of the bestselling albums of all time. The groundbreaking album ranks No. 1 on Rolling Stone magazine's "500 Greatest Albums of All Time."
Audience members will experience the entire 1967 album live from start to finish by an extremely talented group of musicians. The group features Joe Lauro and Michael Schiano (HooDoo Loungers, Music Director), Dan Koontz (Edna's Kin, Nancy Atlas, HooDoo Loungers), Howard Silverman (New York Roots Music Association), Fred Gilde (Mama Lee Rose & Friends), Jeff Levitt (White Collar Crime), Mick Hargreaves (Lantern Sound Recording Rig), and a variety of horn and string players. Since the album is only 40 minutes in its entirety, the concert will begin with a performance of The Beatles' greatest hits. Tickets for "Classic Albums Live: Volume 2" are now available online, by phone or at the box office. Ticket prices range from $20 to $35, plus ticket convenience charges. For more information on "Classic Albums Live" or this show, visit our website at PatchogueTheatre.org/Events or call the box office at 631-207-1313.
The second show in the "Classic Albums Live" concert series will celebrate the 50th anniversaryof The Beatles' iconic "Sgt. Pepper's Lonely Hearts Club Band" album.
Patchogue Theatre first opened in 1923 as the largest theatre in Suffolk County. It still is, with the installation of 1,106 brand new seats during the 2016 renovation. Saved by Village of Patchogue in 1996 and lovingly restored it to its original grandeur, this beautiful and historic venue was in use 230 days with over 150,000 in attendance for its 2016-2017 season. PTPA is an independent community-based 501(c)(3) nonprofit organization that leases the building from the Village of Patchogue and covers all of the operating costs without any subsidies from the Village. PTPA's leadership consists of a volunteer board of directors and a small professional staff. Patchogue Theatre continues to thrive thanks to the hard work of over 90 volunteers as well as the businesses, funding agencies and individuals who support PTPA by contributing their time and resources. Patchogue Theatre for the Performing Arts is located at 71 East Main Street, Patchogue, N.Y., and can be reached at 631-207-1313 or by visiting PatchogueTheatre.org.
Featured BroadwayWorld Events
Check out these concerts...




More Hot Stories For You