BWW Review: A FEW GOOD MEN is Gripping at the Central New York Playhouse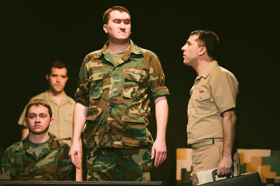 The latest production entertaining audiences at the Central New York Playhouse is Aaron Sorkin's suspenseful play, A Few Good Men. Sorkin later adapted the play into a major motion picture of the same name starring Tom Cruise, Jack Nicholson, and Demi Moore. Director Dustin M. Czarny has once again brought local theatergoers an intense and memorable production. The acting, set design, and meticulous direction are top notch, especially for a community theatre.
Daniel Kaffee (Jordan Glaski) and Joanna Galloway (Katie Deferio) are military lawyers tasked with defending two United States Marines. Harold Dawson (Christopher James Lupia) and Louden Downer (Isaac Betters) are accused of murdering Private William Santiago (Jesse Navagh) at the Guantanamo Marine Base. Their research uncovers a high-level conspiracy that just might reveal the truth.
Czarny has a very keen eye for detail. His set, featuring various levels and entrances, desks and chairs, easily and quickly transform the stage space from interrogation room, to court room, to office space, etc. Karen Greenfield's memorable and intricate scenic painting adds a lot to the scenery as well. Likewise, Sarah Anson's lighting design is minimal, but adds another level of intensity at the right moments in the script. Kate and Harlow Kisselstein's costumes are very appropriate for a military drama.
However, while the technical elements are solid, the actors truly steal the show. The actors perform the material with such a high level and energy and intensity and were enthralling to watch. While there were some obvious moments where the actors had some difficulty remembering their lines, they handled it with great professionalism.
Jordan Glaski fully embodies Daniel Kaffee, the son of a legendary lawyer biding his time until he can become a corporate lawyer with a preference for settling out of court. He is incredible in the role. His monologues are perfection as well as his chemistry with his fellow cast members. His performance is the definition of intense and memorable.
Katie Deferio shines with confidence, energy, and strength as the hardworking, serious, smart, passionate and sometimes annoying lawyer, Joanne Galloway. Deferio, most appropriately, does not back down and holds her own on the stage with a predominately male cast.
Josh Harris confidently plays the young and very smart lawyer that is tasked with keeping Daniel Kaffee in line. He is comedic and charming at the right moments and plays off his fellow actors beautifully.
Josh Mele plays Nathan Jessep, the highest-ranking Marine at Guantanamo Marine Base, with great maturity, strength, confidence, and just the right amount of egotism. Mele and Glaski have astounding chemistry, which makes the final intense court room scene well worth the wait.
Christopher James Lupia's is mesmerizing and truly believable as Harold Dawson. Isaac Betters, as Louden Downey, is also perfect in the role of the accused Marine right down to the shifty eyes and uneasiness. Likewise, Jesse Navagh delivers a passionate and memorable monologue as the murdered William Santiago. Navagh's stage time may be short on stage may be short, but his performance is a standout.
Other memorable performers include Jim Magnarelli as Matthew Markinson; Jeremy Huftalen as Jonathan Kendrick; Eric Feldstein as Jack Ross; John Bracket as Isaac Whitaker; William Wood II as Jeffrey Howard; Marcia Mele as Julius Randolph; Phil Brady as Walter Stone.
A Few Good Men at the Central New York Playhouse is a must-see. It's an outstanding production that is powerful, passionate, and purely fascinating.
Running time: Approximately 2 and half hours with one fifteen-minute intermission.
A Few Good Men runs through March 24, 2018 at the Central New York Playhouse. For tickets and information, click here or call 315-885-8960.