Review: You Are in Fine Company with JENNIFER SIMARD: CAN I GET YOUR NUMBER? at 54 Below
Her Newest 54 Below Show Was a Perfect Mix of Comedy and Cabaret
On my subway ride home from Jennifer Simard: CAN I GET YOUR NUMBER?, as I tried to recover from laughing so hard and being sated by her interpretations of an eclectic mix of songs, it hit me: I missed why Jennifer Simard titled her show the way she did. The show wasn't about flirting or networking, and I don't think Simard sang a song called CAN I GET YOUR NUMBER? Then it dawned on me - and it's spot on.
Ms. Simard's concept for the show, which she performed twice at 54 Below, was that she has mostly played second banana to many of her musical theater idols on stage, so Simard would honor these stars with songs they are known for. It's a fun idea, brilliantly executed by Simard and her musical director and accompanist Steve Marzullo, by adhering closely to that design as well as wildly diverging from it when needed. It may also be Simard's subtle plea to the musical theater gatekeepers that maybe it's time to let her take the lead. Ok, maybe not so subtle.
Simard does start the show with "One Night Only" from "Dreamgirls, "entering and singing most of the disco version of the song from the house, being playfully hysterical, playing off the energy from the audience. This was the perfect start.
And two-time Tony nominee doesn't stop the frivolity with the second number. After explaining the purpose of the evening, Simard explains that when "Shrek, The Musical" was doing its out-of-town tryout, she played a lady in waiting to Sutton Foster's Fiona in a number that would be cut before the show made it to Broadway, "More to the Story." Simard had to be on her knees fixing Fiona's dress hem as Foster sang the song. To recreate the experience for the audience, Simard asked for a volunteer, and thankfully, on my night, that person happened to have received a Tony nomination for being on his knee in that same said musical, Christopher Sieber. Needless to say, the song was fun to hear (for a cut song) and funny to watch with Sieber and Simard so comfortably playing off each other like a long-married couple. Hmmm.
From her stint as Ernestina in "Hello, Dolly" and her undying admiration for Bernadette Peters produced the next two songs, "Broadway Baby" and "Unexpected Song." Maybe it was Simard's similar hairstyle for the concert, but she channeled Peters perfectly. One of Peters' Horace in "Dolly" was Victor Garber, which inspired the singer's duet with Marzullo on "All for the Best" from "Godspell." And if you're wondering about Bette Midler's influence, well, Simard has a hysterical story about her, too.
There are tales and songs inspired by Betty Buckley, a dual tribute to Faith Prince and Kerry Butler and, of course, Madeline Kahn. Kahn's song, "Never," from "On the Twentieth Century" in particular was a triumph, not just for the crazy soprano notes, but for me when a quote from "Clue" was casually thrown in.
Speaking of showstoppers, Simard's version of "Before the Parade Passes By" is full of life and optimism that was refreshing and her "Ladies Who Lunch" (which she actually performed on Broadway as Patti LuPone's understudy) was sublime, finding the laughs in "hat" and "Mahler" in Simard's own unique way.
Ms. Simard does occasionally get serious, gracefully transitioning from her upbeat songs to songs like the one from "Jacques Brel" in honor of Donna Murphy's late husband, as well as a Beatles song in memory of the late Rebecca Luker.
Of course, Ms. Simard does deviate from her concept with a couple of biographical asides from "I Love You, You're Perfect, Now Change" (where she met her husband) and Simard ended the evening with her show-stealing number from "Disaster," the disco love song, "Never Can Say Goodbye" (which, if you didn't know, her character - a nun - sang to a slot machine in her Tony Award-nominated turn).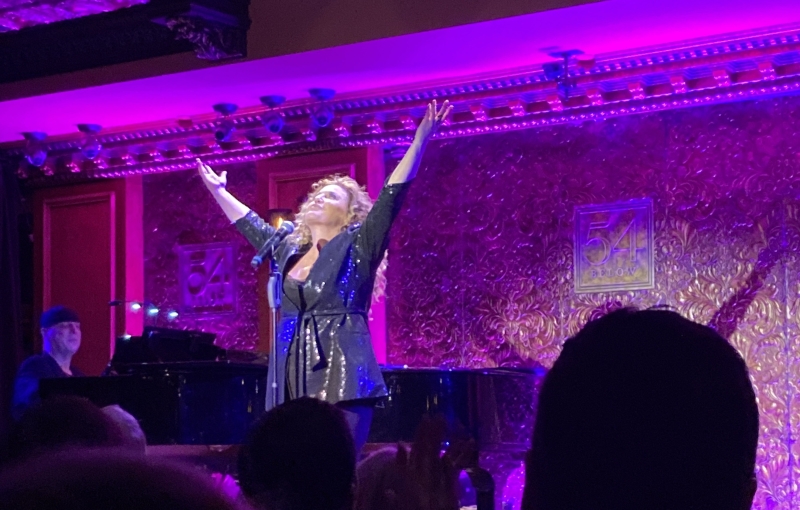 Simard then invites the audience for an encore singalong, which is fine, but totally unnecessary since we have been in tune with her from note one. Simard is one of our most constant and reliable musical theater actresses working today, and this show is the evidence of that.
Please visit Jennifer's website.
And for other upcoming shows at 54 Below, take a look at their calendar.
Photos by Cary Wong
Seen on Saturday, Jan 21, 2023 at 7pm.